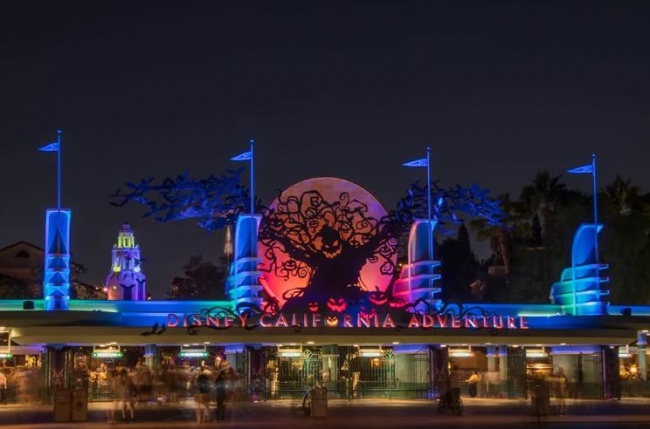 You read the title right! The Oogie Boogie Bash is coming back during the Disneyland Resort's Halloween Time event for 2021.
This event occurs on select nights at Disney California Adventure from September 9 and running through October 31. This is a separate-ticket, after-park hours event that features special entertainment, character sightings, food and beverage and more. So, what will the event include?
Oogie Boogie Bash Details
First, Guests who have purchased a ticket will be able to enter Disney California Adventure prior to the official start of the party. While the event kicks off at 6:00 p.m., you'll be able to enter the park three hours before. (That's 3:00 p.m., if you're keeping score.)
When Guests enter the park for the event, they will find that the facade of Carthay Circle Restaurant on Buena Vista Street has been enchanted. Guests will see bats swarm, green energy pulses from within and spellbinding moments transform the structure throughout the night.
Guests will also get to experience a parade! The "Frightfully Fun Parade" will include a pre-parade that features The Headless Horseman of Sleepy Hollow.  He will arrive on his ghostly black steed just ahead of the parade, as he carries his flickering jack-o'-lantern. Then Guests will enjoy a cavalcade of Disney characters and mischievous villains who parade down the streets.
Guests will also get to participate in trick or treating! There will be immersive treat trails throughout Disney California Adventure. Guests will get an assortment of candy provided by Mars Wrigley, all while seeing favorite characters along the way, some familiar and some new! (Make sure you dress up in costume! It's always more fun to trick or treat in costume!)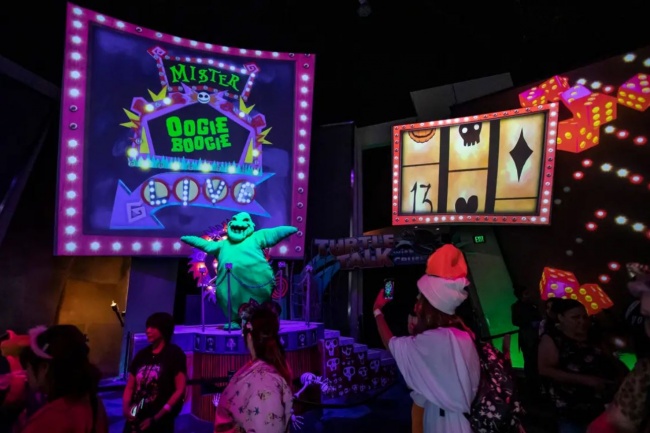 If you are looking for villains, you'll want to head to the Redwood Creek Challenge Trail, which becomes Villains Grove. On party evenings, Redwood Creek is completely transformed with lighting, projections, sounds and special effects.
Throughout the evening, Guests will also be able to see other favorite Disney characters including Mickey Mouse and Minnie Mouse, Goofy, Pluto and Donald Duck who are ready for photos and waves.
Take all the photos you want throughout the evening because Guests will be given unlimited Disney PhotoPass digital photo downloads from the night.  There will be Disney PhotoPass photographers located throughout the party to capture spooktacular memories.
Dates and Tickets
Tickets for Oogie Boogie Bash will go on sale Tuesday, July 13. Tickets are limited and guests may check out the website for important details and availability for the 25 nights.
Nights include:
Thursday, Sept. 9
Saturday, Sept. 11
Sunday, Sept. 12
Tuesday, Sept. 14
Thursday, Sept. 16
Sunday, Sept. 19
Tuesday, Sept. 21
Thursday, Sept. 23
Sunday, Sept. 26
Tuesday, Sept. 28
Thursday, Sept. 30
Sunday, Oct. 3
Tuesday, Oct. 5
Thursday, Oct. 7
Sunday, Oct. 10
Tuesday, Oct. 12
Thursday, Oct. 14
Sunday, Oct. 17
Tuesday, Oct. 19
Thursday, Oct. 21
Sunday, Oct. 24
Tuesday, Oct. 26
Thursday, Oct. 28
Saturday, Oct. 30
Sunday, Oct. 31
A few things to keep in mind. Online and mobile purchases will not be available the day of the event. In addition, parking is not included in the ticket price. For added convenience though, Guests will have the option to purchase a parking voucher in advance when purchasing their event tickets.