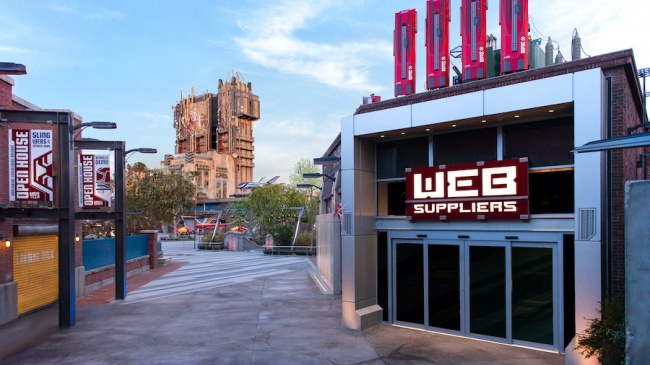 The newest Disney theme park land is now open. Avengers Campus officially opened at Disney California Adventure in the Disneyland Resort on June 4! This incredible land is themed after your favorite super heroes and each section of Avengers Campus is "hosted" by a different hero in an effort to show us all about their unique powers, technology and knowledge.
But before you enter the land, there's definitely some things you need to know. We break it all down for you here:
How to Visit Avengers Campus
All recruits planning to visit Avengers Campus will need to make sure that they have both a theme park reservation and valid ticket for Disney California Adventure park on the same date. Theme park reservations are limited due to capacity limitations and will be subject to availability, so if you have your heart set on visiting, you are going to want to make sure you've got your plan in place ahead of time. (You can make reservations up to 120 days in advance.)
To enter Avengers Campus, you'll find the main entrance located right next to the Worldwide Engineering Brigade (also known as WEB). This can be found just past Carthay Circle Restaurant and across from Golden Vine Winery.
To enter, there will be two different options. The first will be when the land officially reaches capacity, Guests will have the option to join the standby queue. You'll find it located to the right of the main Avengers Campus entrance by the Worldwide Engineering Brigade (WEB).
But what if you were able to obtain a virtual queue boarding pass for WEB SLINGERS: A Spider-Man Adventure? Once your boarding group is called, you should head to the left of the land's main entrance along the parade corridor. Guests with a boarding pass will be able to enjoy Avengers Campus after your boarding group has been called. If you wish to ride WEB SLINGERS: A Spider-Man Adventure, it is required that you enter the virtual queue. There will be no standby line.
The virtual queue will be available via the Disneyland mobile app. Similar to Star Wars: Rise of the Resistance, virtual queue will open twice daily, once at 7:00 a.m. (which you can do from your home or hotel room) and once at 12:00 p.m.
Technology Will Be Useful
In order to obtain the boarding pass, as well as do other things in the land, Guests should make sure that they download the Disneyland app. Guests will want to make sure that they have location services and Bluetooth enabled and turn on notifications to receive your virtual queue call back details, as well as other important information.
If you're looking to have photos taken from your experience, consider purchasing the new PhotoPass+ One Day option. This is a limited-time offer available through the Disneyland app where you can capture photos and have unlimited photo downloads from the day of your visit!
In addition, Guests should also consider downloading the Play Disney Parks app. Here you can experience interactive moments throughout Avengers Campus courtesy of in-app experiences, like Avengers Campus trivia, plus land-based and attraction digital achievements.
Find Favorite Super Heroes
Guests who visit the land will be able to see some of their favorite characters, some for the first time ever, like Iron Man, Black Panther, the Dora Milaje, Black Widow, Ant-Man and The Wasp. You'll also want to be on the lookout for Spider-Man who takes to the skies high above Avengers Campus. In addition, at a nearby Ancient Sanctum, Doctor Strange will train recruits in the mystic arts by bringing this area to life with powerful spells.
Other Features Throughout Avengers Campus
As a reminder, as far as attractions go, of course, there is the new WEB SLINGERS: A Spider-Man Adventure. Also you can experience the fan-favorite Guardians of the Galaxy – Mission: BREAKOUT!
If you're looking for food, make sure you check out the full list of dining options here. Guests looking to dine should use mobile ordering and pay with the Disneyland app. Currently, Guests can only pick up a food and beverage mobile order if they are already inside Avengers Campus. Guests will not be granted access into the land because they have place a mobile order.
If you're looking for the merchandise, you will find them at WEB Suppliers and the Avengers Campus Supply Pod. You can also visit the Disneyland Resort Backlot Premiere Shop, which is now open.
Additional Tips
Guests should be aware of the latest health and safety guidelines prior to visit the theme park. In addition, until June 15, only California residents may visit Disneyland Resort theme parks. Also, keep in mind that party size is limited to no more than three households. Then, beginning June 15, Guests from outside of California will be welcome back.