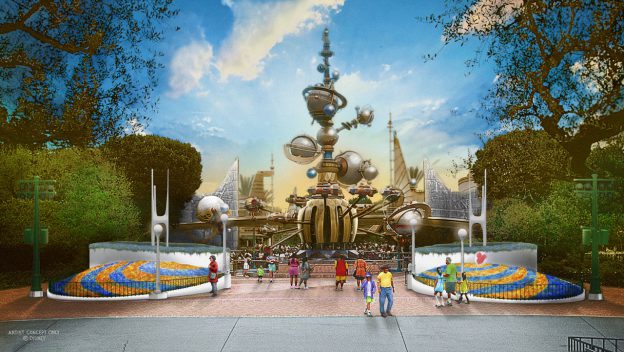 As part of Project Stardust, Disneyland's Tomorrowland is going to be getting a brand new entrance!
Imagineers are looking to open up the space and improve access into the land, all while maintaining the land's overall feel with trees and planters. The new entrance will feature widened pathways that are lined with elliptical planters that are filled with flowers. Imagineers are also looking to create Space Age-inspired spires which will flank the entrance.
Disney Imagineer Kim Irvine stated that "You may recognize that this new threshold into the future pays homage to Tomorrowland entrances of yesterday. Tomorrowland has always represented a feeling of optimism. [Imagineer] John Hench originally designed the land with this notion of being wide open to innovative ideas and technology. When we started looking at the different Tomorrowland entrances through the years, both the 1955 and 1967 versions had a very optimistic appeal which resonated with us."
The new entrance will be completed in 2020.