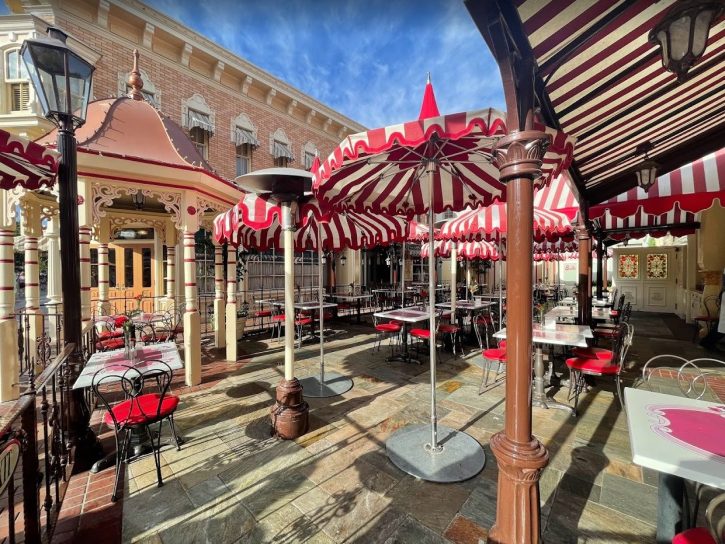 Guests who visit select table service restaurants at select Disneyland Park will be able to include an alcoholic beverage option with their meal.
Currently, Guests can already enjoy an adult beverage at Blue Bayou, however beginning September 12, three new restaurants will be added into the mix. They will include Café Orleans, River Belle Terrace, & Carnation Café Each location will offer a small selection of beer and wine as well as the themed offerings, both alcoholic and non-alcoholic. There will also be some additional new seasonal dining offerings, as well.
River Belle Terrace will launch a brunch offering. It will include six new items for lunch and dinner including Roasted Summer Squash and a BBQ Burnt Ends Pasta. There will also be a Wildberry Mule (alcoholic) and a Mississippi Mud Pie (non-alcoholic).
Café Orleans will bring back the Potato & Sausage Soup and introduce a Pimm's Hurricane (alcoholic) and Bayou Punch (non-alcoholic).
Carnation Café will offer a new Veggie Skillet, Walt's Chili-Cheese Omelet and Bloody Mary (alcoholic) and mimosa options with breakfast. For lunch and dinner, you'll be able to enjoy a Peach Pie Margarita (alcoholic) and Orange Cream Soda (non-alcoholic).
It was decided to add alcoholic options at these four locations because they are often chosen by Guests to celebrate special occasions. Guests have indicated that they would like the choice of having a special beverage with their meal. Disney has indicated that each location and drink options were thoughtfully chosen.
There are no plans to introduce alcoholic beverages at quick service locations within Disneyland Park.
Follow The Mouse For Less for more information about the latest Disney Dining news.
For more Disney news and trip planning advice, follow The Mouse For Less on Facebook, Twitter, Instagram, YouTube, or TikTok.