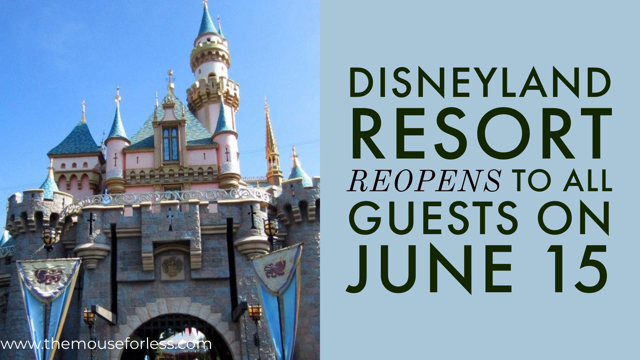 Yes!!! This is exciting news! And certainly news I've been waiting for! The Disneyland Resort will officially open for those who live outside the state beginning on June 15! Out-of-state visitors may now begin booking their return to the parks on Disneyland.com! (As a reminder, until June 15, all Guests visiting the Disneyland Resort must be California residents visiting in groups no larger than 3 households.)
If you would like to visit the Disneyland Resort, the State of California strongly recommends that all Guests be fully vaccinated or obtain a negative COVID-19 test prior to entering the theme parks. In addition, unlike in Florida, when touring around the Disneyland Resort, all Guests will be required to wear an approved face covering throughout their visit.
Do keep in mind that the procedures for visiting the Disneyland Resort may change. That's because Disney is continually updating health and safety processes based on guidance from the state of California and local health officials.
For those who wish to visit the Disneyland theme parks, all Guests (ages 3 and older) need to have both a ticket AND theme park reservation for the same park on the same date. Plus now, if you're looking to visit, Guests have to option to take advantage of an expanded booking window for theme park reservations. That's because the window has now been expanded out to 120 days! Guests should check the theme park reservation calendar for availability prior to purchasing tickets.
If you would like to visit the Disneyland Resort, make sure you follow along with us for all the latest information. In addition, for those visiting, make sure to check out our Know Before You Go section.