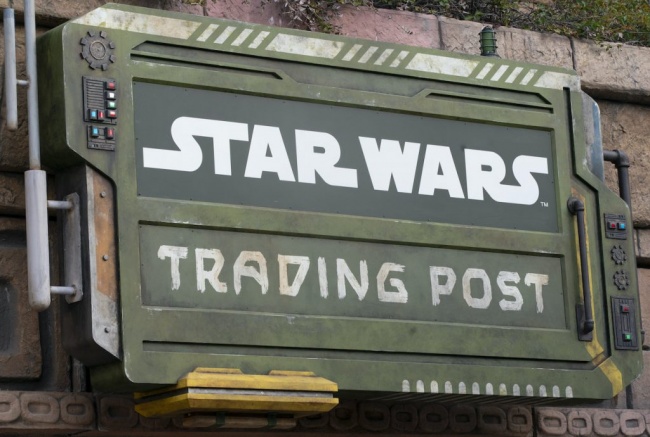 The Disneyland Resort recently shared that they would be retiring their current Disneyland Annual Pass system. However, as they look to retool the new system, those who were Disneyland Passholders who held current passes before the parks closed last year would be called Legacy Passholders. These passholders would then be granted special discounts and opportunities. Today, there is one such opportunity that they can potentially sign up for.
These Passholders are going to be able to be among the first to get to experience the brand new Star Wars Trading Post. This new shop will be opening in the Downtown Disney District. Reservation can now be made for the preview, prior to it opening to the general public. This preview will take place from February 16 through February 18. Reservations can be made here.
Outside, Guests will be greeted by Rey's iconic speeder. In addition, the shop's overall feel is inspired by of a hidden jungle Resistance base. Star Wars Trading Post will specialize in authentic Star Wars merchandise, including not only Star Wars: Galaxy's Edge and The Mandalorian, but much more.
Attending the Event
When booking this preview, a valid credit card number will be required. If you need to cancel, in order to avoid the cancellation fee, you must do so at least one day prior to your reservation. For those who fail to cancel and no show, your credit card will be charged $10 per reservation.
Guests who wish to attend this event will need to pay for parking. Self-parking will be available in the Simba Parking Lot. The daily rate is $10 per car. Proper health & safety measures will also still need to be followed. This will include required temperature checks and appropriate that face coverings.
Those who sign up for the preview should check in at the former location of the ESPN Zone. Registered Disneyland Resort Legacy Passholders must show their eligible Passport and valid photo ID upon arrival.
Star Wars Trading Post will officially be opening to all Guests on February 19.