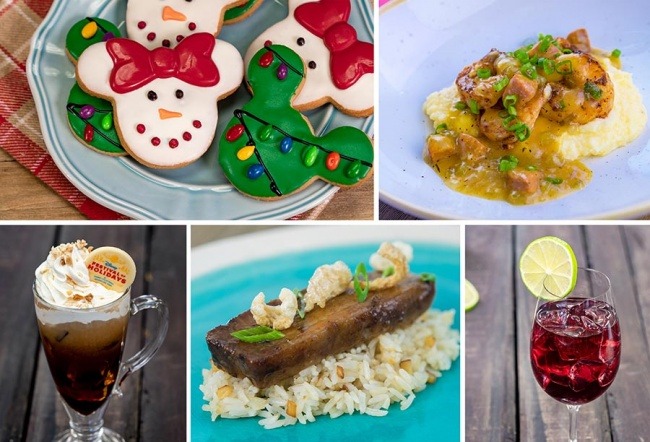 The holidays are here and this year's Disney Festival of Holidays will kick off on November 8 at Disney California Adventure. One of the major parts of the Disney Festival of Holidays are the marketplace booths. Here is the full list of menu offerings at this year's Disney Festival of Holidays.
Holiday Duets Marketplace
Braised Pork Belly Adobo – With garlic fried rice
Shrimp & Grits – With Andouille sausage
Mickey & Minnie Cookies
Cranberry Sangria
Churro Toffee Cold Brew (Non-Alcoholic)
Chorizo Fundido – Served with House-made Tortilla Chips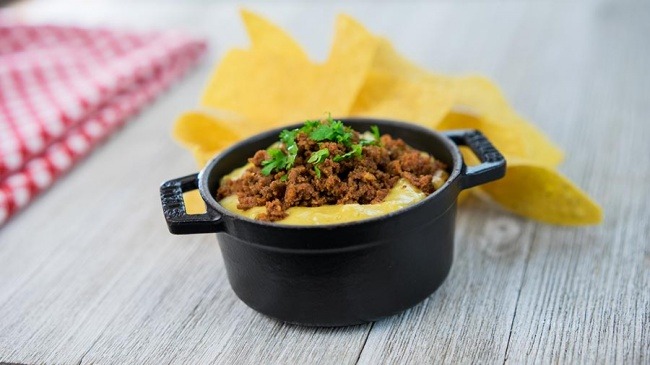 Brews & Bites Marketplace
Chorizo Fundido – Served with House-made Tortilla Chips
Hangar 24 Craft Brewery, American Light Lager
Cerveza Rrëy, Kölsch
SLO Brew, Cali-Squeeze, Blood Orange Hefeweizen
Two Pitcher's Brewing, Nordic Jam, Berry Lager
The Bruery Or Xata, Horchata Blonde
Einstök Beer Company, Arctic Pale Ale
Lost Winds Brewing Company, Reddy or Not, Amber Ale
Alaskan Brewing, Winter, English Olde Ale
Sierra Nevada Brewing Co., Celebration, IPA
Saint Archer Brewing Company, Mosaic, Double IPA
Karl Strauss Brewing Company, 10 Beers for Breakfast, Maple Stout
Festive Progressive Beer Flight – Rrëy Kölsch, Einstök Arctic Pale Ale, Alaskan Winter English Olde Ale, and Sierra Nevada Celebration IPA
Flavors of the Season Beer Flight – SLO Brew Cali-Squeeze Hefeweizen, Two Pitcher's Nordic Jam Lager, The Bruery Or Xata Blonde, and Karl Strauss 10 Beers for Breakfast Stout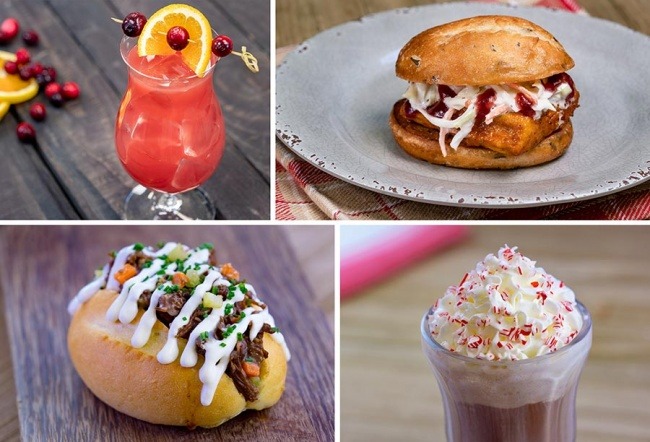 Winter Sliderland Marketplace
Fried Turkey Slider – With cranberry sauce
Beef Pot Roast – Served on a potato roll with horseradish cream
Bourbon Cranberry Cocktail
Warm Peppermint Chocolate Float (Non-Alcoholic)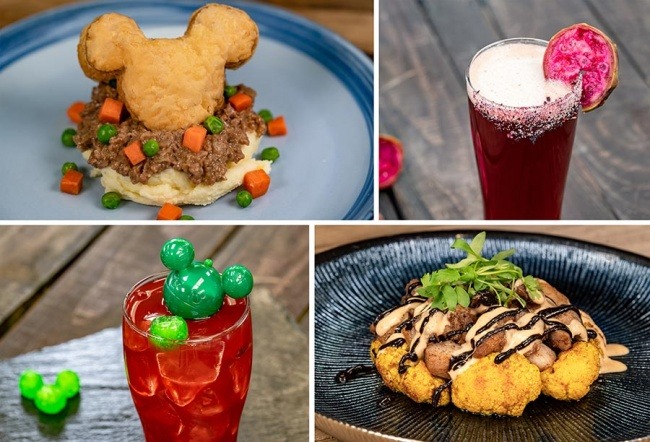 Grandma's Recipes Marketplace
Shepherd's Upside-down Pie (Plant-Based)
Curried Cauliflower & Chicken – With lemon tahini sauce and black garlic drizzle
Crimson Pear Cocktail
Modelo Negro, Dark Lager
Navidad Punch (Non-Alcoholic)

A Twist on Tradition Marketplace
Reimagined Beef Wellington
Reuben Potato Tots with Russian Dressing and Rye Toast
Vanilla Pear Mule
Skyside, Cabernet Sauvignon

Making Spirits Bright Marketplace
Caramelized Apple Cake – With Crème Anglaise and Salted Caramel Sauce
Hot Cocoa Marshmallow Macaron (Gluten-Friendly)
Grgich Hill Estate, Sauvignon Blanc, Napa Valley
William Hill Estate, Chardonnay, Napa Valley
Gérard Bertrand Côte Des Roses, Rosé, France
Klinker Brick Old Vine Zinfandel, Lodi
Louis Latour, Pinot Noir, Bourgogne
Austin Hope, Cabernet Sauvignon, Paso Robles
Apple Mimosa
Pomegranate Mimosa
Cran-Blackberry Mimosa
Chandon, Sparkling Wine
White Wine Flight
Red Wine Flight
Mimosa Flight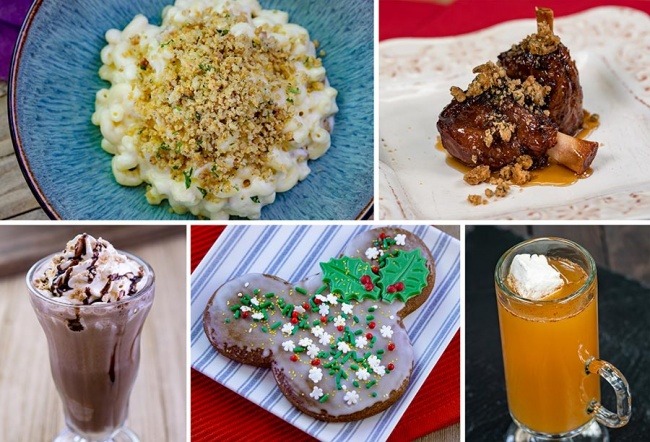 Favorite Things Marketplace
Glazed Ham Shanks – With Honey Crumble
Holiday Stuffing Mac & Cheese
Gingerbread Mickey Cookie
Warm Bourbon Cider
Bell's Brewery, Lager of the Lakes, Czech-style Pilsner
Kronenbourg 1664 Blanc, Witbier
Modern Times Beer, Space Ways, Hazy IPA
Legends Brewery, Cookies Galore Beer, Chocolate Cookie Milk Stout
Stone Brewing, 2014 Imperial Russian Stout
Beer Flight – Bell's Brewery Lager of the Lakes, Kronenbourg 1664 Blanc, Modern Times Beer Space Ways, and Legends Brewery Cookies Galore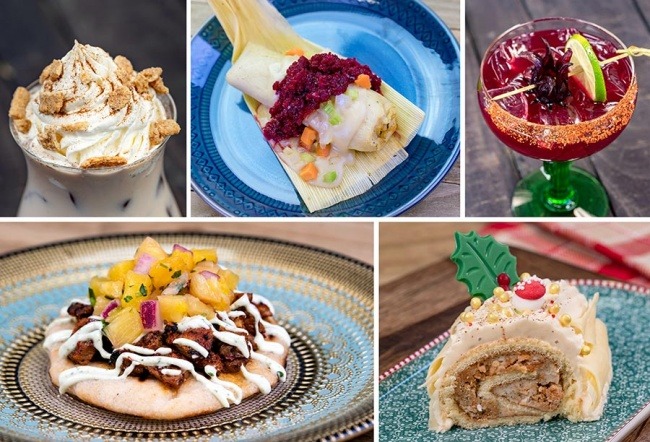 Merry Mashups Marketplace
Turkey & Stuffing Tamale – With Cranberry Relish
Pork al Pastor Naan Taco – With Pineapple Pico de Gallo and Cilantro-Lime Crema
Churros Yule Log
House-made Horchata
Habanero Hibiscus Margarita
Non-Alcoholic House-made Horchata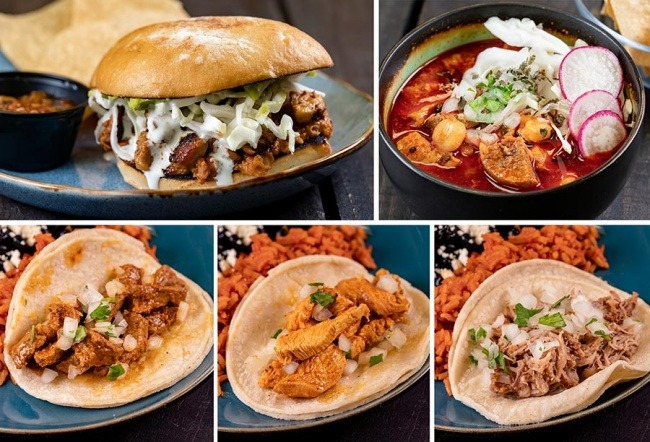 Viva Navidad at Paradise Garden Grill
Burrito – Flour tortilla filled with black beans, Spanish rice, molcajete salsa, crema, and choice of beef, carnitas, or chicken served with tortilla chips and molcajete salsa
Plant-Based Chile Relleno – Roasted poblano stuffed with vegetable stew, topped with roasted tomato sauce and tofu sour cream, and served with Spanish rice and black beans
Torta al Pastor – Pork al pastor, chorizo beans, cabbage, guacamole, and crema on a soft terela roll, served with tortilla chips and molcajete salsa
Street-Style Tacos – Three corn tortillas filled with carne asada, carnitas, and chicken with white onion and fresh cilantro and served with Spanish rice and black beans topped with queso blanco
House-Made Pozole – Mild red chile and pork stew with hominy topped with shredded cabbage, chopped onions, radishes, lime, and oregano served with tortilla chips
Kid's Cheese Quesadilla – Whole wheat tortilla with melted cheese served with apple slices
Kid's Street-Style Tacos – Corn tortilla filled with choice of carne asada, carnitas, or chicken served with Spanish rice and black beans topped with queso blanco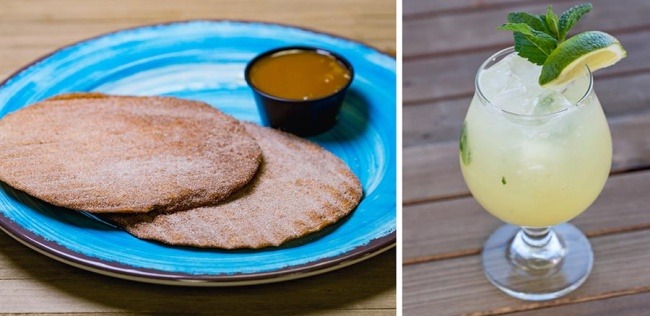 Festival-Inspired Offerings:
Buñuelos with Cajeta – Two golden fried flour tortillas dusted with cinnamon sugar served with a side of cajeta
Mojito
Red Sangria
Dos Equis Lager
Dos Equis Ambar
Paradise Gardens Seasonal Cart
Holiday Tamale
Seasonal Empanada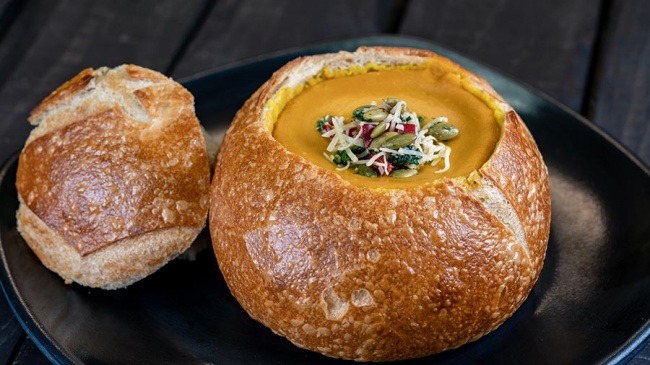 Pacific Wharf Café
Apple Fritter Bread Pudding
Pumpkin Soup
Pacific Wharf Coffee Cart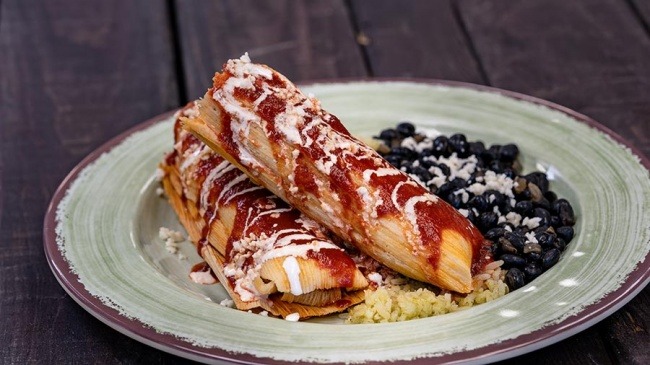 Cocina Cucamonga
Horchata Agua Fresca
Tamales Plate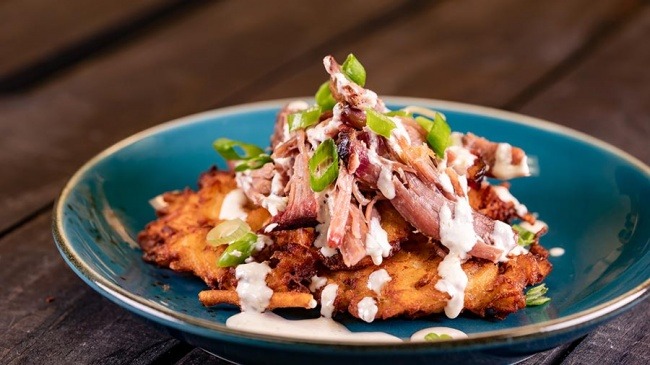 Smokejumpers
Sonoma Terrace
Willy's Churros on Buena Vista Street
Don't want to miss any of these options while touring around the park? Make sure you grab a Disney Festival of Holidays Tasting Passport! You can pick these up at any of the marketplaces and as you visit each marketplace, get your passport stamped. Once you've filled your passport, you'll get a special completion stamp.
Want to get the most bang for your buck? Available for all guests is the Sip and Savor Pass. This gives you the opportunity to enjoy your choice of eight different dishes or non-alcoholic beverages from participating Festival Foods Marketplace locations. You can purchase this pass at various locations throughout the park, including Festival Merchandise Carts, Seaside Souvenirs, Kingswell Camera Shop, and Rushin' River Outfitters.