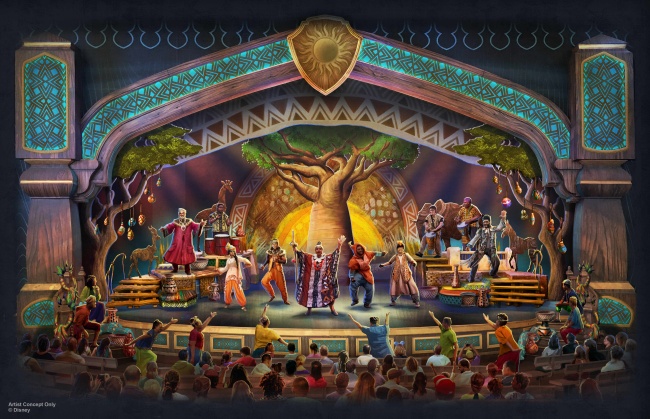 Guests are invited to Celebrate Soulfully this summer at the Disneyland Resort and that will kick off with a new show will debut on May 28 at Disneyland Park!
Disneyland Park
In the Fantasyland Theatre will be the stage show, "Tale of the Lion King". It will be an original, story-theatre adaptation of Disney's "The Lion King".  At the heart of the production is a traveling troupe known as The Storytellers of the Pride Lands. These individuals will weave the tale of how Simba becomes a king through dialogue, song, dance and percussion. There will be great costumes, new original musical arrangements and choreography, and more. "Tale of the Lion King" honors the timeless story. Also on May 28, Troubadour Tavern will return with new menu items inspired by the show.
Disney California Adventure
In addition, beginning June 1 and running through July 4 at Disney California Adventure, enjoy daily live music celebrating Black music genres from Doo-Wop to Motown. Groups will include Philly Phonics, an a cappella vocal group, performing jazzy, tunes from the 1920s through today and also Five & Dime who will sing and swing 1920s and '30s tunes. In the evening, you'll want to head to the Hollywood Backlot. Here you'll be able to enjoy the summer vibes of a block party, featuring live musical acts seven nights a week.
Downtown Disney District
Finally, as part of the Celebrate Soulfully summer, the touring exhibit called "The Soul of Jazz: An American Adventure" will be heading to the Downtown Disney District. The exhibit will be available from June 1 to July 4. This exhibit illustrates the legacy and dynamic history of jazz music. The showcase focuses on Joe Gardner from Pixar's Soul. It takes guests on a musical tour across America, showcasing the rich history of jazz along the way. This exhibition is complimentary. It will be found located in the building adjacent to Star Wars Trading Post.
For those looking for live music, Guests will find it nightly in the Downtown Disney District with genres including jazz, R&B, funk, Motown and Doo-Wop. There will also be a DJ performing at the Downtown Disney LIVE! stage on Saturday and Sunday afternoons.
Follow The Mouse For Less for more information about the latest Disneyland Resort news.
For more Disney news and trip planning advice, follow The Mouse For Less on Facebook, Twitter, Instagram, YouTube, or TikTok.