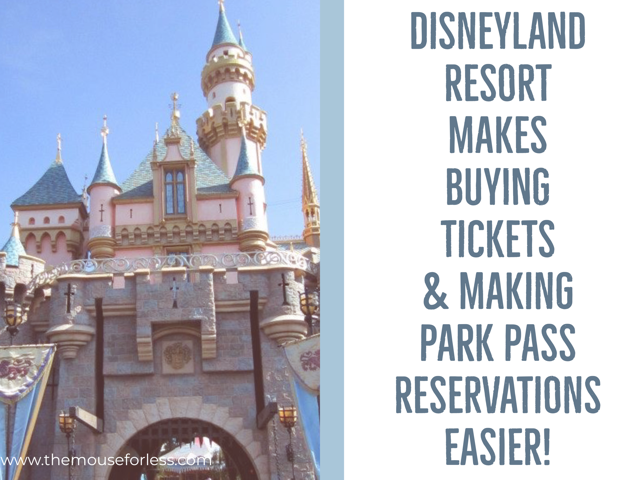 If you're going to the Disneyland Resort, there is a brand new, easier way for you to buy your tickets AND make your theme park pass reservations at the same time!
For those who don't know, currently due to theme park capacity being limited to comply with governmental requirements and to promote physical distancing,  all Guests (ages 3 and older) need to have both a ticket and theme park reservation for the same park on the same date before visiting the parks at the Disneyland Resort.
Here's how you can now buy your ticket and make your park reservation at the same time. a quick look at how it works:
To Purchase a Ticket and Make a Theme Park Reservation Together:
Start at Disneyland.com/ParkReservations and click "Select Ticket."
Choose the number of days you wish to visit the parks.
Choose the number of tickets you need for all Guests in your party, ages 3 and up.
Select your ticket type – one park per day, or Park Hopper tickets.
Pick a date and park for your theme park reservation, subject to availability.
Review your current selections, and purchase
Already Purchase a Disneyland Ticket:
What if you already have a valid ticket? All you have to do is book your theme park reservation using the separate reservation booking tool. Here's how:
Log into your Disney account on Disneyland.com or the Disneyland app to link valid theme park tickets prior to accessing the park reservation system.
Visit Disneyland.com/ParkReservations and click "Make Park Reservation."
Create your party.
Select the day and theme park you'd like to visit.
Review, and confirm your visit!
As a reminder, guests with multi-day tickets will be required to make a separate park reservation for each day they plan to visit the theme parks.
For further information about visiting the Disneyland Resort, visit our Know Before You Go page.