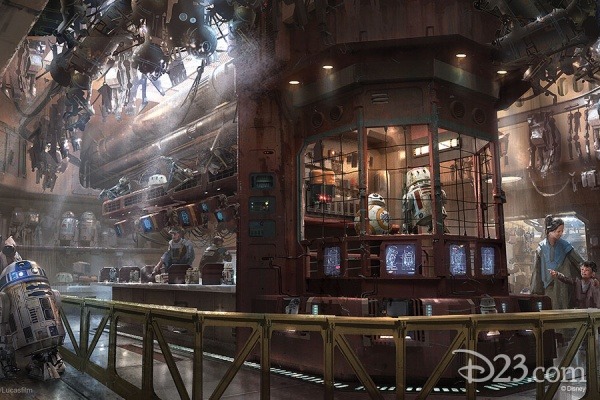 Who wants to take home a droid with them after visiting the planet of Batuu? The Droid Depot located in Star Wars: Galaxy's Edge will make this option a possibility. Here, you'll be able to create your very own customized droid courtesy of various chips, parts, manuals, and other items. During a stop at this experiential shop, Guests will be able to choose from one of two types of droid units, either a R-Series or a BB-Series.
Once Guests register which type of droid they are looking to construct, you'll be given a basket and blueprints. You'll then proceed to a station where you will be able to begin your droid-building experience.
At the Parts Station, you'll get to chose the colors of the components of your customized droid as they roll by on the shop's conveyor belt. For the BB-Series, you'll need to choose a Dome, Dome Connection Plate, Body Sphere, and Motivator. For the R-Series, you'll need to choose a
Dome, Body, Center Leg, and Set of Side-Legs.
From there you'll head to the Build Station. Here you'll follow simple instructions or graphic monitor displays to assemble your droid in the proper sequence. Once your droid has been built, it will be paired with a remote control and activated.
The cost of each droid unit will be $99.99, plus tax and that price includes a carrying box and instructions. Custom units are nonrefundable and are not eligible for Annual Passholder or other discounts. Other various personality chips and other accessories for your unit will be available for an additional charge
Disney recommends that Guests be 3 years or older in order to complete this experience.
The Droid Depot experience is subject to availability and reservations may be required. If reservations are required, late arrivals may not be accommodated.