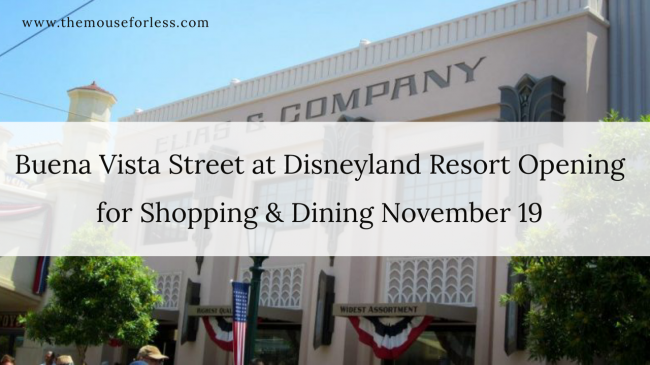 Guests will soon once again be able to step foot inside Disney California Adventure, as an extension of the Downtown Disney District at the Disneyland Resort. As Disney had shared with us, Buena Vista Street will be available to Guests for shopping and dining experiences and now we know that you'll officially be able to visit the extension beginning on November 19.
If Guests are looking for a great meal, look no further than Carthay Circle Lounge – Alfresco Dining. This new outdoor dining experience offering a menu that will include Mediterranean-California light fare, with small plates that can be shared or enjoyed separately. The seasonal menu will include Carthay shrimp roll, harissa-roasted lamb, soy-glazed salmon, lemon-crusted fish of the day and an artisan cheese board. For kids, there will be orecchiette pasta with marinara and orange dragon chicken skewers. Guests can also relax with a glass of wine, craft beers or a cocktail while enjoying amazing views of Buena Vista Street.
Over at Fiddler, Fifer & Practical Cafe, Guests can stop in for a yummy hot chocolate and a cranberry orange scone. If you're looking for something a little more, consider taking advantage of mobile order at Award Wieners for corn dogs or soft drinks or you can also order at Smokejumpers Grill for bacon cheeseburgers, chicken tenders, onion rings, waffle fries, kids' meals, and vanilla and chocolate shakes.
You can also do some holiday shopping at Elias & Co., Julius Katz & Sons, Kingswell Camera Shop and Trolley Treats.
In addition, another change will be occurring beginning November 19. There will be a $10 fee per car for parking at the Downtown Disney District in the Simba Lot.
For those looking to visit, the number of guests allowed will be limited to promote physical distancing and at times a mobile wait list system will be used when Buena Vista Street and/or its queue are at capacity, similar to the process at some retail locations in the Downtown Disney District.
Do keep in mind that technically Disney California Adventure is currently closed.