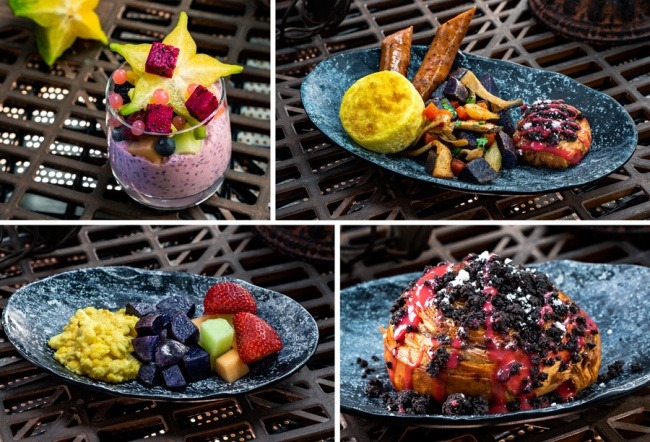 Guests with those early entry times are certainly going to be hungry while traveling around Black Spire Outpost looking for something to eat for breakfast and Star Wars: Galaxy's Edge is providing some delicious options.
At Docking Bay 7 Food and Cargo, Guests are able to enjoy the Bright Suns Morning. This is a three-cheese egg bite that's served with pork sausage and purple potato hash served with a mini Mustafarian Lava Roll. Wait…what is a Mustafarian Roll? It's a sweet galactic delight that is only available on the planet of Batuu. The Mustafarian Roll is topped with raspberry fondant, lemon, and cookies and cream cookie crumbles.
For kids there will also be a Bright Suns Youngling Breakfast with scrambled eggs, purple potatoes, and fresh fruit (or a mini Mustafarian Lava Roll upon request) as well as a choice of small lowfat milk or a small bottle of water.
At Ronto Roasters, get energized with a Ronto Morning Wrap. This dish comes with scrambled eggs, grilled pork sausage, shredded cheese, and peppercorn sauce wrapped in pita.
Found at all three locations (Docking Bay 7 Food and Cargo, Ronto Roasters, and Oga's Cantina) is the Rising Moons Overnight Oats. This healthy dish features dragon fruit, yogurt, and seasonal fruit.
As a reminder, as of right now, only Guests with reservations may enter Star Wars: Galaxy's Edge through June 23. Starting June 24, reservations will no longer be required to experience the land, however, there will be a virtual boarding system that will need to be taken advantage of. Details can be found here.
Oh and for those who are looking to order breakfast, lunch, dinner, or a snack, mobile ordering will be available for Ronto Roasters, Docking Bay 7 Food and Cargo, and the Milk Stand via the Disneyland app.