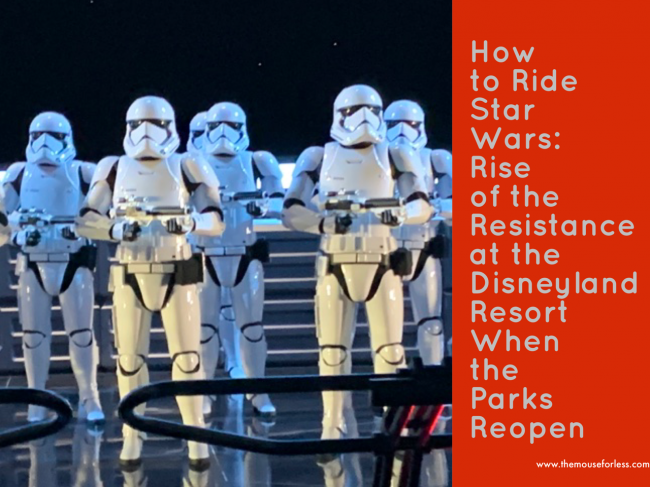 We are so excited for when Disneyland Resort officially reopens on April 30! We can't wait to enjoy the food, the shopping, and yes, the attractions once again. And one attraction are particularly excited about having the opportunity to experience is Star Wars: Rise of the Resistance.
The attraction, which was originally only open for a brief period in Star Wars: Galaxy's Edge before COVID-19 shut down the resort will once again be offering the virtual queue, however the boarding group process will work a little differently than it previously did. The Disneyland Resort is actually taking a page from Walt Disney World.
How Will It Work?
Guests will only be able to experience the attraction by joining the virtual queue. You can access the queue by using the Disneyland app. Guests will have two opportunities to sign up for the virtual queue – once in the morning at 7:00 a.m. , and once later in the afternoon, at 12:00 p.m.
Guests who have valid tickets AND are starting with Disneyland theme park reservation will be able to access the virtual queue system. They can check for an available boarding group in the morning on the day of their park reservation. Guests will need to have their park tickets linked to their Disney account.
To have a chance to access the second opportunity, Guests must have a valid ticket and park reservation. In addition, they must have entered Disneyland, or Disney California Adventure by the time the second window opens up. Plus they must have a Park Hopper ticket. Guests beginning their day at Disney California Adventure may then enter Disneyland with their Park Hopper ticket after 1:00 p.m. if they are able to obtain a boarding pass.
We will share more details about the Star Wars: Rise of the Resistance virtual queue boarding pass process for Disneyland Resort as it is released.
Want to learn more about the reopening of Disneyland? Check our this article.