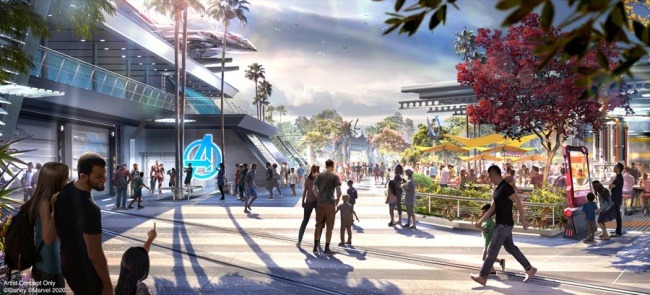 Avengers assemble!!
Avengers Campus, the newest land for the Disneyland Resort, will be officially opening to Guests at Disney California Adventure on July 18! This new land is the place where the Avengers will be recruiting new Super Heroes.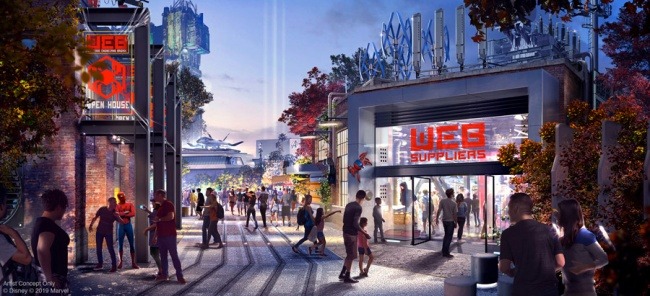 Avengers Campus will be home to the new Spider-Man experience, called WEB SLINGERS: A Spider-Man Adventure. Here, Guests will find that aspiring inventors have invited you to an open house for a test drive of their latest invention: the "Web Slinger" vehicle. This family-friendly attraction will include Tom Holland as Spider-Man and blends physical sets and virtual environments, leveraging specially designed, innovative technology that detects body movements and gestures. Guests will be able to reach out their hands and sling webs from your wrists. The best news…there is no height requirement for this attraction, so even little ones can ride!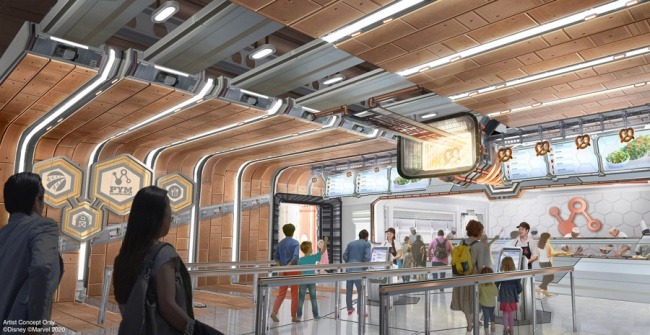 Avengers Campus will also feature Pym Test Kitchen. Pym Technologies applies their innovative science to create shareable bites, inventive-sized entrees and sweet treats. You will be able to taste-test such items as the Impossible plant-based large and micro meatballs with pasta, or the "Pym-ini," a panini served by the slice or as a long, multi-portion sandwich.
Adjacent to the Pym Test Kitchen, Guests will see an oversized beer can overhead which signals that alcoholic beverage options are available at Pym Tasting Lab. Adults will be able to order a craft beer, ranging from a blood orange hefeweizen to an amber lager or try one of the Pym Research Staff's Pym Particle-infused cocktail experiments.
The Shawarma Palace, famous from the Avengers films, will open a location at the Campus too. Guests will be able to enjoy favorite shawarma-inspired snacks at this food cart, which is decked out with memorabilia since the Shawarma Palace owners are huge Avengers fans.
The final dining location will be at the Terran Treats food cart which will be found near Guardians of the Galaxy – Mission: BREAKOUT! This location is brought to life by Taneleer Tivan who is curating a weird and wonderful menu of intergalactic eats.
Of course, Guests who visit this new land will also find some of their favorite characters including Black Widow, Doctor Strange, the Guardians of the Galaxy, Ant-Man and The Wasp will be making their first appearances, Super Heroes from Wakanda and Asgard, and Iron Man, who will be debuting his new armor in Avengers Campus: the Mark 80. Finally, the villainous Taskmaster, who will have a role in the upcoming film Black Widow, will be seen for the first time at a Disney park at Avengers Campus.
You may even have the chance to witness Spider-Man swinging high above Avengers Campus with gravity-defying, acrobatic feats never seen before in a Disney theme park.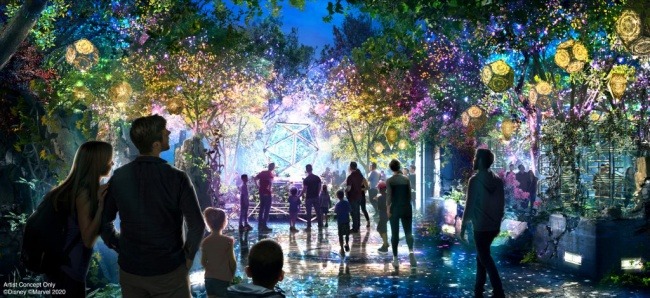 In addition, Doctor Strange will train recruits in the mystic arts by bringing this ancient sanctum to life with powerful spells. At night, the area glows even more vividly with majestic colors and lights, pulsating with mystic energy.
Are you ready to become a Super Hero yourself?