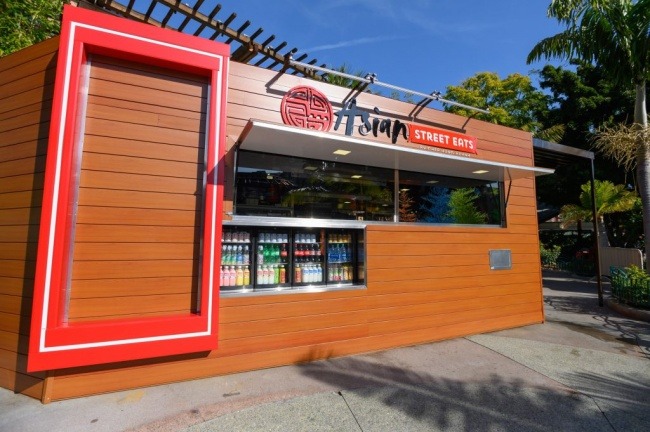 Guests visiting the Downtown Disney District in Disneyland will have a brand new quick service option to choose from. Asian Street Eats by Chef Hung Huynh, who will serve as executive chef and in collaboration with Earl Enterprises will offer a variety of Asian dishes for Guests to enjoy. For those who are unaware, Chef Hung is an award-winner of Bravo's "Top Chef".
This is a take-out window option on the west end will offer dishes that include a mixed bowl that can be customized with your choice of either grilled chicken, braised beef short rib, or sautéed tofu and can come with either royal purple rice or mixed greens and is topped with fire-roasted corn, cabbage, cucumbers, pickled carrots, caramelized onions, and your choice of sauce. There's also the Scallion Pancake Wrap which comes stuffed with cabbage, caramelized onions, pickled carrots, cucumbers, cilantro, hoisin sauce, and Sriracha aïoli and your choice of meats. Sauce options include miso honey, teriyaki, spicy teriyaki, Sriracha aïoli, sesame citrus soy, and spicy avocado. Another option are the pot stickers (either chicken or vegetable) which are served with ginger soy sauce.
For kid's menu offerings, there are kid-sized portions of the mixed bowls.
Asian Street Eats is just another delicious new option that's been recently added to the Downtown Disney District.