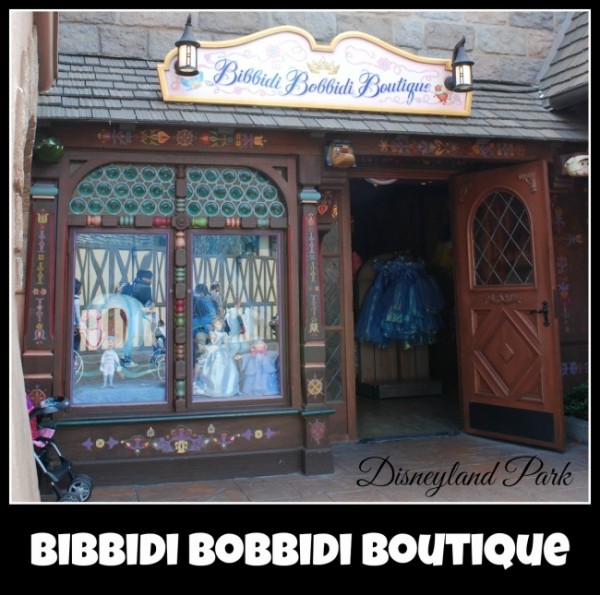 The Bibbidi Bobbidi Boutique at the Disneyland Resort is dedicated to every girl who ever dreamed being a Disney royalty, to girls who believe it's better to twirl than walk, sing than talk and that everything goes better with sparkles, and to boys  who dreamed of fending off imaginary dragons and be a noble prince.
Package Prices and Inclusions What You Need To Know Reservations and Discounts
At the Disneyland Resort, Bibbidi Bobbidi Boutique is found in Fantasyland, just beyond the Sleeping Beauty Castle on the left.  The boutique opens daily with opening hour depending on the operation hours of Disneyland and closing at 6 p.m.  Theme park admission is required.
If you are not visiting Disneyland Theme Park and would like to pamper your princess,  Anna & Elsa's Boutique at Downtown Disney is ready to transform your little one to Elsa, Anna or Olaf.
"Owned" by the Fairy Godmother and "operated" by Fairy Godmothers-in-Training, Bibbidi Bobbidi Boutique offers a magical menu of salon services to make your little princess or prince, ages 3 to 12, look and feel like royalty.
Bibbidi Bobbidi Boutique Package Prices and Inclusions
First, your princess will need to pick a hairstyle. The Crown, The Courtyard and The Castle packages come with one of the following hairstyle choices:
Fairytale Princess: A genuine princess look with hair pulled into a regal bun and topped with your choice of a shining tiara plus a Mickey-shaped barrette to finish your royal Fairytale Princess look.
Pop Princess: The hair is pulled up with a colorful blue, purple, pink and yellow hairpiece and decorated with Mickey Mouse-shaped clips to accent your vivid Pop Princess style and finished with glitter.
Disney Diva: This modern hairstyle adds a hair extension that matches the princess' hair color, sparkling Mickey hair pins and glitter.
Color Star: This trendy hairstyle include colorful hair streaks and your hair fashionably twisted to complete a creative and vibrant style.
From there, you choose the package you would like to select:
The Crown Package (starting at $59.95 plus tax)
Includes choice of hairstyling, shimmering makeup, nail polish, princess sash, face gem and princess cinch bag.
The Courtyard Package (starting at $94.95 plus tax)
Includes choice of hairstyling, shimmering makeup, nail polish, princess sash, face gem, princess cinch bag, Bibbidy Bobbidy Boutique t-shirt and trendy tutu. (T-shirt available in youth sizes from S to XL and adult sizes S to XL and Bibbidi Bobbidi Boutique tutu available in small and medium).
Castle Package (starting at $194.95 plus tax)Includes the Crown Package, a complete costume of your choice with accessories (princess gown, wand and crown). Costume choices may include Ariel, Snow White, Aurora, Belle, Jasmine, Cinderella, Tinker Bell, Tiana, Rapunzel and Merida. Complete with a portrait package courtesy of Disney's PhotoPass Service:  photo taken near Cinderella's carriage and assorted prints presented in a themed folder.  The price is determined by the choice of Princess gown and accessories.
The Knight Package (starting at $18.95 plus tax)
For your little prince, this package Includes hair styling with colorful gel and confetti as well as a mighty sword and shield.
What You Need to Know Before Arriving
Your princess transformation will take 30 minutes to an hour, depending on the package selected. Arrive at least 15 minutes prior to appointment. Requirements are:
Arrive with brushed, clean hair that is free of all styling products such as hairspray, mousse, etc. Child must be free of scalp conditions for at least 30 days prior to appointment.
Clean fingernails (no polish) with washed hands (for packages including nails)
Princesses should bring their own brush or comb.
Children must be accompanied by an adult at least 18 years of age or older during the entire experience.
When booking the Castle Package, you will need to advise which costume your Princess wants, as well as clothing and shoe size.
Sorry, no adults; ages 3-12 only!
If you arrive late, you may not be accommodated.
Bibbidi Bobbidi Boutique Reservations and Discounts
Reserving: This magical makeover is incredibly popular.  Making reservations is strongly recommended, although walk-ins are accepted upon availability. Start the process by calling 1 (714) 781-7895 to book your appointment with a Fairy Godmother-in-training  up to 60 days in advance. The last reservations will be given one-half hour before closing. Guests under 18 years of age must have parent or guardian permission to call.
Discounts Available: Discounts are available at the Bibbidi Bobbidi Boutique at the Disneyland Resort for Disneyland annual passholders.  Premium passholders receive 20% discount off the package/merchandise and Deluxe/Southern California/Southern California Select passholders receive 10% discount off the package/merchandise.
Disneyland Resort Theme Parks & Entertainment
For more information on Disneyland Resorts attractions, points of interest, tours, shows and more, visit our Disneyland Parks page.