Disney California Adventure Resort | Paradise Pier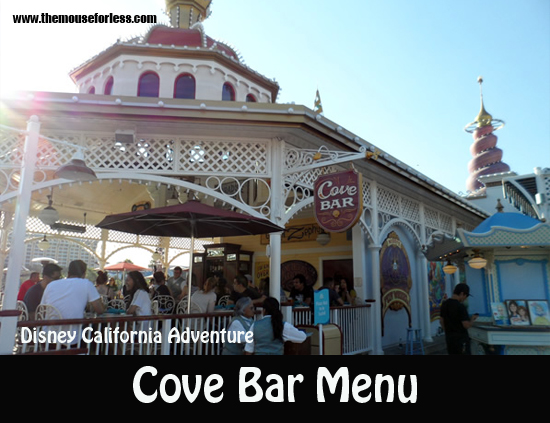 Upstairs from Ariel's Grotto, you'll find the open-air Cove Bar. Find a seat under the Cove Bar's gazebo roof or on the open patio where you can relax and enjoy fresh air and a scenic view of Paradise Bay while sampling delicious appetizers like lobster nachos.
Restaurant Info: American, Lunch/Dinner, $ – $14.99 and under per adult
Annual Passport Discounts: Signature Passport, Premium, Signature Plus Passport: 15%
Annual Passport Discounts: Deluxe, Southern California Select, Southern California Passport: 10%
Cove Bar Menu
Menu Date: 07/2017
Appetizers
Specialty Artisan Pizza – Ask your server for today's specialty Artisan Pizza – $12.00
Spinach and Artichoke Dip – A creamy blend of Roasted Artichoke Hearts, Sautéed Spinach and Onions with Parmesan, Jack, and Cream Cheese served with fresh House-made Tortilla Chips – $11.00
CB Lobster Nachos – Tender Lobster Pieces atop fresh House-made Tortilla Chips with Black Beans, Pico de Gallo, Chipotle Crema, and our Signature Aged Cheddar and Oaxaca Cheese Sauce – $16.00
Trio of Tri-Tip Sliders – Mojo Criollo with crispy Onions, Barbecue with Tangy Slaw Bacon, Arugula, and Blue Cheese served on Toasted Brioche – $13.00
Buffalo Wings – Fiery Chicken Wings served with Blue Cheese Dressing – $12.00
Fajita Quesadilla Rolls – Grilled Flour Tortilla rolled with Chicken, Onions, Peppers, and Jack and Cheddar Cheese with Guajillo Sauce, Chipotle Crema, and Avocado Relish – $11.00
Specialty Beverages.
Corona Michelada – $9.00
Dos Equis Michelada – $9.00
Sparkling & White Wines
Saint-Hilaire Blanc de Blancs Brut, France – Delicate apple and ripe pear, toast, minerality with clean citrus finish – Glass $10.00/Bottle $40.00
Dr. Loosen, Dr. L Riesling, Mosel – Lightly sweet, green apple and citrus flavors elegantly laced with racy acidity and minerality from steep slate slopes – Glass $10.00/Bottle $45.00
Placido Pinot Grigio, Veneto – Light, fresh floral and mineral aromas with refreshing flavors of citrus and green apple, and a clean, fresh lemon zest finish – Glass $9.00/Bottle $39.00
Tangent Viognier, Edna Valley – Flavors of peach, apricot, and Asian pear meld well with a somewhat spicy evergreen component – Glass $9.00/Bottle $39.00
Kendall-Jackson Vintner's Reserve Chardonnay, California – Pineapple, mango, papaya, and citrus notes, followed by hints of toasted oak and a buttery finish – Glass $10.00/Bottle $38.00
Banfi Rosa Regale, Brachetto d'Acqui, Piedmont – Slightly sweet red sparkling wine with rose petal aromas and strawberries, raspberries, and cranberries on the palate – Glass $12.00/Bottle $53.00
Batasiolo Moscato d'Asti Bosc, Piedmont – Refreshing aromas and flavors of tropical fruit and sugar cane with a wonderful acidity on the finish – Glass $9.00/Bottle $39.00
St. Supéry Sauvignon Blanc, Napa Valley – Generous grapefruit aromas coupled with lime, kiwi, and a subtle zest of caper. Flavors of guava and lemon zest add to a vibrant and crisp finish – Glass $9.00/Bottle $39.00
Brassfiled Estate Serenity, High Valley Appellation, Lake County – Floral nose with mandarin orange perfume, slightly sweet with flavors of red delicious apple, peach, and fruit cocktail – Glass $10.00/Bottle $40.00
Cambria, Katherine's Vineyard Chardonnay, Santa Maria Valley – Dry, full-blodied, notes of apple, pear, and tropical fruit elegantly balanced with flavors of vanilla and spice in a long finish – Glass $13.00/Bottle $50.00
Red Wines
DeLoach Pinot Noir, California – An elegant, well-balanced wine offering mouthwatering flavors of cherry and cranberry accented beautifully with just a touch of spice – Glass $10.00/Bottle $40.00
Canyon Road Merlot, California – Black cherry and juicy plum notes, balanced with a round, velvety texture – Glass $9.00/Bottle $38.00
Kenwood Vineyards Jack London Zinfandel, Sonoma County – Ripe aroma of raspberries and strawberries blended with notes of chocolate-covered cherries and white pepper; rich, viscous body with red fruit flavor and a long finish – Glass $13.00/Bottle $46.00
St Hallett Faith Shiraz, Barossa – A luscious nose filled with bright red fruits of cherry and raspberry, with spices and cocoa – Glass $9.00/Bottle $39.00
Rodney Strong Cabernet Sauvignon, Sonoma County – Aromas of blackberry, cocoa, and currant lead to a rich, layered mouthfeel, replete with black cherry, cedar, and cassis, and structured with lush, mature tannins – Glass $10.00/Bottle $45.00
Mazzoni Toscano Rosso, Tuscany – The nose has fruity notes of red berry fruit, plums, blackberry, balsamic notes, sweet spices, tobacco leaf, and licorice – Glass $10.00/Bottle $45.00
Villa San-Juliette Winery Merlot, Paso Robles – Rich black cherry, blackberry, and cocoa aromas and flavors in this richly textured, smooth wine – Glass $10.00/Bottle $42.00
Don Miguel Gascón Malbec, Mendoza – Dark black plum and blackberry flavors with fruit-forward intensity, smooth and round finish – Glass $8.00/Bottle $45.00
Black Pearl Oro Shiraz-Cabernet, Paarl – Rich and soft but full of flavor, deep black cherry and cassis with chocolaty notes and velvety mouth-coating tannins, plush and smooth – Glass $13.00/Bottle $49.00
Beaulieu Vineyard Cabernet Sauvignon, Napa Valley – Velvety layers of blackberry, plum, chocolate, and violet – Glass $12.00/Bottle $52.00
Sangria
Red Sangria – Beso Del Sol Red Sangria made from a 100% natural marriage of Spanish Tempranillo grapes, orange, blood orange, and lemon juices, with a touch of natural cinnamon – $9.50
White Sangria – Beso Del Sol White Sangria made from a 100% natural blend of Airén white Spanish grapes, lemon, peach, and mango juices – $9.50
Specialty Cocktails
Rye Manhattan – Bulleit Rye Small Batch American Whiskey, Carpano Antica Sweet Vermouth, and Angostura Bitters, garnished with Luxardo Gourmet Maraschino Cherries
Moscow Mule – Russian Standard Vodka, fresh Lime Juice, and Agave Nectar topped with Ginger Beer
Bahama Mama – PARROT BAY Cocunut Rum, MYERS'S Original Dark Rum, Créme de Banana, and Tropical Juices
Captain's Mai Tai – CAPTAIN MORGAN Original Spiced Rum, Amaretto, and Tropical Juices topped with a float of MYERS'S Original Dark Rum
Bacardi Mojito – BACARDI Superior Rum, fresh Lime Juice, Agave Nectar, and Mint topped with Soda Water
Magical Star Cocktail – X-Fusion Organic mango and Passion Fruit Liqueur, PARROT BAY Coconut Rum, Pineapple Juice, and a souvenir multicolored Glow Cube
Habanero Lime Margarita – Patrón Silver Tequila, Habañero Lime, and House-made Sweet-and-Sour
Watermelon Margarita – Patrón Silver Tequila, Watermelon, and fresh Lime Juice
Spicy Watermelon Margarita – Patrón Silver Tequila, Habanero Lime, Watermelon, and fresh Lime Juice
Pimm's Punch – Pimm's No. 1 Liqueur, Hendrick's, Odwalla Lemondade, and Wild Strawberry
Pina Colava – BACARDI BLACK RAZZ Rum with Piña Colada Mix and Raspberry Purée
Ultimate Long Island Iced Tea – BACARDI Superior Rum, Tito's handmade Vodka, Hendrick's, Cointreau, and Sweet-and-Sour with a splash of Coca-Cola
Smoked Turkey – Wild Turkey 101 Bourbon, Red Stag Black Cherry Bourbon, Grenadine, and Odwalla Lemonade with a hint of Hickory Smoke, garnished with Luxardo Gourmet Maraschino Cherries
Raspberry-Ginger Mojito – Finlandia Raspberry Vodka, Ginger, Mint, Raspberry Purée, and fresh Lime Juice topped with Coconut Water
Blue "Glow-tini" – SKYY Infusions Citrus Vodka, Peach Schnapps, Blue Curaçao, and Pineapple Juice with a Sugared Rim and a souvenir Glow Cube
Godiva Chocolate Martini – Godiva Chocolate Liqueur, Stoli Vanil Vodka, Bols White Crème de Cacao, and Frangelico
Agave Nectar Margarita – Tres Generacione Organic Plata Tequila, Agave Nectar, and fresh Lime Juice
Beer
Budweiser or Bud Light – St. Louis, MO
Coors Light – Golden, CO
Corona Extra or Dos Equis – Mexico
Heineken – Netherlands
Miller Lite – Milwaukee, WI
Stella Artios – Belgium
Hangar 24 Orange Wheat Ale – Redlands, CA
Blue Moon Belgian White (Witbier) – Golden, CO
North Coast Pranquster – Fort Bragg, CA
North Coast Brother Thelonious Belgian-style Abbey Ale – Fort Bragg, CA
New Belgium Fat Tire – Ft. Collins, CO
Non-Alcoholic Mocktails
Cotton Candy Lemonade – All Natural Odwalla® Lemonade flavored with Cotton Candy and garnished with Cotton Candy
**Menu and Prices are Subject to Change Without Notice **