PRINTING INSTRUCTIONS:
You will need to have the free program Adobe Acrobat Reader for viewing and printing your pages off Homemade Disney Autograph Books Page 2. The Cover Page can be customized before printing. If you chose to do this you will need to have either Microsoft Word or the free program Open Office for customizing.
Select the autograph page by clicking directly on the page (or on the link below it). The page will open in Adobe Acrobat Reader (or Word if you are customizing your Cover Page) so that you can view and print the page.
We would like to thank Bill W. for sharing these pages with other readers!
For instructions on assembling the autograph book, refer to Page 1</a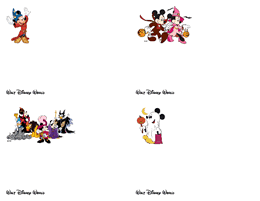 Halloween
Return to Kids Downloads Index Page