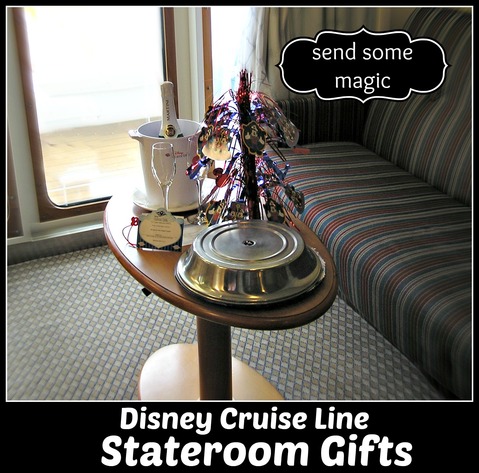 Nothing adds to the excitement of a cruise quite like a stateroom gifts. Gifts can be purchased by the cruiser or by someone who wants to wish the cruisers a special "Bon Voyage." There are many options for stateroom gifts from useful trinkets such as bags and photo books to yummy treats, there is something for every taste and budget.
Please remember that all gifts must be ordered in advance — usually 48 hours prior to sailing. In some cases, you may need to order earlier. It's best to check the requirements well in advance.
Following are vendors for stateroom gifts.
Disney Cruise Line Gifts
Straight from the cruise line, there are gifts for all occasions. Options vary slightly by port. Gift include food, floral arrangements, Disney Cruise Line merchandise, room decorations and more. Guests and friends can even pre-order formalwear, beverage packages, baby items, or spa passes.
View gifts available through Disney Cruise Line.
Gifts can be ordered by calling Disney Cruise Line at (800) 601-8455 or by downloading the gift order form from their website. Completed order forms can be faxed to (407) 938-4288.