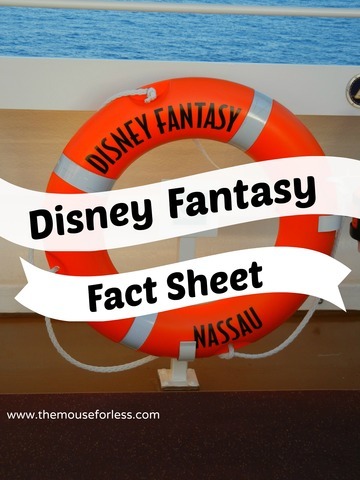 The Disney Fantasy is the fourth ship in the Disney Cruise Line fleet.  With 14 towering decks, the ship has the capacity to accommodate 4,000 passengers. Aboard this majestic sailing vessel, state-of-the-art technology meets early 20th-century design recalling the golden age of cruising in the 1930s. Here, you'll find the vast array of comforts, outstanding service and timeless beauty of a ship that's sure to capture your heart and imagination.
Disney Fantasy Ship Facts
Birthplace Meyer Werft – Papenburg, Germany
Maiden Voyage March 31, 2012
Home Port Port Canaveral, FL
Ship's Registry Bahamas
Tonnage 130,000 gross tons
Length 1,115 feet
Beam 121 feet
Draft 28 feet
Height 216 feet
Speed 22 knots cruising speed (maximum 23.5 knots)
Crew 1,458
Passenger Decks 14
Capacity 4,000 passengers
Staterooms 1,250
150 Inside Staterooms (12%)
1,100 Outside Staterooms (88%)

199 ocean view
901 verandah (includes 21 suites)

Planning a Disney Cruise Vacation?
For a Free no-obligation quote, contact our sponsor
The Magic For Less Travel
. Receive the best prices, free concierge travel planning & a shipboard credit of up to 5% of your cruise price when you book any new Disney Cruise Line vacation with The Magic For Less Travel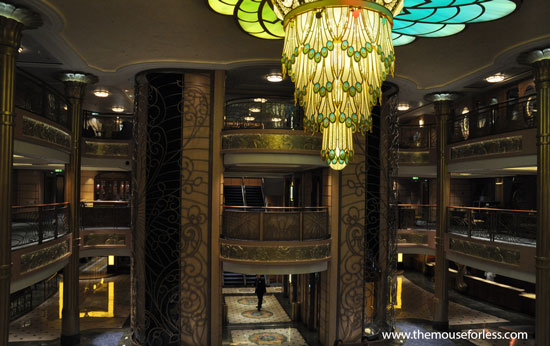 Main Public Areas
Atrium Lobby – Deck 3 (atrium spans three decks)
Walt Disney Theatre (1,340 capacity; live original productions) – Decks 3 and 4
Buena Vista Theatre (399 capacity; motion pictures) – Decks 4 and 5
Preludes theatre concessions – Deck 3
Bon Voyage atrium lobby bar – Deck 3
Vista Café – Deck 4
Shutters (Capturing Memories) photo gallery – Deck 4
Vista Gallery – Deck 4
Guest Services – Deck 3
Port Adventures – Deck 5
Family Areas
D Lounge – Deck 4
AquaDuck water coaster – entrance on Deck 12
AquaLab water play area – Deck 12
Bibbidi Bobbidi Boutique – Deck 5
Goofy's Sports deck – Deck 13
Donald's Pool – Deck 11
Mickey's Pool – Deck 11
Nemo's Reef water-play area – Deck 11
Arr-cade – Deck 11
Mickey's Mainsail, Sea Treasures, Whitecaps retail shops – Deck 3
Whozits & Whatzits retail shop – Deck 11
Youth Areas
It's a Small World Nursery – Deck 5
Disney's Oceaneer Club – Deck 5
Disney's Oceaneer Lab – Deck 5
Vibe teen club – Deck 5
Edge tween club – Deck 13
Adult Areas
Europa – Deck 4

Skyline
Ooh La La
The Tube
La Piazza
O'Gill's Pub

Senses Spa & Salon – Deck 11
Quiet Cove Pool – Deck 11
Satellite Sun Deck – Deck 13
Cove Bar – Deck 11
Cove Café – Deck 11
Meridian bar – Deck 12
Waves bar – Deck 12
Currents bar – Deck 13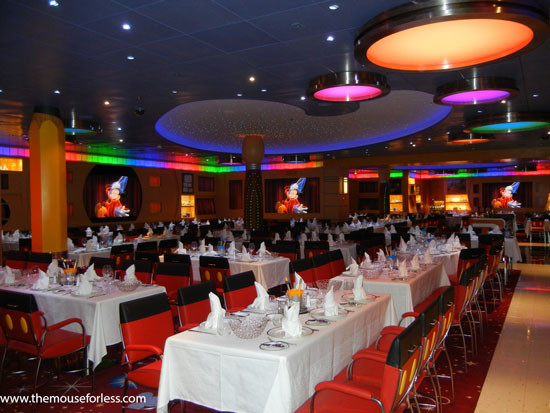 Dining
Enchanted Garden main dining (696 capacity) – Deck 2
Animator's Palate main dining (696 capacity) – Deck 3
Royal Court main dining (696 capacity) – Deck 3
Remy adult-exclusive fine dining (68 capacity) – Deck 12
Palo adult-exclusive fine dining (128 inside / 16 outside capacity) – Deck 12
Cabanas casual dining – Deck 11
Flo's Café: Luigi's Pizza, Tow Mater's Grill, Fillmore's Favorites quick service – Deck 11
Eye Scream ice cream – Deck 11
Frozone Treats smoothies – Deck 11
Fun Facts
The Disney ships are painted in Mickey Mouse-inspired colors – black hull, white superstructure, yellow trim and two giant red funnels, each with the Disney Cruise Line Mickey Mouse logo.
Disney Cruise Line was the first cruise line to have yellow lifeboats, instead of the traditional regulation orange. Disney was granted special permission from the U.S. Coast Guard to paint the lifeboats yellow, to keep with the special color theming of the ship.
Disney ships are the only cruise ships to have four captains – the ship's captain, Captain Mickey, Captain Hook and Captain Jack Sparrow.
Offer free soft drinks any time of day or night, with a free 24/7 beverage station offering sodas, coffee, tea and water.
In a cruise industry first, most staterooms on Disney ships feature a split "bath-and-a-half" design, providing families the added convenience of a sink and tub/shower in one room and a sink and toilet in a separate room.
The ship's horn on the Disney Fantasy is a prominent element of the "Sailing Away" deck party at the start of every cruise and is quite the musical talent. The horns are able to sound the first musical line of "When You Wish Upon a Star" as well as the second line of the song ("makes no difference who you are") plus, several measures of "Yo Ho (A Pirate's Life for Me)," "It's a Small World," "Be Our Guest," "Hi Diddle Dee Dee (An Actor's Life for Me)" and "A Dream is a Wish Your Heart Makes."
The characters Dumbo and Timothy on the Disney Fantasy's stern weigh in at more than 2,300 pounds. Dumbo is a little over eight feet long from head to tail with an "ear span" of seven feet. Timothy sits 2'6″ tall on Dumbo's hat and is holding a paint brush that's about 3'10″long. Dumbo was sculpted from large foam blocks by Walt Disney Imagineering artists in Glendale, Calif. The sculpted pieces were then shipped to Florida where Disney craftsmen and artists created him in fiberglass and paint over a frame of marine-grade stainless steel. The duo was installed in Papenburg, Germany.
The Art Nouveau-inspired chandelier on the Disney Fantasy cascades downward from a massive, illuminated stained-glass flourish on the ceiling in vibrant hues of greens and blues. The chandelier itself is more than 10 feet in diameter, a one-of-a-kind work of art evoking a peacock in stained glass and more than 60,000 clear Swarovski crystal beads.
Every Disney Cruise Line ship has an atrium lobby statue celebrating a classic Disney character. The Disney Fantasy's bronze-cast pièce de résistance is Mademoiselle Minnie Mouse, dressed in vintage fashion with a parasol and steamer luggage at her side.
Walt Disney Imagineers elevated the AquaDuck water coaster on the Disney Fantasy in order to maximize space on the deck. And with the AquaDuck in place, they had room for their imaginations to concoct yet another family activity on the Disney Fantasy – AquaLab! This 1,800-square-foot get-wet area on Deck 12 is filled with pop jets, geysers and bubblers.
Muppet Pepe the King Prawn, who stars in the ship's new Midship Detective Agency game, has his very own stateroom on the Disney Fantasy. Located down the hall from the youth clubs, the door to stateroom 5148 ½ is decked out with Pepe's activity schedule, photos of his Muppet friends and notes from guests. While no one has ever actually seen the Muppet-sized door open, Pepe has not been shy bragging about the space reserved just for him.
Sips, sights and sounds of the diverse cities, countries and cultures of Europe – that's what's in store all in one evening and all in one place aboard the Disney Fantasy. The adult nightlife district Europa features five clubs and lounges that treat the senses to a taste of Ireland, England, France and Italy plus stunning skylines and signature cocktails inspired by Russia, Greece, Hungary and Spain.
Guests can celebrate special occasions with a one-of-a-kind toast at nightspots dedicated to "bubbly." A special Taittinger Nocturne with Jessica Rabbit gracing the bottle is the signature bubbly in Ooh La La, the Disney Fantasy's Champagne-themed cocktail bar.
Ahoy, mateys! Subtle nautical motif adorns Disney Cruise Line ships, including traditional maritime symbols and lettering that only the conscientious sailor can spot. For example, on the carpet in the Disney Fantasy stateroom corridors, a ship's wheel encompasses a map of the world and nautical flags spell out the name of the ship.
At 1,115 feet, the Disney Fantasy is longer than the height of the Eiffel Tower in Paris (1,063 feet) and longer than the height of New York City's famous Chrysler Building (1,047 feet).
A leader in family entertainment, Disney is the only cruise line to first-run feature films, including films in 3-D, with movies premiering at sea on the same day that they are released on land.
Don't worry about getting a chill! The swimming pools on Disney ships are heated when the water temperature drops below 75 degrees. The Disney Fantasy was worth the wait! From cutting the first piece of steel on March 16, 2010, until the Maiden Voyage on March 31, 2012, it was just over two years in the making. That's 747 days, and to get technical, that's 17,928 hours.
For pricing and information contact The Magic For Less Travel
DCL-21-2129900 Disney Dream Disney Fantasy Deck Plans