While yesterday, Disney shared updated details about what little kids could expect with the Oceaneer Club on the Disney Wish, the teens and tweens haven't been forgotten. There will be three fantastic spaces for these age groups onboard the brand new Disney Cruise Line ship. These trendy spaces will be great places to hang out. There will also enjoy counselor-led programming created just for them. These spaces will feature creative design details, comfortable lounge space and high-tech entertainment to enjoy.
Edge
This space, which is for tweens ages 11 to 14 will be a bright, colorful hangout. It will be inspired by a chic New York City loft that will include cozy furnishings, comfortable niches for solo gaming and movie watching, and a soda bar. Tweens won't want to miss experiencing the indoor solarium area, which will feature an overhead skylight effect. There will also be carpet patterned with fresh grass and daisies, a back wall mural of a bright blue sky, and games inspired by an outdoor city park. Oh and you can bet that Edge will feature lots of photo walls!
Vibe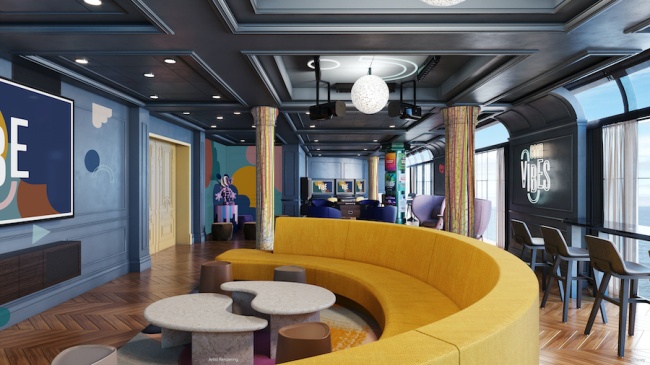 At Vibe, teens ages 14 to 17 will be able to meet new friends, watch movies, play games and participate in entertaining activities. Vibe is inspired by a Parisian artists' loft. It will feature regal French columns and paneled walls. The space will be covered with whimsical pop art murals and colorful graffiti, as well as a traditional French Morris column plastered with Disney-inspired travel posters.
The décor will include a retro twist, with neon signs and funky pop art throughout. There will even be a larger-than-life brightly painted Mickey Mouse statue. You won't be able to miss the floor-to-ceiling windows overlooking the ocean. And Vibe will offer fantastic backdrops for lots of selfies.
The Hideaway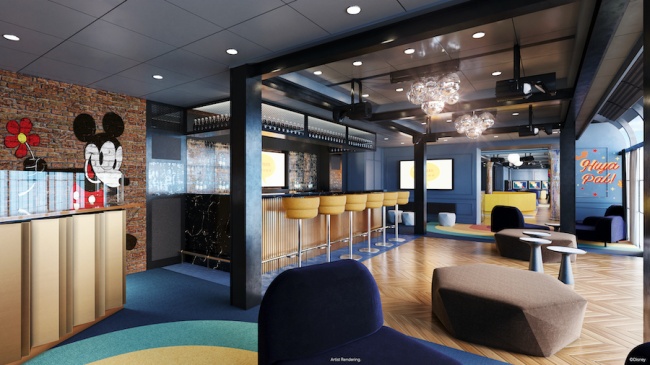 For the first time on a Disney ship, the Disney Wish will feature a third teen retreat called The Hideaway. This new hangout will offer older kids and young adults a place to relax, sip a smoothie, and listen to music. There will even be a dance floor and DJ booth, perfect for karaoke contests and dance competitions.
The Hideaway will feature a vibrant color palette, retro-inspired design details. There will even be a stylized "Hiya, pal" mural and disco ball lights. Adjacent to Vibe, The Hideaway can be opened to the teen club or closed off for tween activities. It can even reserved especially for guests ages 18 to 20.
The Disney Wish will sail its maiden voyage on June 9, 2022. The ship will then sail three- and four-night cruises to Nassau, Bahamas, and Disney's private island, Castaway Cay, from Port Canaveral, Florida.