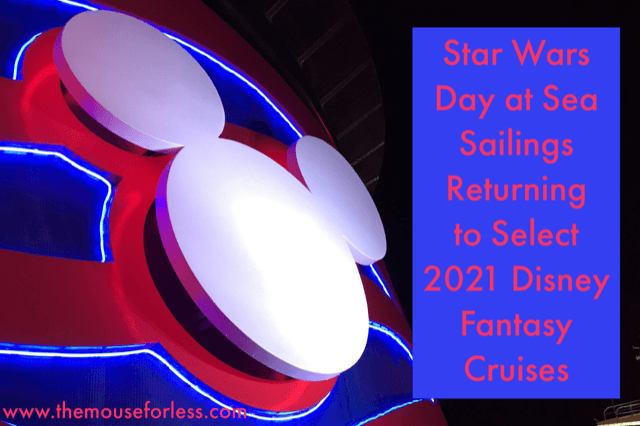 If you'll be sailing on Disney Cruise Line in early 2021 on the Disney Fantasy, you'll be able to travel to a galaxy far, far away! Beginning January through the end of February, Guests will be able to experience the Star Wars Day at Sea.
The Star Wars Day at Sea is a special day-long celebration that is filled with unique character encounters, live shows and Star Wars-themed activities for all ages. In 2021, Star Wars Day at Sea will take place on seven-night Disney Fantasy cruises to the Caribbean.
During this particular day, you will meet with Chewbacca, C-3PO and R2-D2, Darth Vader and watch as see Stormtroopers, Bounty Hunters and Jawas roam the ship.
Kiddos will also be able to learn the ways of the Jedi and as they face-off against Darth Vader and Kylo Ren in Jedi Training: Trials of the Temple. In addition, throughout the day, there will be costume celebrations, movie screenings, trivia sessions, the Star Wars Drawing Academy and a ship-wide Porg-themed adventure, as well as unique food and beverage and special merchandise.
Of course, Guests will be able to celebrate the greatest moments from the Star Wars galaxy at the "Summon the Force" deck party and yes, there will be fireworks.
These special cruises will be offered on nine Disney Fantasy seven-night Caribbean cruises sailing. Departure dates will include January 2, January 9, January 16, January 23, January 30, February 6, February 13, February 20, and February 27,
For those who are sailing on one of these fun cruises in 2021, may the Force be with you!