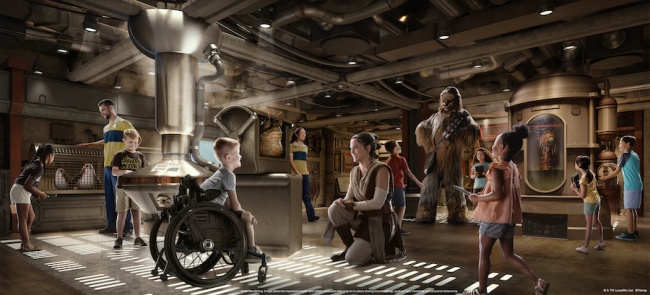 Do you have a kiddo who is excited to experience the Disney Wish's kids areas in the Oceaneer Club? Well, today Disney shared that there will be some fantastic new areas that your little ones are definitely going to want to explore on this new Disney Cruise Line ship, in addition to some more details about the previously announced areas. These are immersive and imaginative places put your kids into fun stories about characters that they know and love and it will will transform these sections into living worlds through magical entertainment presented courtesy of help from the Disney-trained counselors.
In the Oceaneer's Club, children ages 3 to 12 will be able to step into the previously announced spaces that include Marvel Super Hero Academy, a high-tech facility for training the next generation of heroes; Fairytale Hall, a royal trio of activity rooms inspired by Rapunzel, Belle and "Frozen" friends; and Walt Disney Imagineering Lab, a unique opportunity for kids to discover the secrets of world-renowned Disney Imagineers. But there are two additional places they will be able to visit – Star Wars: Cargo Bay and Mickey and Minnie Captain's Deck.
Star Wars: Cargo Bay
Here legendary characters of the Star Wars galaxy will be found in Star Wars: Cargo Bay. This will be a first-of-its-kind immersive experience that will allow Guests to be creature handlers as they learn to manage these exotic beings. Kids can take care of animals that include a porg, Loth-cat, worrt and more. Throughout the cruise, they'll use augmented reality-enabled datapads to track and study the creatures on a series of special assignments.  In addition, there will also be another important mission – delivering a pair of secret stowaways, Rey and Chewbacca, back to the Resistance. There will also be an the interactive "Star Wars: Creature Challenge" experience. Here, caretakers will be put to the test when things go wrong. You'll need to call on Rey and Chewbacca — and even channel the Force — to secure the ship from destruction.
Mickey and Minnie Captain's Deck
The youngest sailors will be able to participate in Mickey and Minnie Captain's Deck. This is a nautical playground inspired by the colors, icons and magic of Disney Cruise Line. This brand-new space will be filled with maritime-themed physical and sensory-style games and activities. These include things like pipe slides and crawl-throughs, ship's wheels, "busy boxes" fashioned as ship controls and cushy life preserver seating areas. There will also be quality play time with Mickey Mouse and Minnie Mouse themselves.
Also, at select times throughout the voyage, the space will be open to little ones' families for group play. Also, the toddlers from It's a Small World Nursery will get dedicated access to the club to play with Mickey and Minnie.
The signature experience in this space will be "Minnie's Captain Academy." This will be a high-energy training session for kids to exercise their bodies (through playful games, dancing and maritime "drills") and their minds, testing their imagination and ingenuity during a series of challenges tied to STEAM principles (science, technology, engineering, arts and mathematics). Captain Minnie will inspect their progress and declare them honorary captains!
Marvel Super Hero Academy
At Marvel Super Hero Academy, join a hands-on training session with Ant-Man and The Wasp. Here you'll learn how to create and test Pym Particles, the technology that allows these heroes to shrink and grow objects (and themselves). Also at Marvel Super Hero Academy, kids will team up with the masterminds from Pym Technologies and Wakandan Design Group, including a special appearance by Black Panther, to thwart Taskmaster's evil plan to hack into the academy's system and steal the world's most advanced hero tech.
Fairytale Hall
There will be many experiences that kiddos will be able to experience in Fairytale Hall. When the hub of Disney's Oceaneer Club transforms into the Snuggly Duckling tavern, kids will have the best day ever with Rapunzel and Flynn Rider. There will be a fun scavenger hunt to recover the missing pieces of the Snuggly Duckling sign. Then, in Belle's Library, children will use their imaginations to create a new story for their favorite booklover. Belle will lend her wits and her magic mirror to help determine the characters, plot and conclusion of the brand-new tale. Finally, at Anna and Elsa's Sommerhus, participate in a special celebration of Queen Anna's recent coronation by acting out the history of how she became queen, taking on the roles and iconic movie moments of characters like Anna, Elsa, Olaf, Kristoff, Hans and more.
Take a look at more of the experiences of the Oceaneer Club via this video that Disney shared:
Find out more about the Disney Wish's kids areas here.
The Disney Wish will sail its maiden voyage on June 9, 2022, followed by three- and four-night cruises to Nassau, Bahamas, and Disney's private island, Castaway Cay, from Port Canaveral, Florida.