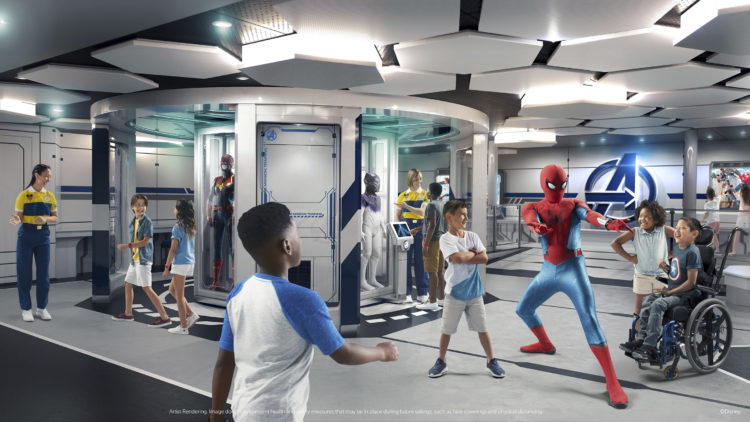 One of the best parts of sailing on Disney Cruise Line are the kids areas. Disney is of course, known for having amazing areas for the kiddos that take the Disney stories and bring them to the next level. And you can bet the Disney Wish will be bringing the unique stories to life in fun, new ways. There will be immersive worlds themed to Marvel, Disney films, and more. These areas will feature imaginative programs with the care and expertise of Disney-trained counselors.
Let's learn more about what to expect:
Disney's Oceaneer Club
Kids ages 3 to 12 will be able to enter the worlds of some of their favorite Disney stories in the completely reimagined Disney's Oceaneer Club. There will be the ability to do arts and crafts, dress-up, play with toys, games and even watching Disney movies. Onboard the Disney Wish, the Oceaneer Club will be moved to Deck 2, but the fun to enter starts on Deck 3. That's because there is a "secret" entrance that takes the form of a twisting slide. When kiddos enter the entrance of the club, they will find it decorated with black-and-white sketches of Disney and Pixar characters and there will be a stage that will feature its own slate of special shows, activities and character appearances.
So what will the kids get to experience in the Oceaneer Club? Well, if you have a Marvel fan, this will be the place to be courtesy of Marvel Super Hero Academy. This will be a high-tech Avengers headquarters where young "recruits" will train to be the next generation of Super Heroes. They will even have the help of real-life heroes, like Spider-Man, Black Panther, Ant-Man and the Wasp. Kids will begin by choosing a super hero suit from a selection of power sets based on Marvel heroes like Iron Man and Captain Marvel, and watching their choices become nanotech forms around mannequins in real-time. Then it will be time for "Avengers: Mission Training," which will be a gesture-based technology game where they put their new suits and skills to the test as they virtually battle bad guys.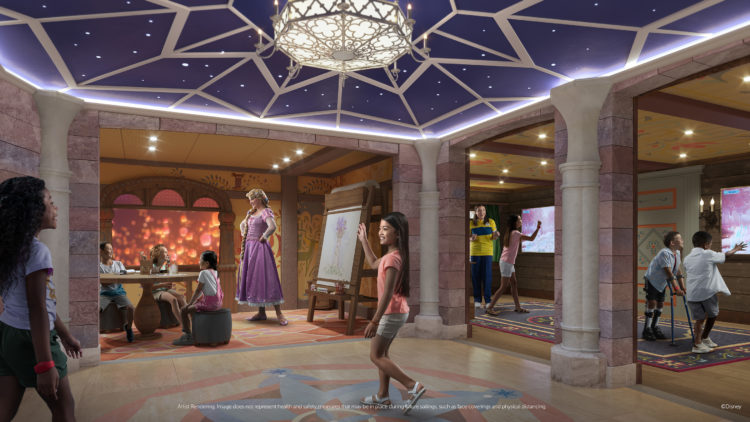 Kids will also be enchanted by Fairytale Hall. This will be a trio of activity rooms where kids will join some of their favorite Disney Princesses. First will be Rapunzel's Art Studio where kids will be able to make their own arts and crafts projects, like floating lanterns and paintings. Over in Belle's Library, they will find a cozy corner for reading, plus they can act out stories with the help of favorite Disney characters courtesy of an enchanted painting above the fireplace that will magically transform to bring the tales to life. Finally, in Anna and Elsa summer cabin, kids will unlock icy powers during "Frozen Fun." This will be a series of gesture-based games hosted by Olaf that include snowball fights with friendly trolls and a hunt for mischievous Snowgies.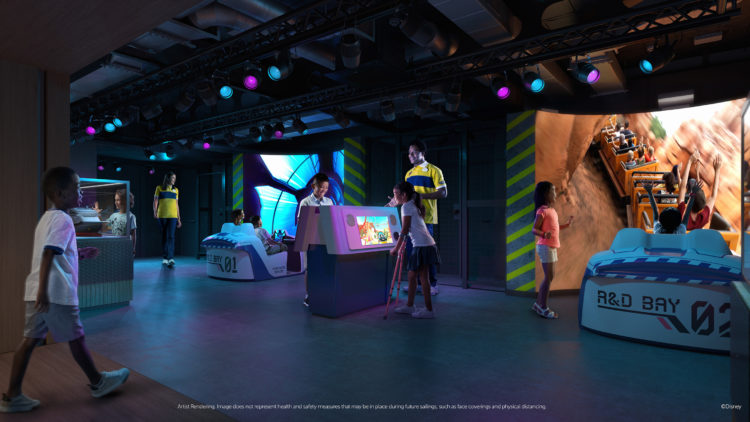 The final place in the Oceaneer's Club sounds right up my alley. In the Walt Disney Imagineering Lab, it will be a first-of-its-kind opportunity for kids to discover the secrets of Disney Imagineers. Kids will be able to participate in hands-on activities and inventive experiments. One of the coolest things that the kids will be able to do is design roller coasters in the Ride Studio. Kids will have the opportunity to create a coaster along the lines of Big Thunder Mountain Railroad, Space Mountain or Matterhorn Bobsleds, Then, they will be able to climb into a capsule where they will virtually ride their attractions.
More new spaces and experiences at Disney's Oceaneer Club will be revealed at a later date.
It's A Small World Nursery
For the littlest cruisers ages 6 months to 3 years, It's a Small World Nursery will offer babysitting services. In this space, kids will play games, make crafts, watch movies, read books and even spend time with special Disney friends under the expert care of Disney-trained counselors. Toddlers will even be able to take a playful trip around the world courtesy of characters reimagined as "it's a small world" dolls. Each section of the space is themed to different areas of the world, with characters grouped by their homelands.
In the play room, there will be magical murals that will feature interactive hand cranks, triggering delightful effects. Little ones will be able to spark ice magic from Elsa's hand, send Aladdin and Jasmine swaying on the magic carpet, uncover Flynn Rider as he clings to Rapunzel's enchanted tresses, and more. A toy train will chug along the ceiling, filling the space with colorful lights, playful sounds and kinetic energy.
Edge
At Edge, tweens ages 11 to 14 will have fun in a bright, colorful hangout  that is inspired by a chic New York City loft. There will be a faux-grass picnic area and graphic art displays called "photo walls." These will be areas that provide opportunities for tweens to capture shareable vacations pics. Edge will be found on deck 5, and the exclusive entrance will be hidden behind a framed piece of art that reimagines world-famous paintings in a pop art-inspired compilation of Disney characters, including Minnie as the 'Girl with the Pearl Earring' and Donald as Salvador Dali.
Vibe
Over at Vibe, which is the hangout for teens ages 14 to 17, they will find an area inspired by a Parisian artists' loft. This stylish space on the Disney Wish features classic architectural elements with an electric retro twist, with vibrant neon signs and funky pop art. Combine those with floor-to-ceiling windows overlooking the ocean, and every angle in Vibe will offer a selfie-worthy backdrop.
Want to learn more when you can sail on the Disney Wish? Take a look at this article for all the details.