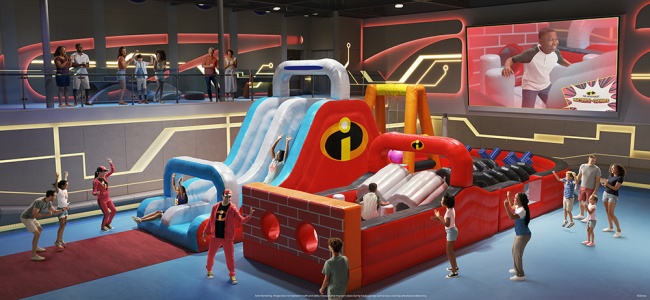 The Disney Wish debuts in the Summer of 2022 and we are anxiously looking forward to any scrap of news that is released about this fantastic 5th Disney Cruise Line ship. Disney has released details about a first-of-its-kind experience for the fleet specifically for families!
The Hero Zone will be a futuristic sports arena perfect for active family play. This will include a brand new interactive and imaginative game show called the Incredi-Games, which is, of course themed after the film The Incredibles. The show will dare families to take on an incredible obstacle course with over-the-top physical challenges themed to the powers of the Incredible family from the film.
The Incredi-Games
Guests will compete in multiple activities including:
Heroes will first test their strength by busting through a "brick" wall during Incredible's Power Punch.
Jack-Jack's Whack-A Rac will pit players against Rocky and his raccoon friends from The Incredibles 2.
Conquer the twists and turns of Elastigirl's Stretch-O-Rama.
Participate in Dash's Mad Dash Mayhem.
Violet's Force Field Swing will send supers soaring across a "lava field." (Remember, we are using our incredible imaginations here!)
The finish includes a cool down on Frozone's Ice Slide, where heroes will ascend to the highest peak and slide down the icy slope to victory.
This game show-style experience will be complete with high-energy hosts, music, special effects and more. Guests who don't want to participate can watch from the sidelines courtesy of the balcony viewing space in the Hero Zone.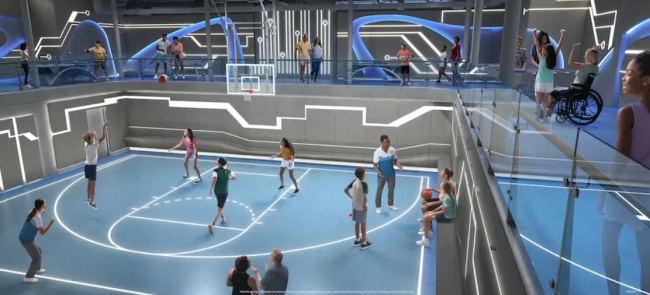 More Hero Zone Fun
But those aren't the only heroics in store for this action-packed arena. Hero Zone will also be the new home of the Guest-favorite Disney Cruise Line experience: Jack-Jack's Incredible Diaper Dash! This competition will offer little ones the chance to compete for the coveted title of Diaper Dash Champion. During the event, they speed-crawl across a 20-foot track amid the cheers of family, friends and adoring fans.
What's more, when Hero Zone isn't holding the Incredi-Games, it will be a free-play sports hub. Here Guests can enjoy basketball, soccer, Ping-Pong, air hockey, foosball and shuffleboard.
Disney Wish
As a reminder, Disney has recently released a ton of details about the Oceaneer Club, as well as the teen areas, so it looks like there will be a ton of great things for the entire family to participate in when boarding the Disney Wish.
The Disney Wish will sail its maiden voyage on June 9, 2022. The ship will then sail three- and four-night cruises to Nassau, Bahamas, and Disney's private island, Castaway Cay, from Port Canaveral, Florida.