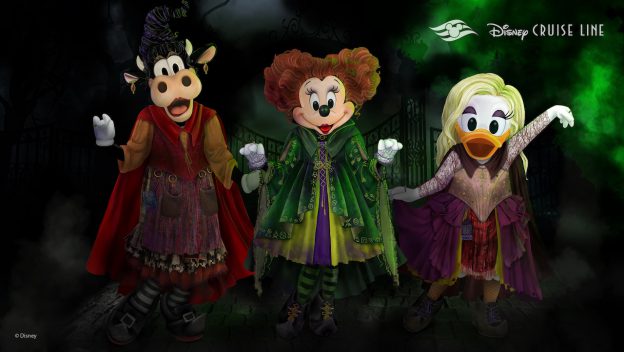 Are you sailing on Disney Cruise Line this fall? You won't want to miss the activities that are part of the Halloween on the High Seas! During the months of September and October the Disney Cruise Line ships get their decks all decked out with great Halloween fun! Guests will experience special entertainment and activities, including trick-or-treating, spooky parties, elaborate décor and limited-time food and beverage items.
Um….and as if these sailings aren't fun enough, Disney just added a whole new aspect that will make Guests run AMUCK!! That's because Minnie Mouse, Daisy Duck and Clarabelle Cow will debut a never-before-seen look as they dress up as the iconic Halloween sisters, the Sandersons from the movie "Hocus Pocus." (I am LOVING their costumes! Just look at them!) These three aren't the only ones that get in on the fun though. There will be lots of other fun costumes for the other characters too!
The Disney Wish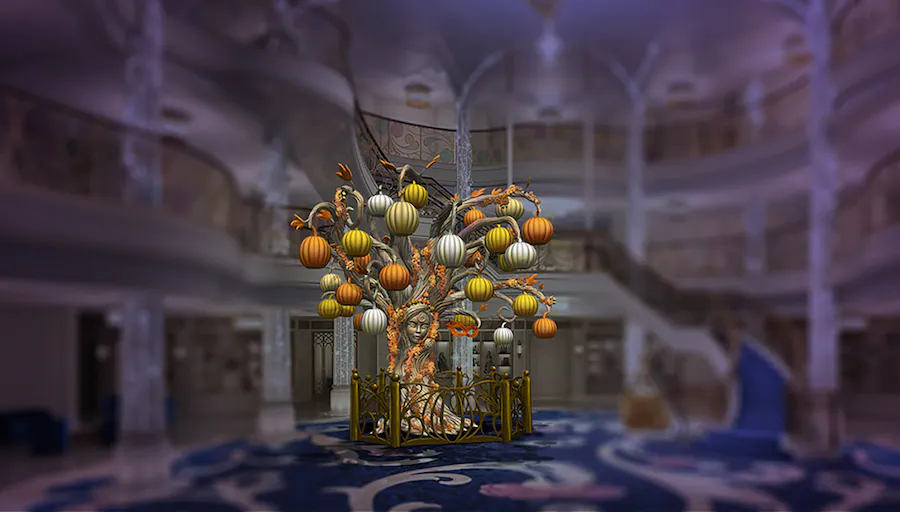 This will be the first Halloween for the Disney Wish and this ship will also get some unique twist that are specific for her.
For those who don't know, the centerpiece of every ship during Halloween sailings is the signature magical Pumpkin Tree towering over the atrium lobby, each with sprouting Jack-O-Lanterns and flickering lights. Guests who sail aboard the Disney Wish, will witness the debut of an all-new tree in the "Cinderella"-inspired Grand Hall. This tree will featuring lighter bark, graceful branches and a mystical face. Legend has it that this enchanted tree (named Boo) grew beautiful gourds with the help of a wishing star. The best pumpkin of them all was destined to grant a very special wish to a certain special Disney Princess. (You may recognize the name Cinderella.)
Other Halloween Fun
In addition to spooky character encounters and enchanted pumpkin trees, other frighteningly fun experiences aboard Halloween on the High Seas sailings include Mickey's Mouse-querade Party. This is a fun-filled costume party for families. There will also be villainous takeovers in the adult-exclusive venues. Guests won't want to miss Halloween-themed movies on Funnel Vision. Finally there will even be a ghostly take on ship announcements.
See what Halloween on the High Seas is like here:
Follow The Mouse For Less for more information about the latest Halloween on the High Seas news.
For more Disney news and trip planning advice, follow The Mouse For Less on Facebook, Twitter, Instagram, YouTube, or TikTok.