It was recently announced that one of the new stage shows that will be performed on the Disney Wish in the Walt Disney Theatre will be "Disney The Little Mermaid." The show will be an original take on the hit animated film. The creative minds at Disney Cruise Line have joined with some fantastic Broadway talent to develop an all-new stage adaptation of "The Little Mermaid." This show has been designed exclusively for the Disney Wish. it will be a modern-day retelling, however it will still feature the iconic scenes, fantastic music and beloved characters of the film.
"Disney The Little Mermaid" will feature innovative theatrical design and dazzling special effects. There will also be artistic choreography, as well as a reimagined script and score . During the show, "Under the Sea" will be the show's biggest production number. It will feature show-stopping choreography and lots of special effects. There will also be cutting-edge puppetry that will be used.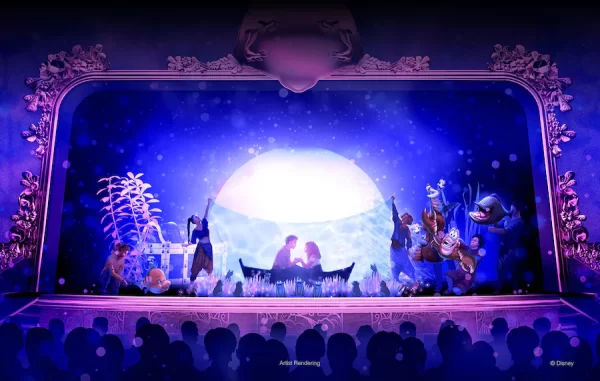 The show will also feature not only standard sets, but also use state-of-the-art video projections. These will transform the Walt Disney Theatre into a 360-degree undersea environment. During "Kiss the Girl," Sebastian will lead a chorus of sea life. During the song, the audience will be visually transported into the scene. In a new twist exclusive to this show, even though Ariel doesn't have a voice, her inner voice will play an important way during the song.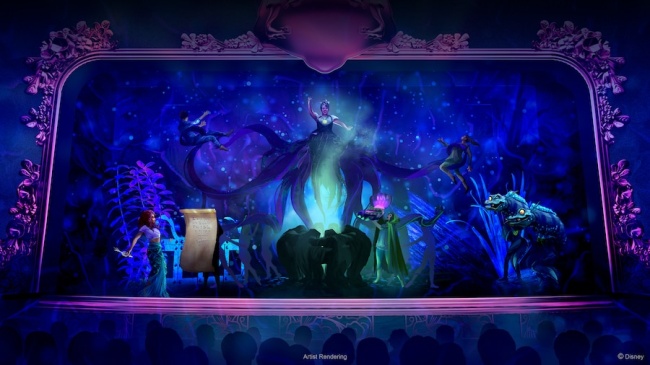 The song "Poor Unfortunate Souls" will be a more soulful version. During the show, Ursula's number will feature a jaw-dropping moment as she truly becomes larger than life.
Additional Shows on the Disney Wish
Two other shows will also be a part of the Disney Wish's repertoire. One will be a new show called "Disney Seas the Adventure." This show will follow Goofy. He discovers his inner captain with the help of Captain Minnie, as well as favorite Disney and Pixar characters. The second will be "Disney's Aladdin – A Musical Spectacular." The show is a musical comedy that is based on the classic animated film, Aladdin. Iconic scenes and songs from the movie will be re-created on stage.
More details will be shared about the Disney Wish in the future! Stay tuned to The Mouse For Less.
For more Disney news and trip planning advice, follow The Mouse For Less on Facebook, Twitter, Instagram, YouTube, or TikTok.