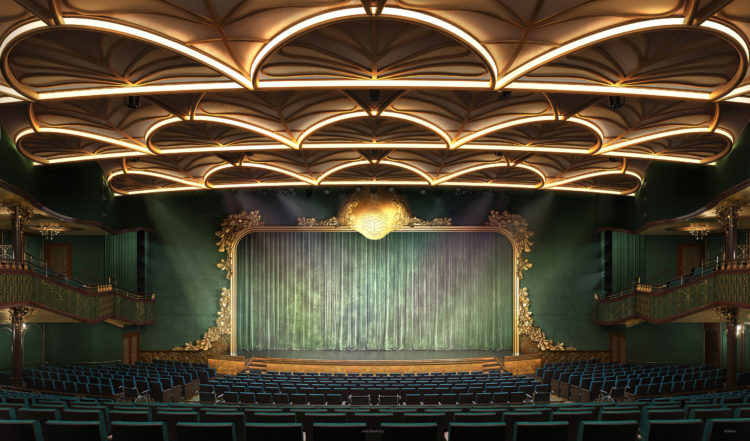 If you've ever sailed on a Disney Cruise Line ship, then you know just how important the entertainment aspects are. And when the Disney Wish sets sail officially in the summer of 2022 (June 9 is the inaugural sailing), you can bet that there will be a number of great entertainment venues available for Guests to be able to experience. Let's find out more about these unique places
The Grand Hall
The Disney Cruise Line ship's atrium, the Grand Hall will occasionally evolve from an elegant atrium into an environmental theater. This will be thanks to the first-ever atrium stage on board a Disney ship. Dedicated shows and interactive entertainment will come to life in this magical new venue.
Walt Disney Theatre
Disney Cruise Line ships are well known for the incredible Broadway style performances that occur in the Walt Disney Theatre. The Wish's theatre design will evoke an enchanted forest, inspired by scenes from Fantasia and will be a 1,274-seat show space that spans three decks with orchestra and balcony seating. The theater will be equipped with state-of the-art technology. This will include projection mapping capabilities and a Dolby Atmos 3D audio system — a first for the cruise industry — to create a transformative theatrical experience.
One show has already been announced for the Disney Wish. That will be "Disney's Aladdin – A Musical Spectacular." This is a guest-favorite. It's a musical comedy that is based on the classic animated film, Aladdin. Iconic scenes and songs from the movie will be re-created on stage. This will include a lively rendition of "Friend Like Me" and a breathtaking performance of "A Whole New World" atop a flying magic carpet. Grammy Award-winning composer Alan Menken also created an original song for Disney Cruise Line called "To Be Free," which is a solo performance for Jasmine.
The Disney Wish will also premiere two brand-new, original stage shows and more details about those shows will be announced at a later date.
Luna
Luna will be an event gathering place that will transition from a daytime setting for family fun into an elegant evening venue for adult-exclusive entertainment. Luna will offer a variety of live shows and interactive programming throughout the day and night. It's design is inspired by the Pixar short "La Luna." It will be outfitted with a two-story LED screen wall, stylish stage, full-service bar and spacious seating. There will be an energetic atmosphere on the lower level. The balcony will offer a more intimate setting for small groups, with secluded seating in semi-private booths.
Hero Zone
Hero Zone is a futuristic sports arena where physical activity will blend with imagination. This will be a completely new area for active family play and it will alternate between an elaborate family obstacle course and a free-play sports hub. Families will take on action-packed physical challenges themed to some of Disney's most incredible heroes during over-the-top, as well as game show-style competitions. Balcony viewing space will be available for Guests to watch and cheer.
Wonderland and Never Land Cinemas
The Disney Wish will feature two intimate movie theaters and will be the first in the cruise industry to offer Dolby Atmos 3D audio technology. At 84 and 86 seats respectively, the Wonderland and Never Land cinemas will offer Guests more options than ever before to watch classic and first-run films from Disney, Pixar, Marvel, Lucasfilm and more.
Wonderland Cinema will be inspired by the world of Alice in Wonderland. The woodland motif will continue into the ceiling to create the feeling that guests are peering up through the enchanted tree canopy above.
The Never Land Cinema, which is inspired by Peter Pan's flight from London to Never Land, will have Guests revisiting iconic scenes such as Skull Rock and Mermaid Lagoon, as the venue's night-sky color palette will light up with the flutter of Tinker Bell's wings.
Outdoor Entertainment
Up on deck, the family pool district of the Disney Wish will double as an entertainment space. With a poolside stage and a jumbo LED screen, Guests will enjoy a variety of entertainment. These will range from movies and live sporting events to brand-new deck parties and nighttime fireworks spectaculars developed exclusively for this ship.
More information on these new experiences will be announced at a later date.
Want to learn more about what else will be taking place on the top decks? We share all about the fun, including the AquaMouse attraction! Take a look here.