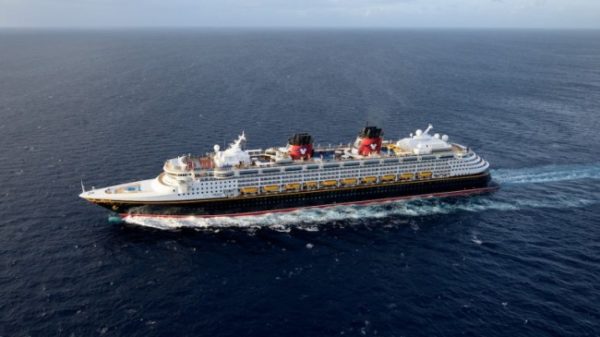 If you are sailing on the Disney Wonder later this year, the Disney Cruise Line ship may look a little different than you remember. That's because the ship will soon see some new upgrades to make it an even more unique experience.
First, to tie into The Princess and the Frog's inspired Tiana's Place Restaurant, Guests will now be able to stop at the French Quarter Lounge. This New-Orleans-themed spot will allow Guests to be able to enjoy live music performed on the gazebo stage and sip specialty drinks at the brand new bar. The French Quarter Lounge will evoke an airy outdoor space and Guests will be surrounded by touches of iconic New Orleans architecture such as wrought-iron balconies, classic brick walls and shutter-framed windows. Additional decorative details will include a life-size trolley car and nods to the film in the form of signs and facades on the walls.
The French Quarter Lounge will be a great place to stop for a drink before having dinner at Tiana's Place Restaurant and it be the perfect spot to enjoy some entertainment and beverages following dinner. In addition, throughout the day the French Quarter Lounge will offer New Orleans-themed family activities, trivia and character encounters, oh and there may even be a chance to meet Princess Tiana herself.
But that's not all! Teens will be able to experience an updated version of Vibe. The space that is exclusively for 14-17 year olds, Vibe, will transform into a contemporary place to hang out. It will be given a timeless feel with an open, bright redesign, a light color palette and industrial metal work. There will also be a new coffee bar added and the virtual reality technology that can be found there will be upgraded.
For the adults, the Cove Café will be redesigned to look like a local coffee shop. This new space will be complete with warm, comfortable and trendy décor, ample seating and a relaxed atmosphere for Guests to be able to sip specialty coffee or tea throughout the day or partake in wine, cocktails and light bites during the evening. In addition, Signals Bar will also be undergoing a transformation with a similar look to the Cove Cafe.
For those looking to experience the newly updated Disney Wonder, you'll be able to do so on the four-night sailing from Vancouver to San Diego which takes place on September 30.