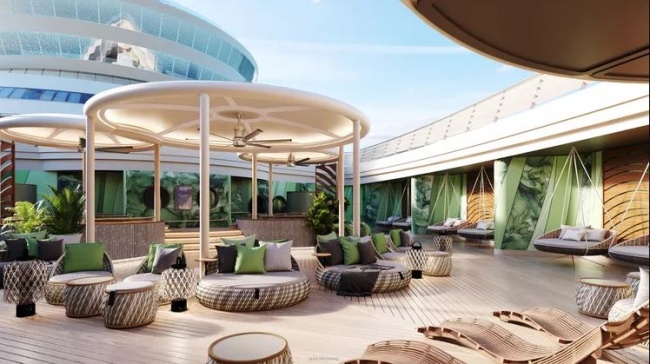 I don't know about you, but I so can't wait for the Disney Wish's debut. The fifth ship for Disney Cruise Line is going to have some incredible adult only areas when the ship finally sets sail.
Previous, Disney has already announced a Star Wars-themed lounge and fine dining experiences inspired by "Beauty and the Beast." However, today, they announced some additional new venues, including the fleet's first outdoor spa retreat, unique salon and barbershop experiences, and a number of upscale bars and lounges.
Spa Experiences
My favorite area on a Disney ship is the spa and for the first time aboard a Disney ship, Senses Spa will feature a dedicated outdoor relaxation space. This space will be where Guests can unwind in whirlpool spas, rest on plush loungers and take part in yoga sessions. This open-air area is an extension to Disney Cruise Line's Rainforest experience.
Never heard of the Rainforest Room? Well the space has been reimagined for the Disney Wish. First it will introduce the fleet's first ice lounge which will allow Guests to combine thermal therapies. There will also be favorite elements here like the heated loungers, sensory spa showers, and the sauna, steam and dry chambers.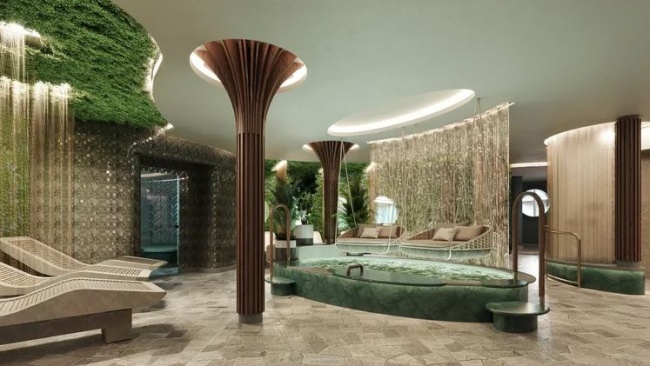 Senses Spa will also feature private treatment rooms, as well as some lavish spa villas for couples. Guests will be able to experience massage, facial and acupuncture therapies. There will also be selection of specialized treatments that are going to be available that will be customized to a Guests' needs. These include things such as pain management and sleep improvement. Adjacent to the spa will be the reimagined Senses Fitness area. This space will offer state-of-the-art exercise and wellness facilities, including a main room with exercise equipment, a dedicated cycle studio and an aerobics room.
Salon Offerings
In addition, the Disney Wish will premiere two brand-new salon experiences. These standalone venues will offer hairstyling and beauty services.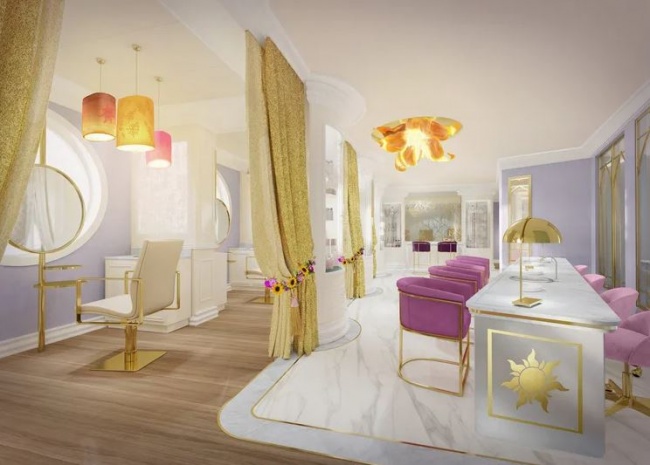 Untangled Salon, which is inspired by Rapunzel, this chic, high-end salon will feature shades of purple and gold. The space will be decorated with floating lantern light fixtures and outfitted with custom cut-metal privacy screens depicting Rapunzel's own paintings. There will even be a signature chandelier that evokes the iconic flower from the film. Untangled Salon will offer haircuts and styling, as well as manicures, pedicures, teeth whitening and skin treatments.
The men will also receive their own space called Hook's Barbery, which will draw inspiration from Captain Hook. This will be a salon that offers cuts, shaves, and nail and skin care. The space will be decked out in dark woods, have leather chairs and ornate golden mirrors. There will be an inlaid wooden map of Never Land, a hidden pocket watch and a hook. A really cool effect will be the trio of seemingly nondescript lanterns that will occasionally come to life with lighting and audio effects to imply that Tinker Bell is jumping from one fixture to another.
Lounges and Bars
However, there's a hidden element that is completely new to a salon on a Disney Cruise ship. There's going to be a "hidden bar" that will serve bourbons, vintage whisky and port, aged rum and premium spirits. This place will be ideal for small hangouts, romantic date nights, hosted tastings and special evening events.
Disney Cruise Line is known for their fantastic club areas and the Disney Wish will be no different. The ship will offer a collection bars and lounges reserved exclusively for adults each evening. But for the first time, instead of being clumped together, these venues will be spread out among the ship.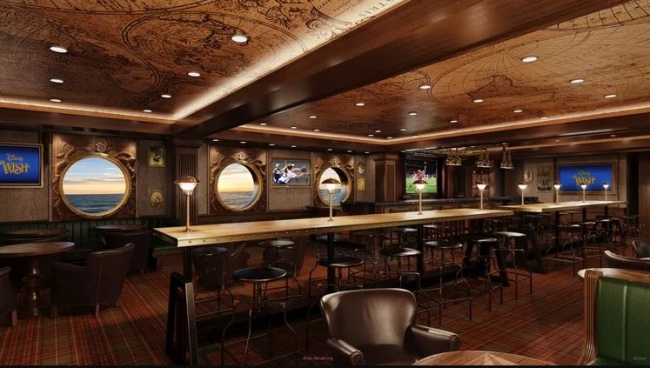 The first is Keg & Compass which is a pub that celebrates the sea. It is designed in the rustic architectural style of a late 1800s Norwegian sailor's map room. Guests will find intricate carvings of tentacles, barnacles, compasses and more that will accentuate porthole frames. Across the entire ceiling will be a map in old maritime style that features references to ocean lore, as well as a homage to Disney characters and stories related to the sea. Guests will see characters like Ursula and Moana, but they will also see important locales related to The Walt Disney Company and, specifically, the design and construction of the Disney Wish.
Here, Guests will be invited to watch live sports, news and major broadcast events. They can also sample a specialized selection of beers, including three custom craft brews available exclusively aboard the Disney Wish, along with an assortment of liquors, wines and cocktails.
Next will be Nightingale's. This refined piano bar is inspired by Cinderella's song, "Sing Sweet Nightingale". This location will offer an extensive menu of fine wines, bubblies and hand-crafted cocktails and will be classically modern with a soft metallic palette. Guests will see a glittering chandelier found above the piano, which will be a swirl of pearlescent bubbles and music notes displaying the song's melody meticulously crafted out of rose gold. Guests will find this vibrant lounge as an extension of the Grand Hall.
The last location will be The Bayou. This informal lounge will be themed to The Princess and the Frog. This lounge will feature magnolia blossoms, lily pads and a canopy of twinkling fireflies overhead. A bronze statue of each character will be prominently displayed. There will also be two gazebos inspired by the city's wrought iron metalwork structures. These will provide intimate seating for small groups on either side of the bar.
This centrally located venue will offer creative cocktails, specialty coffees and signature beignets in a social atmosphere. And yes, there will be live entertainment and musical performances.
The Disney Wish
The Disney Wish will sail its maiden voyage on June 9, 2022. It will then sail three- and four-night cruises to Nassau, Bahamas, and Disney's private island, Castaway Cay, from Port Canaveral, Florida.