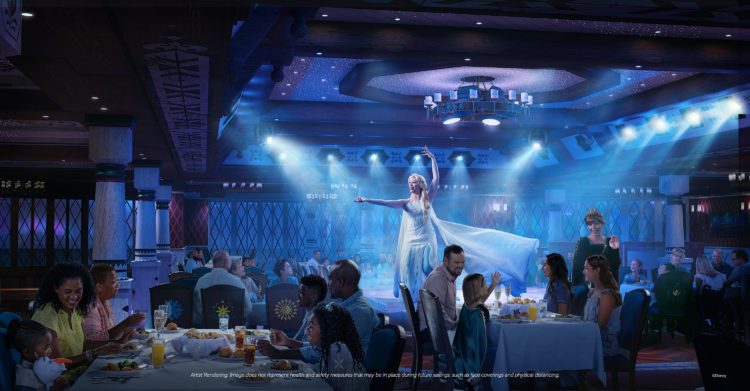 A big part of experiencing a Disney Cruise Line ship is the family rotational dining. On the Disney Wish, Disney has decided to completely reimagine the dining experience, giving us three brand new locations to visit! They include an enchanted "Frozen" kingdom, an Avengers technology showcase and the golden age of Hollywood.
The best part is that the Disney Wish will continue Disney Cruise Line's innovative rotational dining concept. Rotational dining Guests to experience one of three restaurants each night. The best part? You are accompanied by your own team of dedicated servers that is assigned to your family throughout your entire voyage.
Let's see what restaurants Disney is cooking up for the Disney Wish!
Arendelle: A Frozen Dining Adventure Takes Guests Into an Immersive Experience
This will be Disney's first Frozen-themed theatrical dining experience. It will bring the kingdom of Arendelle to life through immersive live entertainment. Yes, that means favorite characters like Elsa, Anna, Kristoff and Olaf  will be there!
Families who dine at Arendelle: A Frozen Dining Adventure will be invited to attend a royal engagement party for Queen Anna and Kristoff. The storyline for the evening picks up where Frozen 2 left off. Elsa and Olaf are the hosts of the celebration with catering provided by their friend Oaken's "Hearty Party Planning Service… and Sauna". There will be live entertainment performed by "local" musicians who specialize in Nordic renditions of Frozen songs. Throughout the meal, will even get the opportunity to participate in fun table crafts, sing-alongs and a grand finale that'll have everyone on their feet.
This new dining establishment is designed in the style of a theater-in-the-round, featuring dining tables situated around a small center stage. It will tell the story in 360-degrees. Invisible fiber optics will be embedded in the ceiling to resemble Elsa's icy magic. Another really cool aspect is that the panoramic windows will magically transform from real-time ocean views to the dancing lights of the Aurora Borealis.
Disney Cruise Line is developing brand-new looks for Anna and Kristoff. Plus there will be an all-new way to encounter Olaf through true-to-scale using cutting-edge puppetry that can talk and interact with families as they dine.
The menu for Arendelle: A Frozen Dining Adventure will combine traditional flavors from the Nordic region with modern, family-friendly fare. Guests will delight in seafoods, rustic game dishes and tasty nods to the Frozen story. And yes, there will be plenty of chocolate for dessert.
Worlds of Marvel Will Bring Guests Into a Fun Mission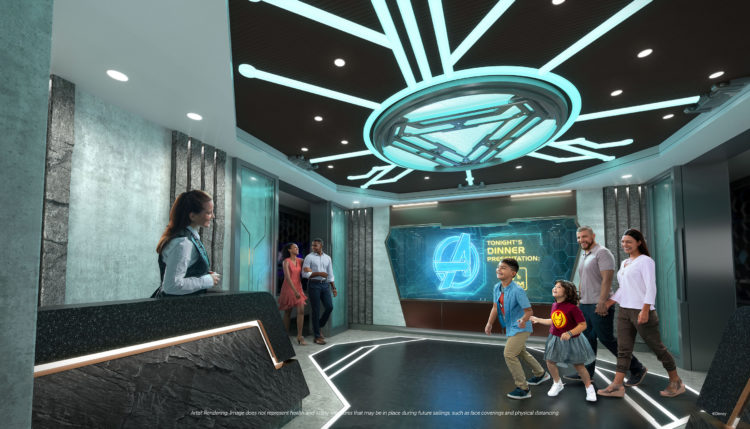 Worlds of Marvel is the first-ever Marvel cinematic dining adventure. During their dining experience, Guests will play an interactive role in an action-packed Avengers mission that unfolds around them.
This upscale-restaurant-meets-technology-showcase will also feature a traditional "dinner and a show", but it will be plussed. The restaurant will feature state-of-the-art Pym Tech and be decked out in signature Stark-itecture style. Worlds of Marvel will take families on a tour of the real and fictional settings of the Marvel Cinematic Universe, with dishes inspired by African Wakanda, Eastern European Sokovia and the Avengers' home base of New York City.
Worlds of Marvel will feature an original storyline starring fan-favorite Avengers and an infamous foe. More information will be announced at a later date.
1923 Will Be a Disney Fan's Dream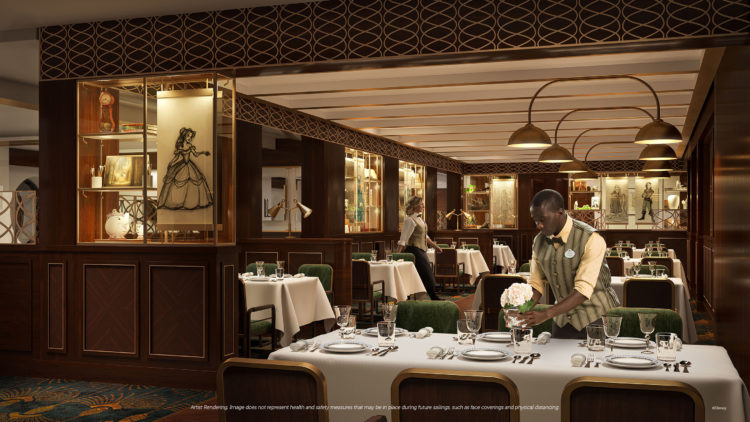 This restaurant is named for the year The Walt Disney Company was founded. 1923 will pay homage to the golden age of animation by combining classic Hollywood glamour with a dash of Disney whimsy. 1923 will include two lavish dining rooms, named for both Walt and Roy Disney. The rooms will feature more than 1,000 drawings, props and other tools of the trade.
Guests will enjoy sophisticated dishes designed with families in mind that are inspired by the fusion of cultural flavors found throughout the Golden State. The menu will blend Asian, European and South American cuisines. It will feature local ingredients like fresh produce, wild honey and earthy pistachios. All paired, of course, with a selection of world-famous Napa Valley wines
In addition to these main restaurants, the Disney Wish will offer a variety of other dining options ranging from quick bites, casual dining and 24-hour room service to specialty treats, gourmet cafes  More details about that will be released soon. We also have details about the adults-only dining here.