Are you ready to sail on the Disney Treasure? The ship will officially set sail in 2024, but we just got a glimpse of the characters who will be gracing the back of the ship.
For 25 years, each ship in the fleet has been adorned with characters from beloved Disney stories. This artist rendering of the new Disney Cruise Line ship's stern melds well with the name – the Disney Treasure. You see, Guests will find Peter Pan, through the courtesy of Tinker Bell's pixie dust, painting the ship's name on the aft and then Captain Hook leaning out of a porthole with a vengeful expression. Paintbrush and paint bucket in hand, Peter Pan sports a mischievous grin as he glances back at Captain Hook, who is dripping in yellow paint.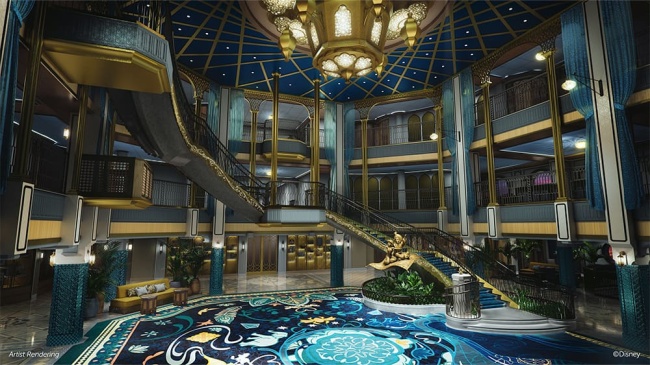 The Disney Treasure has been inspired by the theme of adventure. This ship seems to feature a lot of darker colors. It is inspired by the grandeur and mystery of far off places. This ship will draw on real-world influences from Asia and Africa. It will even pay homage to the far-off land of Agrabah.
We'll be sure to share more details about the Disney Treasure here on The Mouse For Less.
For more Disney news and trip planning advice, follow The Mouse For Less on Facebook, Twitter, Instagram, YouTube, or TikTok.