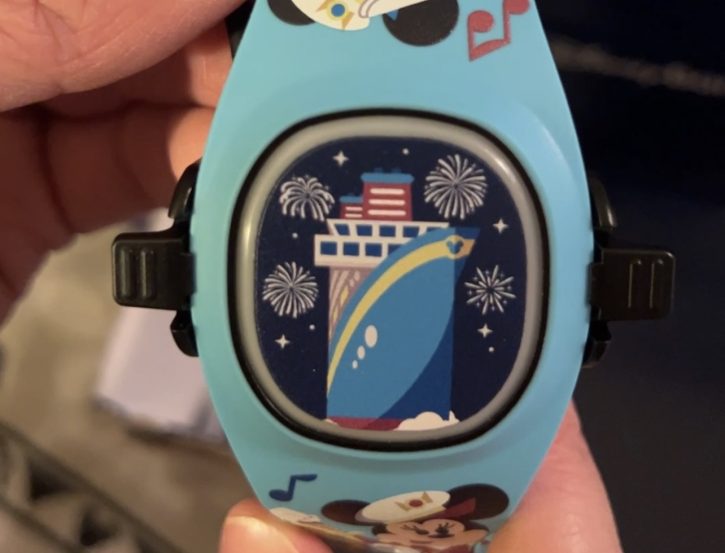 Yay! Another Disney Cruise Line ship is adding DisneyBand+ as an option for Guests to be able to use on their sailing. DisneyBand+ is now on-sale for guests sailing aboard the Disney Magic starting October 22nd.
Eligible guests may place orders between 45 and 11 days prior to sailing.
What is DisneyBand+? DisneyBand+ provides Guests with convenience during their Disney Cruise Line vacation, including at Castaway Cay. The band can be used for boarding the ship on embarkation day, accessing your stateroom, charging specialty food and merchandise, and other special surprises while on board.
For those familiar with Walt Disney World or Disneyland, the DisneyBand+ will feel very similar to the MagicBand+ in look and capability. The starting pricing is $34.99 for solid bands and $44.99 for themed designs. (Though those sailing on the ship may pre-purchase the band and save $10.) The band is rechargeable and waterproof. Disney is even offering three Disney Cruise Line-exclusive designs to choose from.
DisneyBand+ continues to be available for Guests on Disney Wish and Disney Fantasy sailings.
Do keep in mind that it is not mandatory that Guests use this band on your cruise vacation. Instead, it is an optional add-on and is not included in your cruise fare.
Follow The Mouse For Less for more information about the latest Disney Cruise Line news.
For more Disney news and trip planning advice, follow The Mouse For Less on Facebook, X, Instagram, Threads, YouTube, or TikTok.