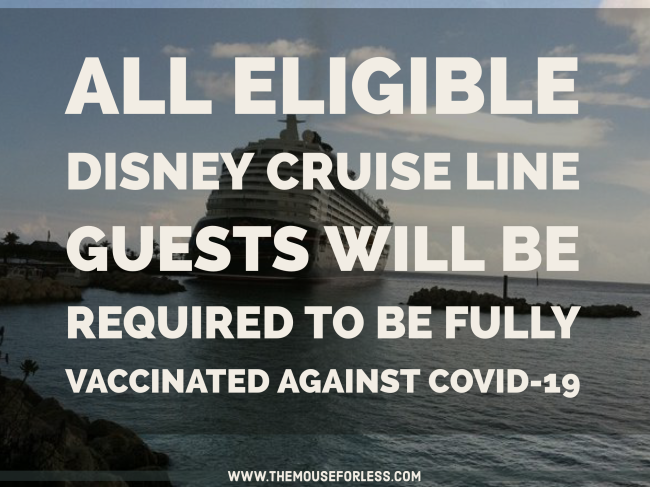 Big changes are coming to those looking to sail on Disney Cruise Line beginning in January. That's because beginning January 13, 2022 and moving forward all Guests ages 5 and up will be required to be fully vaccinated against COVID-19 at the time of their sailing. (Guests will need to be vaccinated as defined by the U.S. Centers for Disease Control and Prevention.)
The Centers for Disease Control and Prevention defines fully vaccinated as 14 days after receiving:
a single-dose of an accepted 1-dose vaccine
the second dose of an accepted 2-dose vaccine
the full series of an active (not placebo) COVID-19 vaccine in the U.S.-based AstraZeneca or Novavax COVID-19 vaccine trials
the second dose of any "mix-and-match" combination of accepted COVID-19 vaccines (administered at least 17 days apart)
As of right now, Disney Cruise Line will only accept the following vaccine types: Pfizer, Moderna, Johnson & Johnson, AstraZeneca, Covishield, Novavax, Sinopharm, and Sinovac.
In order to sail, all Guests (adults and children, regardless of age) must upload their proof of vaccination. This must be done on the Safe Passage website by Inspire Diagnostics. A parent or legal guardian will need to use their own account to provide this information on behalf of minors. After appropriate documents have been uploaded and reviewed by Inspire, Guests should see the words "Clear to Arrive" in the Pre-Sail Screening section when they log into their account before arriving at the port.
Guests should also make sure to bring a copy of their proof of vaccination with them to the port.
For those with questions, they should either contact their travel agent or Disney Cruise Line.