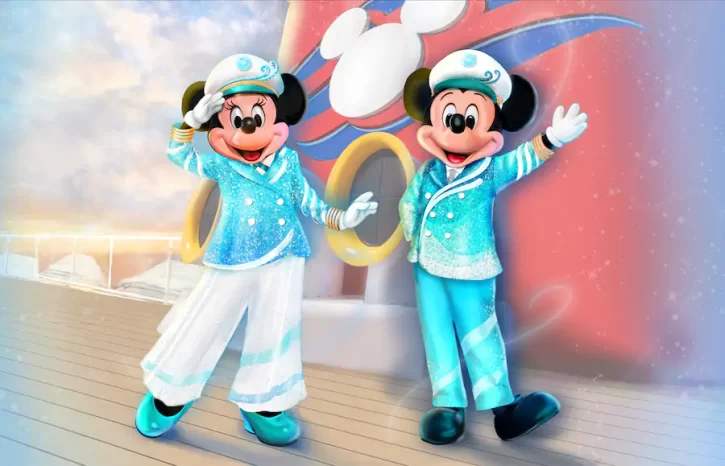 Wow! It's hard to believe it, but next year, Disney Cruise Line will be celebrating a huge milestone. It will be a celebration of Disney Cruise Line's 25th anniversary! To commemorate the occasion, there will be special "Silver Anniversary at Sea" entertainment, merchandise and celebratory experiences during summer 2023 sailings onboard all five of cruise ships!
On select sailings from May through September of 2023, there will be a number of fun ways to celebrate. They include new Looks for Captain Mickey and Captain Minnie. The duo will be wearing ensembles that feature swirling designs reminiscent of ocean waves and multi-toned fabric in the signature color of the celebration: Shimmering Seas. In addition, Guests will be able to sing and dance along to a brand-new signature song created especially for the "Silver Anniversary at Sea."
Of course the culinary teams are getting involved in this celebration and that will offer food and beverages for the occasion, including desserts, craft cocktails and more.
Guests will even be able to take home great merchandise with the new Shimmering Seas Collection. The collection will include an assortment of apparel, accessories, drinkware, and more.
Finally, for those of you who love cruising Disney Cruise Line, and I mean, LOVE it, there will be a brand new membership tier for Castaway Club. For those who don't know, the Castaway Club recognizes returning Disney Cruise Line guests with exclusive rewards and perks. Honoring 25 years of Disney magic at sea, members will now earn the distinction of Pearl status after 25 Disney Cruise Line vacations. Pearl members will unlock new at-home and onboard benefits, which will be announced in early 2023. So stay tuned for more details. (Ugh…I was only just getting close to the Platinum level….)
Disney Cruise Line 25th Anniversary Sailings
Dates for these special sailings include:
Follow The Mouse For Less for more information about the latest Disney Cruise Line news.
For more Disney news and trip planning advice, follow The Mouse For Less on Facebook, Twitter, Instagram, YouTube, or TikTok.