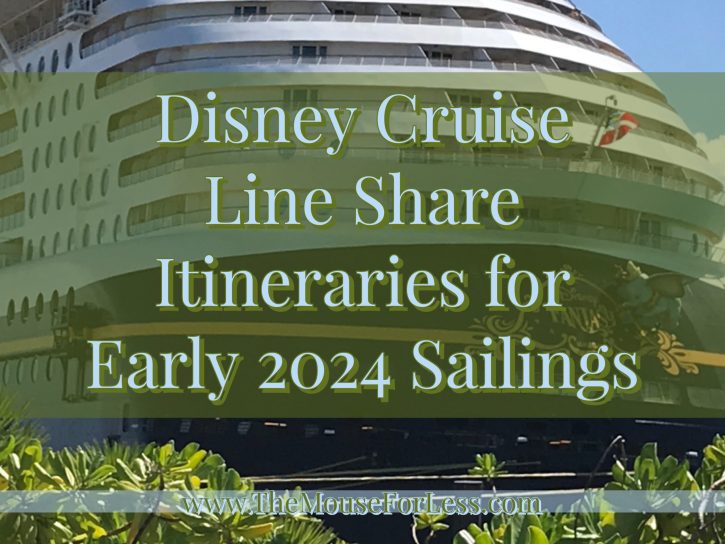 The cold is setting in here which means I'm thinking about traveling to somewhere warm. You know, somewhere on an island. And guess what? Disney is thinking the same way because they just released early 2024 Disney Cruise Line itineraries! Guess will once again be able to visit fan-favorite tropical locales, including itineraries to the Caribbean, Mexico, Bahamas and, Disney's private island, Castaway Cay. Guests will be able to depart for their cruises from Port Canaveral, Miami, Texas, Louisiana and California to escape those winter blues.
Disney Dream
The Disney Dream will begin early 2024 with three- and four-night sailings to the Bahamas, as well as five-night vacations to the western Caribbean. The Disney Dream will likely sail from Miami and all sailings from Florida will include a stop at Castaway Cay.
Disney Wish
The Disney Wish will kick off 2024 with three- and four-night voyages to Nassau, Bahamas, and Castaway Cay departing from Port Canaveral, Florida.
Disney Fantasy
Also from Port Canaveral, the Disney Fantasy will continue seven-night sailings to the eastern and western Caribbean. Eastern Caribbean cruises will visit Tortola and St. Thomas, while western Caribbean itineraries will feature the ports of Cozumel, Mexico; Grand Cayman; and Falmouth, Jamaica. Every Disney Fantasy sailing also includes a stop at Castaway Cay, along with several days at sea.
Disney Magic
The Disney Magic will have two limited-time engagements in Galveston in early 2024. After ringing in the New Year, the ship will embark on Caribbean adventures ranging in length from four to six nights through the end of January. Upon returning for another month-long stint between March and April, the ship will sail cruises ranging from four to seven nights to the western Caribbean during spring break.
Then, New Orleans will welcome the Disney Magic back in February 2024 with four-, five- and seven-night cruises to the Caribbean.
Disney Wonder
After returning from its inaugural season in Australia and New Zealand, the Disney Wonder will arrive in San Diego, California in March 2024 for three- to seven-night voyages to Mexico, including the Baja peninsula. You'll visit places including Cabo San Lucas, Puerto Vallarta, Mazatlan and Ensenada, along with stops to the inviting shores of Catalina Island off the California coast.
For those looking to book these 2024 Disney Cruise Line itineraries, they open to the public on December 15.
Follow The Mouse For Less for more information about the latest Disney Cruise Line news.
For more Disney news and trip planning advice, follow The Mouse For Less on Facebook, Twitter, Instagram, YouTube, or TikTok.