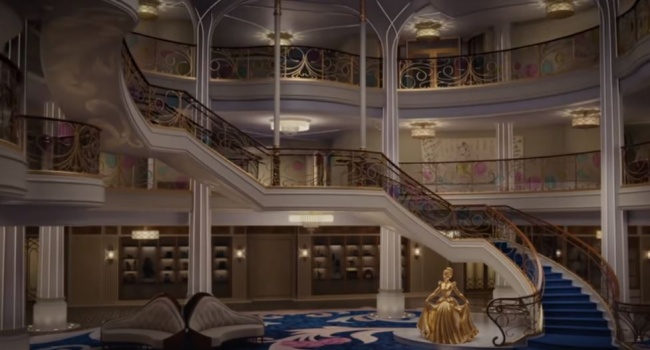 We cannot wait for the ability to sail once again and this weekend, Disney shared some new details about their upcoming fifth cruise ship, the Disney Wish!
For those who don't know, each and every Disney Cruise Line ship includes a character in the main atrium lobby. In this rendered video, we finally got to see who will be found at the base of the Disney Wish's grand staircase! Cinderella!!!
The Grand Hall will be inspired by fairytale castles and is an idyllic setting for Cinderella. That's because her timeless story is the perfect example of magic transforming wishes into dreams and dreams into reality. Perfect for the Disney Wish, right?
One thing seems to be certain. This cruise ship is definitely going to be a celebration of all things Disney Princess, it would appear. That's because Rapunzel will be featured on the back of the ship, painting with Pascal!
The Disney Wish is the first of three new ships joining the Disney Cruise Line fleet through 2025. All three ships will be powered by liquefied natural gas. These three ship will also be approximately 144,000 gross tons and include 1,250 guest staterooms. That's slightly larger than the Disney Dream and Disney Fantasy.
The Disney Wish sets sail in the summer of 2022.