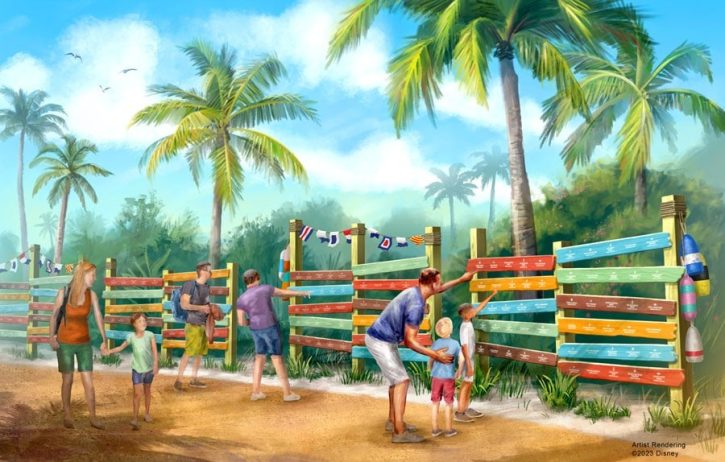 Well, this is neat, but let's just say I won't be getting there any time soon!
For those families who have sailed 50 times or more with Disney Cruise Line and are part of Disney's Castaway Club, they will have their family's name included on a commemorative display that will be added to Castaway Cay later this fall. The display will take residence near the island post office with a colorful fence. You can see what this will end up looking like in the concept art above.
In addition, eligible Castaway Club members will have the opportunity to select one of the icons below to accompany their family's name on the display.

This idea seems very similar to what Walt Disney World used to do with the paved bricks in front of the Magic Kingdom, as well as the Leave a Legacy tiles at EPCOT.
For those who don't know, Castaway Club is Disney Cruise Line's way of recognizing guests who have sailed. This is the loyalty program for Disney Cruise Line. Once you sail your first time, you are a member. There are four levels of Castaway Club, each offering increasing benefits. These levels are Silver, Gold, Platinum, and Pearl. You can find out what the perks are for each level courtesy of our handy Castaway Club guide.
More details will be coming soon for each eligible family who has already reached this milestone.
Follow The Mouse For Less for more information about the latest Disney Cruise Line news.
For more Disney news and trip planning advice, follow The Mouse For Less on Facebook, X, Instagram, Threads, YouTube, or TikTok.