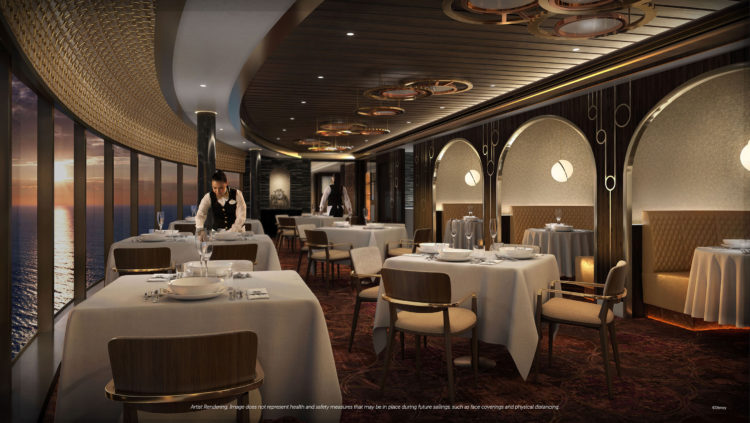 If you've ever sailed alongside me, then you know that adults really can have fun on a Disney Cruise Line ship. I very much enjoy spending my vacations in the Adults-Only areas and now that I know what's in store for the Disney Wish, I can guarantee that trend will continue. There are some incredible places that will be found for just adults on the Disney Wish and I can't wait to experience them in person! Let's take a look at some of the incredibly unique locations.
Palo Is Seeing An Upgrade With Palo Steakhouse
Palo is, hands down, one of my favorite dining experiences anywhere. The Disney Wish's version will see some updates, as Guests will be able to visit Palo Steakhouse. Palo Steakhouse will now combine authentic Italian dining with a modern steakhouse.
The setting of the updated Palo Steakhouse will be inspired by Cogsworth from the live action version of Beauty and the Beast. Palo Steakhouse will be an elegant, welcoming environment and it will still include those spectacular ocean views off the back of the ship. The venue will include a warm, luxurious palette of rich woods and shining metals. There will also be artwork and details that evoke ornate clocks, pendulums and gears. For a more intimate experience, there will be a private dining room for gatherings of up to 12 guests.
Palo Steakhouse, will include a selection of Italian dishes. However now it will also include the world's best steaks which will range from the most elite American prime cuts, to Australian wagyu, to Japanese Kobe and Miyazaki beefs. The menu will be paired with the finest Italian wines and bold craft beers. The part that has me most excited? The signature Palo chocolate souffle will still be on the menu.
Enchanté by Chef Arnaud Lallement Will Offer Upscale Dining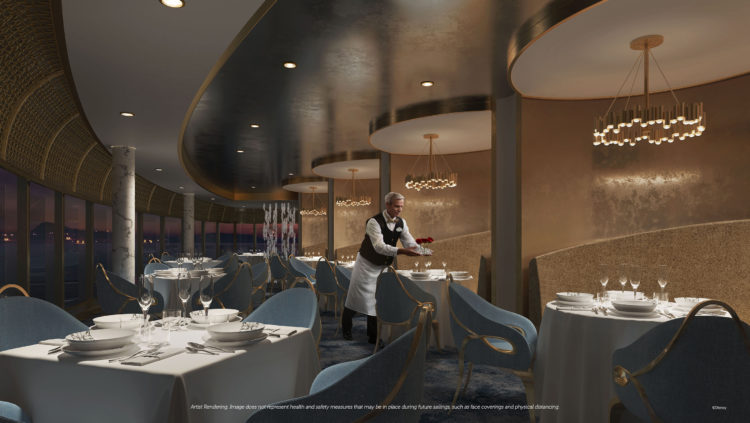 One of the best meals I've ever had in my life was at Remy on the Disney Fantasy. Taking it's cue from Remy will be an upscale restaurant called Enchanté. Enchanté will offer the most luxurious dining experience on board. It will feature a gourmet menu crafted by three-Michelin-starred Chef Arnaud Lallement — of L'Assiette Champenoise, near Reims, France.
This romantic and intimate venue will be themed around Lumiere, the candelabra from the live action version of Beauty and the Beast. In the two intimate dining areas and also in the private 10-seat dining room, there will be shimmering light fixtures and illuminations. The space will feature soft blue colors and metallic embellishments, as well as stunning ocean views.
The menu will offer superior products and seasonal ingredients sourced from around the world to create international dishes, masterfully developed by of Chef Lallement. From the moment Guests enter the glittering champagne room, they will be on a journey marked by consummate cuisine, superlative wines and first-class service.
The Rose Will Be a Great New Lounge
Located in between Palo Steakhouse and Enchanté (like Meridian is on the Dream and the Fantasy) will be the new lounge called The Rose. It will be inspired by Beauty and the Beast. Guests will enter The Rose through a corridor of beautiful, bespoke artwork commissioned exclusively for the Disney Wish. The entrance culminates in a gilded, golden rotunda, unfolding into a plush lounge with rich velvet seating, glorious views and magical illuminations. (I love the ceiling!!!)
The Rose will be the perfect place for a pre-dinner aperitif or after-dinner cocktail. It will feature an extensive selection of high-end wines and liquors. Guests will also indulge in a special menu of gourmet amuse-bouche and small plates from the Enchanté galley, curated by Chef Lallement.
Star Wars: Hyperspace Lounge Will Take Guest to Galaxy's Far, Far Away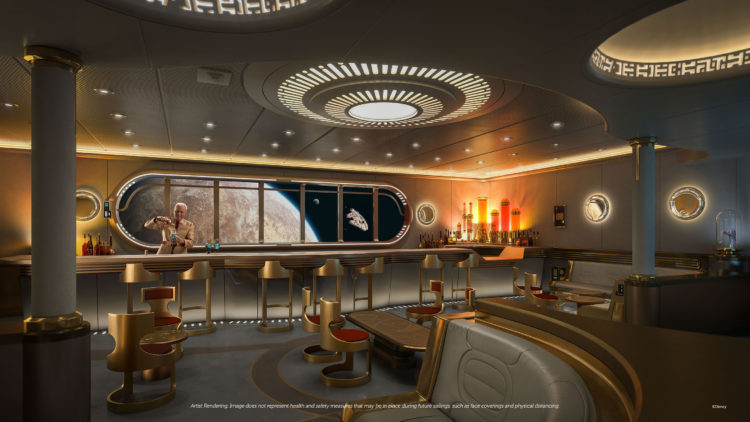 Disney is taking their lounge game up a notch with a new must visit spot, especially for Star Wars fans. That's because, for the first time on a Disney ship, Guests will be able to visit the Star Wars: Hyperspace Lounge. This will be a high-end bar styled as a luxurious yacht-class spaceship. This immersive area will be reserved for adults every evening, offering interactive tasting experiences and signature beverages inspired by the films.
The Hyperspace Lounge will feature a sleek interior design with metallic detailing that is inspired by lavish star cruisers. And much like Skyline on the Disney Fantasy and Disney Dream, while guests sip their galactic concoctions, they will be transported to iconic locations like Batuu, Tatooine, Mustafar and Coruscant. This will be accomplished by employing hyperspace jumps as seen thorough a virtual "window" to travel from planet to planet while scenes unfold just beyond the ship's panoramic viewport at each stop. The experience will be amplified by surround-sound audio and a holotube that presents holographic models of nearby ships.
In addition to Star Wars: Hyperspace Lounge, adults will enjoy a variety of other bars and lounges aboard the Disney Wish. More information will be released at a later date.
Quiet Cove Pool District Will be a Heavenly Retreat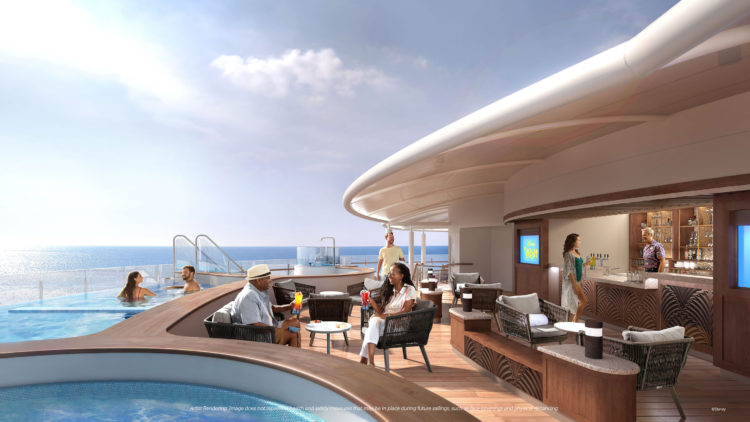 For those 18 and over, there will be Quiet Cove. This will be a secluded adults-only district dedicated to lounging, sipping and soaking. This area will be set away from the family areas at the back of the ship. Quiet Cove will offer breathtaking views of the ocean from a luxurious infinity pool. Adults will be able to take a dip in the pool, unwind in a whirlpool spa and relax in a chaise lounge. They can even indulge in a beverage from Cove Bar, an open-air bar offering beer, wine and cocktails. Also, over in the Cove Cafe, Guests will find a poolside lounge that offers gourmet coffees, teas, specialty drinks and treats throughout the day. The theme of the Cove Bar will revolve around Oceania-inspired artistry of the film, Moana.
More details about the upper decks can be found here.
Senses Spa and Senses Fitness Will Offer Great Relaxation
Looking for the most relaxing place onboard the Disney Wish? It's Senses Spa. Senses Spa offers indulgent spa and beauty treatments, drawing on the natural elements to promote pampering and relaxation. The spa will feature private treatment rooms, lavish spa villas for couples, and steam and aromatherapy rooms. Offerings will include massage, facial and acupuncture therapies, plus specialized treatments that are customized to a Guest's needs, such as pain management and sleep improvement.
The reimagined Senses Fitness will offer state-of-the-art exercise and wellness facilities, including a main room with exercise equipment, weightlifting machines and free weights, along with a dedicated cycle studio and an aerobics room. Complimentary, instructor-led fitness classes will be offered throughout the cruise.
The Disney Wish will also offer several brand-new spa and salon experiences, which will be announced at a later date.
Do you want to sail on the Disney Wish? Learn when you can officially book you voyage here.