A Tale as Old as Time: Finding Beauty and the Beast at Walt Disney World
|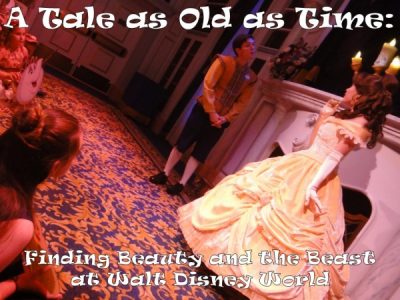 It may be a tale as old as time, but the story of a girl and her adventures to rid her small, provincial village of not one, but two, savage beasts is beloved by many. In 1991, when Disney first introduced Belle to an audience primed for such a story (encouraging little girls everywhere to have the courage to see people from the inside, not the outside), the public fell in love with her and a cohort of villagers, animated furniture, and adorable animals – oh! And who could forget that yellow ballgown? Beauty and the Beast was an instant hit.
When Disney announced that they were making a live-action version of this popular animated feature, someone in my family screamed that this was 'absolutely the best and a wish come true.' If you have a Beauty and the Beast mad family member and you are heading to Walt Disney World soon, you might want to catch up with a few of our favorite French friends. Below is a list of Beauty and the Beast related attractions, meet and greets, and merchandise locations at Walt Disney World. Some of these activities are for a limited time as a special celebration of the new movie.  I have noted opening and closing dates when I am aware of them.
[What's that? You and your family are hitting the west coast parks? Don't worry, we have the Disneyland Resort covered in an article just for those visiting the west coast parks coming soon!]
Magic Kingdom Park
Visiting:
Enchanted Tales with Belle – New Fantasyland
This storytelling experience takes guests into Belle's story. This is not just for children. Those who participate get a photo with Belle at the end of the experience (she is in her yellow ballgown). No spoilers, but my then 16-year-old had this down as her 'to be done' for her birthday trip.
Meeting Gaston – New Fantasyland
Now that you have traveled into Belle's world, it is time to meet Gaston.  He can be found outside of his tavern. Be prepared to be entertained while you wait in line and teased and played with when you finally make it to him.
Sorcerers of the Magic Kingdom – Magic Kingdom Park
Several of the cards in this park interactive game are Beauty and the Beast themed.
Eating:
Be Our Guest – New Fantasyland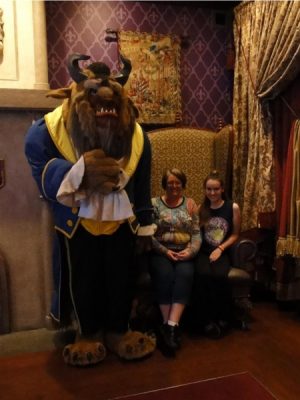 If there is a Beauty and a Beast fan going with you to Magic Kingdom, make sure to get reservations for dinner at Be Our Guest. This amazing dining experience in Adam's Castle is not to be missed. During dinner only, Beast meets with guests for photo opportunities. You can also dine here for breakfast and lunch which is a good way to come along if you missed Dinner reservations. Beast won't be there but you can still get your taste of the grey stuff.
Gaston's Tavern – New Fantasyland
This eatery serves mainly snack-type items but make sure the stop by and get your photo in Gaston's antler chair.
Cinderella's Royal Table – Fantasyland
Belle is one of the princesses often seen at Cinderella's Royal Table. Here you can enjoy breakfast, lunch, or dinner with the princesses while you dine in the castle. For those collecting her costumes, Belle is usually seen in her blue, village dress but can sometimes be seen in her yellow ballgown.
Parade:
Festival of Fantasy Parade – Parade Route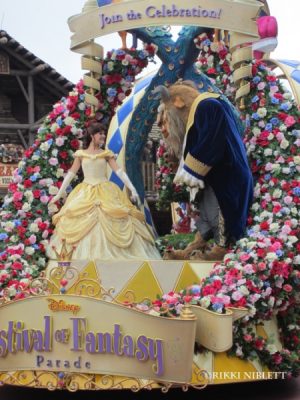 Belle is one of the princesses often seen in this parade. She usually is seen on her float with her Beast as her companion.
EPCOT
Visiting:
Meet Belle – France (World Showcase)
Belle meets her adoring fans in France.  She is normally dressed in her blue, village dress.
Eating:
Princess Storybook Dining – Akershus Royal Banquet Hall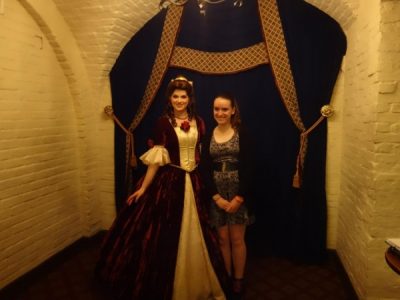 This princess dining experience is something special and is often overlooked by the princess mad crew. It's smaller and often quieter than Cinderella's.  Belle will greet you before you sit down. For most the year, she's in her ballgown, but during Christmas she dons her gorgeous red velvet Christmas dress.
Special Event:
2017 EPCOT International Flower and Garden Festival
March 1 through May 29, Epcot welcomes guests to its fabulous flower and garden festival.  As you walk around, keep an eye out for the Beauty and the Beast crew who grace the park in their floral brilliance.
Disney Studios
Visiting:
Beauty and the Beast – Live on Stage – Sunset Boulevard
This is a condensed version of the story as old of time. This should be on your to do list if you are looking for Belle and Beast.
Disney's Beauty and the Beast Sneak Peek – Animation Courtyard (Walt Disney: One Man's Dream)
Walt Disney: One Man's Dream Theatre is hosting a sneak peek of the new live-action Beauty and the Beast. The theatre's waiting area has a small museum of costumes and props from the movie to check out and gives a close-up look at just how spectacular they are. Once seated in the theatre, be prepared for the 8-minute trailer for the movie.  Disney always does an amazing job with these sneak peeks.  You will not leave the theatre with major spoilers but you will leave with a renewed desire to see the movie. This is a limited time attraction but a closing date has not been slated at this time.
Nighttime Spectacular:
Fantasmic! – Echo Lake
This nighttime spectacular has a section with our favorite princess and her beast.
Disney Springs
AMC Movie Theatre will show the new, live-action Beauty and the Beast movie from March 17.
Similar Posts: