Delicious Disney Dishes – Kalua Pork Sliders from Epcot Food and Wine Festival
|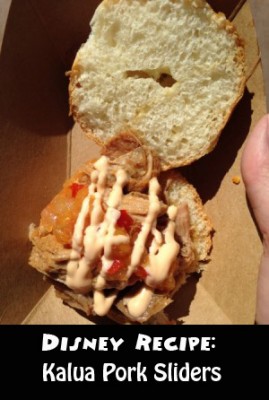 It's almost the end of the Epcot Food and Wine Festival, so I wanted to share this recipe for one of my favorite dishes that they serve at the Hawaii Marketplace Booth. It's so so yummy with lots of great flavors both sweet and spicy.
Kalua Pork Sliders with Sweet and Sour Dole Pineapple Chutney and Spicy Mayonnaise
Ingredients:
Kalua Pork:
1 (4-pound) boneless pork shoulder (also called boneless pork butt)
1 large organic banana leaf, cut in half width-wise (optional)
Coarse salt and freshly ground black pepper, to taste
Brioche Rolls:
1/3 cup warm (110 degrees F) water
1/2 teaspoon active dry yeast
3 eggs
2 egg yolks
1/2 cup drained crushed pineapple
1/4 cup sugar
3 1/2 to 4 1/2 cups all-purpose flour
3/4 cup butter, softened
1 egg white
2 tablespoons water
Pineapple Chutney:
1 pound diced pineapple
1 large sweet yellow onion, diced
1/2 small red bell pepper, diced small
1/4 teaspoon hot red pepper flakes
1 cup rice vinegar
1/2 cup white vinegar
1/4 cup brown sugar
1 tablespoon minced garlic
1 tablespoon finely grated fresh ginger
Coarse salt, to taste
Spicy Mayonnaise:
6 tablespoons mayonnaise
2 tablespoons sriracha
2 teaspoons white vinegar
Coarse salt, to taste
Directions:
For kalua pork:
1. Cut pork into 2 pieces; season with salt and pepper and wrap each piece in a banana leaf half.
2. Place pork in a slow cooker and cover. Cook on the lowest setting for 8 to 10 hours, until meat shreds easily with a fork.
3. Remove meat from slow cooker, reserving drippings.
4.  Discard banana leaves, if using.
5. Shred meat, adding drippings as needed to moisten.
For brioche rolls:
1. Combine water and yeast in the bowl of an electric mixer using the dough hook attachment.
2.  Stir to dissolve yeast; set aside for 5 minutes, until mixture begins to slightly bubble.
3.  Add egg yolks, eggs, pineapple, and sugar.
4.  Add 3 1/2 cups flour, and knead with dough hook until a dough forms.
5.  Add butter, kneading until dough is combined.
6.  Add remaining 1 cup flour, a bit at a time, until dough pulls away from the sides of the bowl. Not all flour may be used.
7. With lightly floured hands, pull dough into pieces making them about the size of a golf ball.
8.  Roll into smooth balls, and place on a baking sheet lined with parchment paper.
9.  Cover with a clean kitchen towel; set aside in a warm place to rise until doubled in size, about 1 hour.
10. Preheat oven to 350 degrees.
11. Whisk together egg white and 2 tablespoons water and brush on tops of rolls.
12. Bake until deep golden brown, about 20 to 25 minutes.
For pineapple chutney:
1.  Combine all ingredients in a large saucepan over medium high heat; bring to a boil.
2.  Lower to medium low, and simmer until pineapple starts falling apart and most of the liquid has evaporated; about 1 1/2 to 2 hours.
For spicy mayonnaise:
1.  Combine all ingredients in a small bowl, stirring until combined.
To serve:
1.  Cut rolls in half.
2.  Place warm pulled pork on the bottom on the roll.
3.  Place the pineapple chutney on top.
4.  Drizzle the spicy mayo over the chutney.
5.  Top with the second half of the brioche roll.
Happy Cooking!
Similar Posts: