Delicious Disney Dishes – Mickey Mousse Domes from Chef Mickey's
|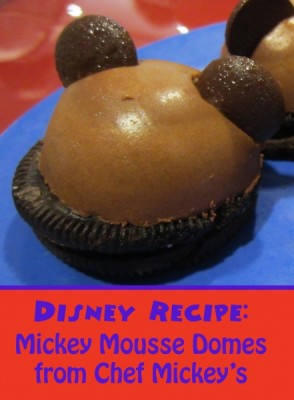 I just got back from another great trip to Walt Disney World and this trip, I made a stop at Chef Mickey's to try their new brunch offerings. (More on that in a future Foodie Friday post.)  However, I got to enjoy one of my favorite desserts at the resort, the Mickey Mousse Domes! These great chocolatey treats are perfect for those with chocoholic tendencies, like myself. So, I had to find the recipe so I could make them at home, and share it with you too!
Mickey Mousse Dome
Chef Mickey's – Contemporary Resort
Ingredients
2 cups chilled heavy cream
4 large egg yolks
3 tablespoons sugar
1 teaspoon vanilla
1 package of gelatin, bloomed
7 ounces fine-quality bittersweet chocolate (not unsweetened), chopped
Two Chocolate Coins and Oreo Cookies
Directions
1.  Heat 3/4 cup cream in a 1-quart heavy saucepan until hot.
2.  Whisk together egg yolks, sugar, and a pinch of salt in a bowl until combined well.
3.  Add hot cream and gelatin in a slow stream, whisking until combined.
4.  Transfer mixture to saucepan and cook over moderately low heat, stirring constantly, until it registers 160°F on a thermometer.
5.  Pour custard through a fine-mesh sieve into a bowl and stir in vanilla.
6. Melt chocolate in a double boiler or a metal bowl set over a pan of simmering water stirring frequently.
7.  Whisk custard into chocolate until smooth, then cool.
8. Beat remaining 1 1/4 cups cream in a bowl with an electric mixer until it just holds stiff peaks.
9.  Whisk one fourth of cream into chocolate custard to lighten, then fold in remaining cream gently but thoroughly.
10. Spoon mousse into small cups and let set then add the Oreo cookie.
11. Once completely set de-mold and add the two chocolate coins to the top as a garnish.
Happy Cooking!
Similar Posts: