Show Your Disney Side with Fruit Snacks!
|
I received coupons for free product in order to write the review below.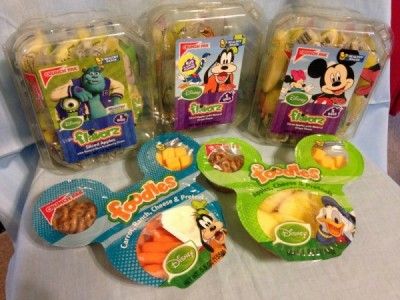 I don't know about your kids, but mine are picky eaters.  It is hard to get them to eat new things or foods that are good for them.  If there is something Disney on the packaging, that is a game changer!  Crunch Pak sells many different kinds of fruit snack packs, but I'm going to concentrate on their Disney options.  I'm sure you are not surprised as Disney is definitely the topic of choice around here and around my house!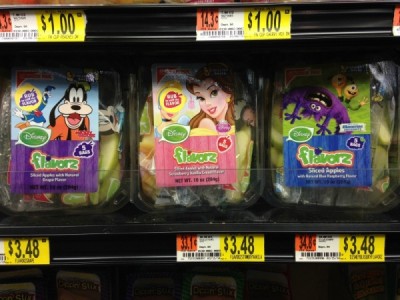 Crunch Pak has packs of apple slices that are flavored with either grape, strawberry vanilla, or blue raspberry.  Each container includes 5 individual serving size of flavored apple slices.  These are a great size to toss in a school lunch, in a picnic, or maybe as snacks to take into the parks at Walt Disney World.  The packages of Flavorz were $3.48 at my local Walmart.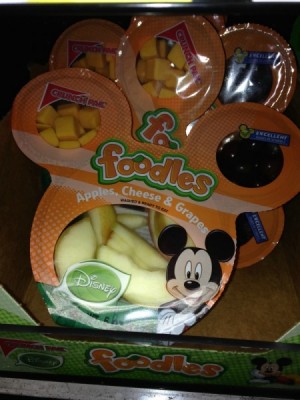 I love the Foodles snack packs!  There are five different options, but I have only seen three in my local Walmart.  My kids really like the Foodles with apples, pretzels, and cheese cubes.  The nice thing about the Foodles is that they are a complete snack by themselves.  I failed to take a photo of the price, but I think these were around $2.25-$2.50 per pack.
Crunch Pak also has an option called Multi-Paks.  I did not see these at my local store, but it looks like these come in either plain apples slices or apples slices with caramel dip.
While these snacks may be a little expensive to have around the house, they are very handy to throw in lunches.  They are also convenient to have for travel!  We plan on driving down to Florida later this year, and these snacks will be nice to throw in the cooler to have along the road.
I have 5 coupons for free Crunch Pak snacks that are part of our 15th birthday celebration Week 3 prize pack!  If you would like to enter, head over to The Mouse For Less Facebook page to enter!
Disclosure:  I received coupons for free snacks as a part of this review.  I was not required to write a positive review, nor was I compensated by Crunch Pak.  All opinions are mine.
Similar Posts: