Showing My Disney Side and other Disney Parks Themes
|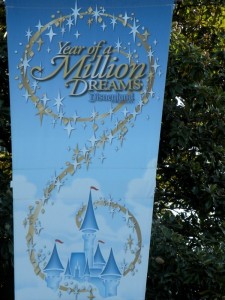 Do you remember all the Disney Parks themes for the past few years?  Last night, I went down memory lane with Carol G and Kelly trying to come up with the last few themes.  You know, it was quite enjoyable "chatting" on Facebook and looking through our pictures for signs or banners that let us know what the themes were.  Do you remember them?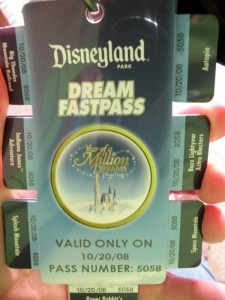 As you can see above, we had the two years of a Year of a Million Dreams.  Now, some people thought this might have been a little too long for the dreams, but you know what?  I actually kind of enjoyed both of my trips to Disneyland during this time.  It was fun watching people being awarded special Mickey ears, Dream Fastpasses, and pins on lanyards.  My family got Dream Fastpasses both years in the parks, but we also were awarded Mickey ears and pins on lanyards through the mail.  While I would love to have been in the right place to win a stay in a suite, we were thrilled to have these cool unique souvenirs of our trip.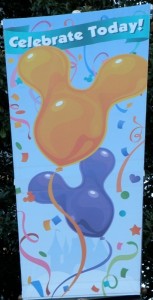 Then, we moved on into the What Will You Celebrate? theme.  Do you remember what you celebrated that year?  Was it a birthday, an anniversary, graduation, a wedding, or just being at Disney?  I remember hearing many who thought this idea was lame, but I thought the ability to celebrate more than just the normal yearly celebrations was thinking outside the box!  I saw a lot of people who were celebrating unique milestones that wouldn't have been noticed before.  As a side note…  Do you remember what I said above about not being in the right place for a suite?  We were at Disneyland in February 2009.  We had just arrived and were standing near the pool at the Disneyland Hotel.  A Cast Member walked up to me and asked where we were staying.  I told him we were staying there at the Disneyland Hotel.  Long story, short, he upgraded us to one of the Mickey character suites for two nights.  He will never know how that simple act impacted us!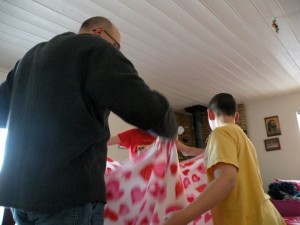 In 2010, Disney invited everyone to Give a Day, Get a Day!  For this promotion, guests were asked to donate time with charities in exchange for a one day ticket to a Disney theme park.  I remember this being really confusing early on, but my family ended up making blankets to donate to an organization that in turn gave the blankets to those who needed them.  This was a good project to open the kids' eyes to those who are less fortunate.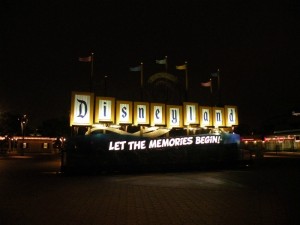 Then, came a couple of years of memories.  I think this was probably one of my least favorite themes as Disney is already about making memories.  However, we did go to make our memories and had a blast at the same time.
Now, I don't have a picture for last year, but I'm sure that you will recall that it was Limited Time Magic.  I like how they chose a different theme for each week; however, I would have liked to see the list made at the beginning at the year, so I could have chosen the theme I would rather see.  No, I wouldn't have based my entire vacation around it, but if I were on the fence about dates, I think it would have helped to know before.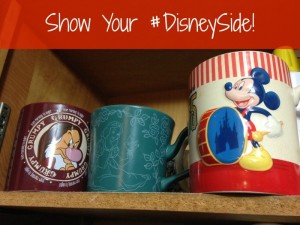 Now, we are up to this year, 2014, and Disney is inviting us all to "Show Your Disney Side".  Now, I think this is probably my favorite of all Disney's themes through the last seven years!  I am a person who normally shows my Disney Side, but now, everyone is doing it with me!  Isn't that cool!  If you ever saw me, you would understand what I mean while I wear my Disney clothes while drinking from my Disney mug and carrying my Disney purse.  Yes, I might be a little over the top.  However, I'm sure that there are those who will just nod in understanding as they drink their coffee out of Disney mugs, too.
If you would like to share your Disney Side with the rest of us, feel free to tell us your Disney Side in the comments below.  You can also use the hashtag #DisneySide in your Tweets, Facebook posts, and Instagram.  Now, let's see your #DisneySide!
Similar Posts: