American Tourister iLite Supreme
|
I received free luggage for the purpose of this review in order to share my experience.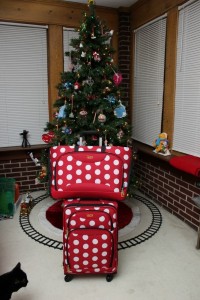 Did you know that American Tourister is "The Official Luggage of Walt Disney World Resort and Disneyland"?  American Tourister made two different sets of luggage exclusively for D23.  The one above is their Minnie Mouse print, and they also had a Mickey Mouse style.  Isn't that Minnie Mouse print fun?  I wish they still had these sets for sale, but alas, they were just for D23.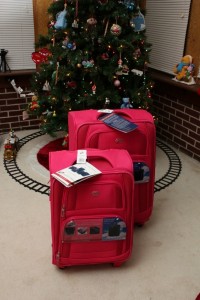 However, they do have a great set of luggage called "iLite Supreme".  iLite Supreme comes in several fun colors:  Purple, Sapphire Blue, Honeysuckle (pink), Foliage Green, Seaport Blue, and Black.  Now, I want to point out that I've always thought of Honeysuckle as a yellow color, but in American Tourister's color line-up, it appears to be the pink luggage that I received.  The iLite Supreme also comes in a variety of sizes and styles (affiliate links below):
For the record, I received the 21″ and 25″ spinner iLite Supreme suitcases.  The iLite Supreme luggage is not actually sold at Disney, but it is available in other locations.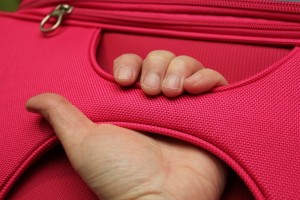 There are a lot of reasons that I like this luggage…  One of these is the great padded handles that are built right into the suitcase.  I don't know about you, but I have had more than one piece of luggage lose the handle.  Plus some of my former luggage had a plastic or "faux leather" handle that was narrow and cut into my hand when the suitcase was heavy.  I found this handle to be soft and easy to maneuver.
Now, that I have my luggage, what's my next step to pack for a trip?  A packing list, of course.  Without a doubt, if I don't use a packing list, I will forget something important.  Probably, more than one important item.  While my father's theory was that there is always a Walmart nearby, I usually forget something that I can't replace easily.
Once I have my things laid out, I'm ready to pack.  Every person has his/her way to place as much stuff into a suitcase.  Some people pack each day's set of clothing into ziploc bags and squeeze the air out.  Some people fold neatly and place things in the suitcase.  Me?  I tend to use the "roll" method.  I place each day's worth of clothes out with everything stacked and roll each pile into a log.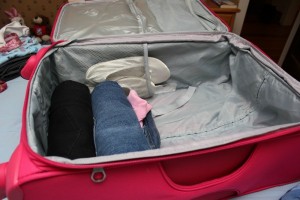 Then, I put each roll in the suitcase.  Do you see my daughter's slippers in the side of the suitcase?  There is another net on the other side for items.  I thought it looked like a great place for shoes.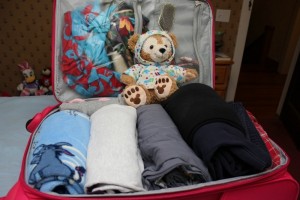 Here is my packed 25″ suitcase.  Now, there are a few things I want to point out in this photo.  First of all, I was able to fit 12 sets of clothes in this suitcase, but there is only clothes in there right now.  Please remember that not everyone will be able to fit that many clothes in, plus, I did not weigh the suitcase, so I may have exceeded the normal weight limit.  Do you see the red and blue clothing to the side of Duffy?  That pocket seems to be a sort of plastic and looks like it would be a good place to put damp clothing, like swimming suits.  I will say that I didn't try it with any wet clothes, so I can't say for sure if there is any leakage.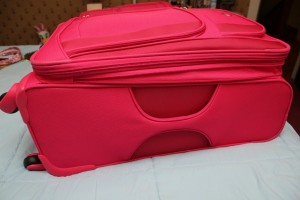 I removed Duffy from the suitcase and closed it up.  There is an expansion zipper, and I did open that after I closed the suitcase.  Do you see the padded handle on the side?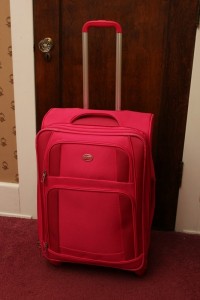 The suitcase has a pull-out handle.  In the case of the suitcases with spinners, the suitcase has four, multi-directional Spinner wheels.  I was able to push, pull, or spin the suitcase in circles.  My son had a great time rolling the suitcase all over the house.  Another thing I'd like to point out is weight.  We all know that weight is an issue for all of us when we fly, and I thought these suitcases were fairly light.  The 21″ spinner is listed as weighing less than 8 pounds, and the 25″ spinner is listed as weighing less than 10 pounds.
So, what do you think about the iLite Supreme from American Tourister?  American Tourister has offered one 3-piece set of iLite Supreme luggage to ONE of you!  Would you like to enter for the chance to win this set?  If so, read the rules below and enter on the Rafflecopter widget.
Rules: Giveaway starts at 01:00 am EDT on December 6, 2013 and ends at 11:59 pm EDT on December 20, 2013. Open to U.S. residents 18 years old and older.  Shipping to U.S. addresses only.  No purchase is necessary to win. Void where prohibited. Odds of winning depend on the number of entries collected. The winner will be chosen by Random.org via Rafflecopter and will have 5 days to respond after being contacted by email.  Please make sure to use a valid email address. Facebook, Twitter, Pinterest, and Google+ do not endorse this, nor sponsor this giveaway. Nor are Facebook, Twitter, Pinterest, or Google+ affiliated with this giveaway in any way.  The Mouse For Less is not responsible for prize fulfillment.
a Rafflecopter giveaway

Disclosure: I received free luggage for the purpose of this review. I received no other compensation from American Tourister, nor was I required to post a positive review.  All opinions are mine.
Similar Posts:
Incoming search terms:
American Tourister Luggage Ilite Supreme Spinner 21