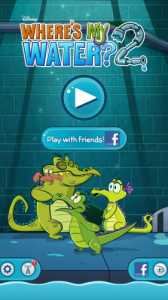 How many of you have played one of the various versions of Where's My Water?  My kids love to play the Where's My Water?, but their favorite is probably Where's My Mickey?  Well, after I downloaded Where's My Water? 2, I asked my daughter to play it and let me know what she thought.  Games like this aren't really my forte, but my daughter does really well at them!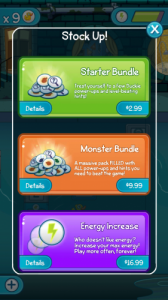 One of the things my daughter pointed out is that there are in-app purchases.  She knows that I REALLY don't like in-app purchases!  I'd rather any maker of games just charge a fair price for the game itself and include the full game.  Nickel and diming really isn't necessary, is it?  If you click on the picture above, you'll see that the prices are MUCH more than nickel and diming…  I understand that in-app purchases are here to stay, but that doesn't mean I have to like it.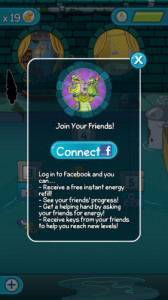 The price list for the in-app purchases brings me to another thing that I'm not really fond of.  If you looked at the last price on the in-app purchases, you would see an item that was $16.99.  This is an energy increase that allow you to play more often, forever.  I wasn't quite sure what that meant until my daughter complained that she had to wait for her energy to increase to play more UNLESS she connected to Facebook.  Now, my daughter just turned 14 and is not on Facebook, so she has to wait for her energy.  This feature will work good for people who do like to play Facebook games, but it's not really my cup of tea.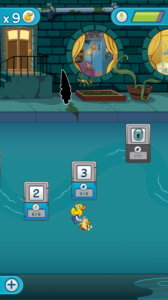 As far as the play goes, it is similar to the other Where's My Water? games in that you are trying to get water to Swampy, so he can take his shower.  You are trying to soak the ducks with water except if told to avoid the ducks.  There are over 100 new levels, and there are challenges that allow you to play the levels in new ways.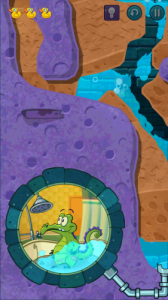 Both kids love to see Swampy get his shower at the end of the game.  While many of the games are too difficult for my son, he enjoys watching his sister play the game.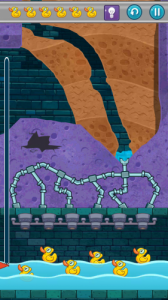 It is fun to watch the ducks get "squirted" into the water at times.  I don't really play these games often, but I did make it to Level 5 for the purpose of this review.  Usually, the Where's My Water? games come out at doctor appointments and therapy appointments when the kids are waiting for each other, and it keeps them happily occupied.
I like the game itself because I think it is fun and challenging to play.  It makes you think about your next move.  However, I do see the in-app purchases and Facebook requests as a downer for me personally.  I know there are many who like the Facebook involvement, and that is a personal choice.
Where's My Water? 2 is available for free on iTunes and on Window's Phone.  It will be released soon on Google Play soon.
Disclosure:  The above app is free on iTunes, so there is no disclosure needed.
Similar Posts: