The Mouse For Less at the D23 Expo 2013
|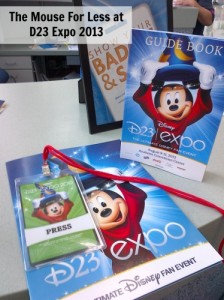 The Mouse For Less was invited to attend this year's D23 Expo as part of the press.  Linda Stockwell, co-owner of The Mouse For Less, is onsite getting the scoop on all that the D23 Expo has to offer.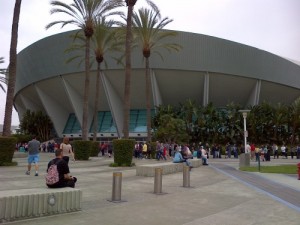 When she arrived this morning, there were already a lot of people lined up anxiously waiting to go in, look around, and attend their favorite presentations.  The line extended down and around the building, and yet, there were more people coming.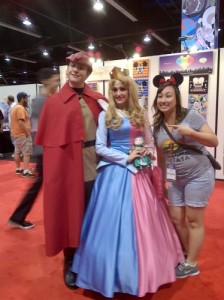 There were many fans who were dressed up, some very elaborately, and many others were wearing Mickey Ear Hats.  Linda saw a wide variety of costumes and ear hats.  She saw some fans dressed as Belle, Tiana, Minnie, Rapunzel.  I love the Sleeping Beauty dress this attendee wore!  Now, the decision of whether the dress needs to be blue or pink is a mute point.
But now, to the nitty gritty!  Linda attended the D23 Art and Imagination: "Animation at the Walt Disney Studios" presentation at D23, today, and she heard some really incredible things that are coming to Disney films.  The presentation was opened by Bob Iger who said that he felt privileged to be the 6th to run Disney and the companies under Disney.  Star Wars Episode 7 was mentioned, but there weren't many details.
John Lasseter talked about Pixar, Walt Disney Animation Studios, and DisneyToon Studios.  He also talked about going to Whittier High School and how he was inspired to be an animator after picking up the book Art of Animation in the library.
Bill Hader from Saturday Night Live was introduced as the voice of Slug from Monsters University.  Then, the audience was treated to a D23 exclusive:  Monsters University short film Party Central.  This will be the short before the movie, The Good Dinosaur.
The Good Dinosaur introduced with the following premise:  What if the asteroid missed the earth, and dinosaurs survived?  Then, the actors/actress who voiced the sibling dinosaurs were introduced.  Bill Hader is one of the dinosaurs in this movie.
Next up is Pete Docter who directed Toy Story, Monsters University, and UP.  The crowd cheered!  He announced that their next project would be out in 2015, and it would be titled Inside Out.  This movie puts characters to the five feelings that dominate us inside.   Anger is played by Lewis Black.  Disgust is played by Mindy Kaling.  Fear is played by Bill Hader.  Joy is played by Amy Poehler, and Sadness is played by Phyllis Smith.  There were short clips of this film shown, and Linda said that she feels this will be another Pixar hit.
There are some other film tidbits that were shared:
Finding Dory is progressing, and Bailey, the whale, will be played by Ty Burrell.
Planes 2, Fire & Rescue will be out in 2014 and is dedicated to the firefighters.
Toy Story of Terror is a made-for-TV movie that will be out this Halloween.
There are two new TinkerBell movies coming out:  Legends of the Neverbeast due out Spring 2015 and Pirate Fairy.
Big Hero 6 is what happens if you mix American Super Hero with Japanese Animation – set in San Fransokyo, Big Hero 6 is about a boy genus and his band of heros.
There is a new short coming.  It's the first of its kind and is called Mickey Mouse Get a Horse.  This is the short that will be shown before the movie Frozen.  They used Walt's actual voice to make the video, and the technology married the old 2D technology with the 3D animation.
Coming out in 2016 is a new movie called Zootopia.  This movie has an interesting premise:  What if the earth were inhabited by intelligent animals who wear clothing but no humans at all?  It will be interesting to see where this film leads!
This presentation was ended by Idina Menzel singing a song from the upcoming movie Frozen.
Similar Posts: