The Disney Legends Awards Ceremony
|
Linda Stockwell, co-owner of The Mouse For Less, went to the Disney Legends Awards Ceremony at the D23 Expo yesterday.  She sent me some pictures and details about the ceremony to share with you about the awards that were presented.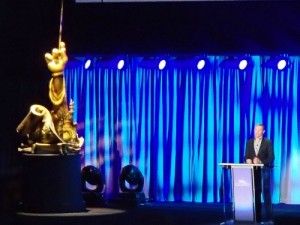 The Disney Legends Awards Ceremony started with Dancing with the Stars host Tom Bergeron.  Mr. Bergeron spoke briefly about what a Disney Legends Award is and then introduced Bob Iger.
Mr. Iger said that there have only been a little over 200 Cast Members in the Disney family who have been recognized as Disney Legends in the history of Disney.  Considering how many have been associated with the Disney family over the years, this is truly a small number.  Mr. Iger then asked the current Disney Legends in the audience to stand and be recognized.
Then, Mr. Iger brought out the a cappella group Vybration to sing a tribute to the Disney Legends who have passed away in the last two years.  Mr. Iger then brought out Mr. Bergeron to begin the announcement of this year's Disney Legends Awards.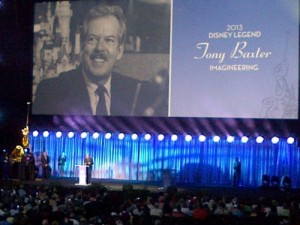 Tony Baxter is the first new Disney Legend announced.  While Mr. Iger was talking about Tony Baxter's achievements, he mentioned Figment.  He talked about how he was hounded by Disney fans, shareholders, and employees after Figment was removed from Epcot.  He found out how Disney fans feel about their beloved characters and brought Figment back.  Mr. Iger then said that Figment is here to stay!  When Mr. Baxter came on stage, he spoke about how he loved to draw; since, he was young.  His first job as an artist was not with Disney, and after the summer was over, his boss asked him if he was going back to school.  He told his boss that he was, and his boss said, "Good.  Otherwise I would have to fire you because your artwork is so bad."  Mr. Baxter said that at 19, knowing that he drew badly was one thing but to be told he drew badly was crushing.  He heard that Disney was training artists, so he went to interview.  He talked about the sketch that was almost left out.  The one that he did not spend a lot of time on was the one that was focused on.  He was asked if he could do more sketches like it.  Because of that one sketch, he was hired, and the rest was history.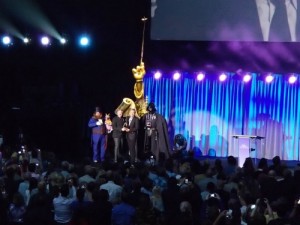 Here is a picture of Tony Baxter receiving his award.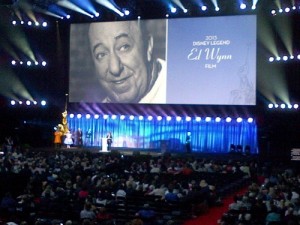 The second Disney Legends Award went to Ed Wynn.  Mr. Iger spoke about how Ed Wynn's father never approved of his going into show business.  He disapproved of it so much that Mr. Wynn felt he couldn't use his family name.  He divided his first name to Ed Wynn to use as his stage name.  He was the voice of Disney.  Mr. Wynn's granddaughter received his award for him.  She talked about how close her grandfather was to Walt Disney.  They were so close that when Mr. Wynn passed away, Walt Disney was one of his pall bearers.  He is best known as the voice of the Mad Hatter in the original Alice in Wonderland.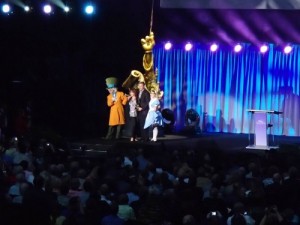 Here is a picture of Ed Wynn's granddaughter accepting his award.  As a side note – When I think of Ed Wynn, I always think of Uncle Albert laughing on the ceiling in Mary Poppins.  It makes me smile.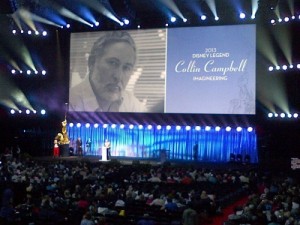 The third new Disney Legend announced was Collin Campbell.  Mr. Campbell touched almost every part of Disney from animated classics to theme park attractions.  He helped develop the Enchanted Tiki Room and the Pirates of the Caribbean attractions.  He also did concept illustrations of the Magic Kingdom and Epcot.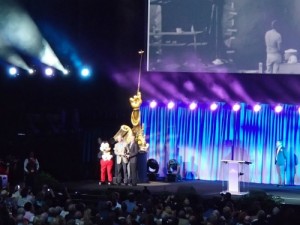 Collin Campbell's son received the award for him.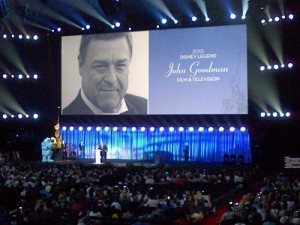 John Goodman was the fourth new Disney Legend announced.  He has worked with Disney over the years, and his most beloved role as a Disney voice is James P. Sullivan (Sulley) from the movies Monsters, Inc and Monsters University.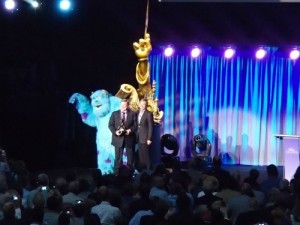 Here is the picture of John Goodman accepting his award.  Even Sulley had to get in on the picture!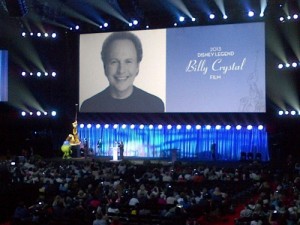 Billy Crystal was the fifth new Disney Legend announced.  Of course, Billy Crystal is known for his part in the Monsters, Inc and Monsters University movies as Mike Wazowski.  His speech was great and funny as only Billy Crystal can deliver!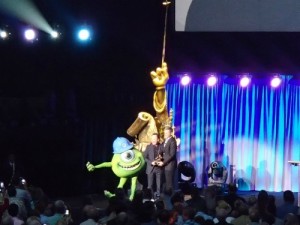 Here is Billy Crystal accepting his award as Mike tries to steal some of the attention.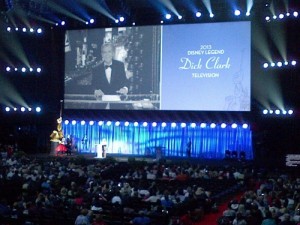 Dick Clark was the sixth named Disney Legend of the afternoon.  His lifetime achievement was discussed, and he is honored for his work with ABC.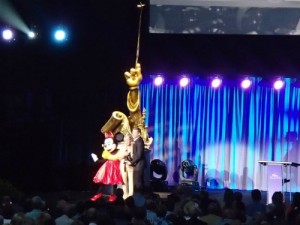 Dick Clark's wife accepted his award.  She made a joke about how difficult it was to follow Billy Crystal because he is so good!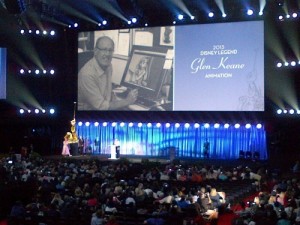 Glen Keane was the seventh Disney Legend named.  He mentioned that his wife was the inspiration for Ariel of The Little Mermaid.  He also said that the secret of success to his Disney characters is to bring some part of his family as inspiration to the characters.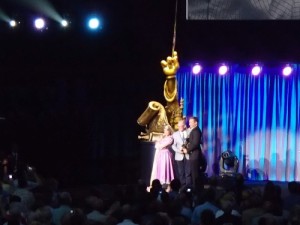 Here is Glen Keane accepting his award.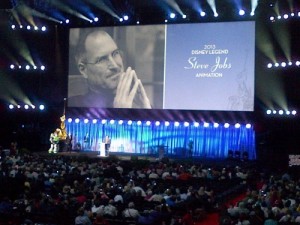 The eighth and final Disney Legend added was Steve Jobs.  Mr. Jobs was the second person Bob Iger told when he accepted the position at Disney because he felt that strongly about the tie between Pixar and Disney.  John Lasseter accepted the award for Steve Jobs.  As Mr. Lasseter started to speak, he was so emotional that his voice broke.  He was extremely emotional as he spoke of Steve Jobs and of how he became involved with Pixar.  He said that when Pixar was at its infancy, they didn't view animation as an integral part of the company.  He said that Steve Jobs was able to recognize the importance of animation and Pixar from the beginning.  He felt strongly enough about Pixar that he purchased it with his own money after being let go from Apple.  Mr. Lasseter talked about how his first meeting with Steve Jobs went.  He pitched the idea of Tin Toy.  He said that Steve Jobs made the only request he ever made of him at that time, "Make it great."  Tin Toy was made and won the Academy Award for Best Animated Short Film.  The first CGI film to win an Oscar, and that was the base for Toy Story.  Then, Mr. Lasseter shared how he lost his brother to AIDS, and Steve Jobs became his brother.  He said that during dinner one day, Steve Jobs looked off in the distance and started talking.  He said to John Lasseter that a computer has a life span of 3-5 years.  Beyond that it becomes a door stop.  But if a movie is done right, it lasts forever.  Look at Snow White!
What a great group of new Disney Legends that were named this year!
Similar Posts: