MouseTrips Vacation Planning App
|
I want to thank the developers of the MouseTrips App for allowing me to try out their app for the purpose of this review.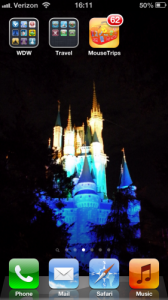 To say that my phone is an important part of my planning would be an understatement!  While my family loves to have a binder full of reservation information and tips or a planning book, these things really are too big to lug around while actually on vacation.  This is where the MouseTrips app comes into play.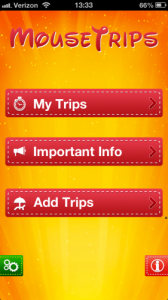 Do you see the app that has the number "62" on it in the top picture?  That "62" is the countdown, and that means it is 62 days until the play vacation that I planned while testing this app.  Isn't that cool?  When you open the app, you see what is in the picture above.  This app will hold a lot of information, more so than my previous favorite planning app.  So, starting to plan your trip is really simple.  Just hit "Add Trips" to get started.  It's really straight-forward from there.  Click "Add Trip" and fill in where you are going, arrival date, and your departure date.  Now, this app is for Disney vacations, so it does have the following destination choices:  Aulani Resort, Disney Cruise Line, Disneyland, Hilton Head Island Resort, Vero Beach Resort, and Walt Disney World.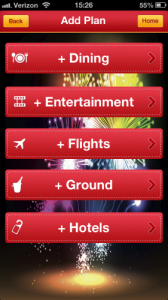 Once that information is in, you are ready to put in the details of your vacation.  As you can see above, you can put in the details for dining, entertainment, flights, ground transportation, and hotels.
I'm not going to take you through entering everything, but I do want to show you the screens for entering dining because of how organized they are.  These screens are in the gallery above, so you can click on each one to see the full picture.  When you click on the spot to put the restaurant, it brings up a list of the Disney destinations.  After choosing Walt Disney World, I was asked what location (resort, park, Downtown Disney) I wanted to eat at.  When I chose, it populated in all the restaurants at that location, making it easy to choose the right restaurant.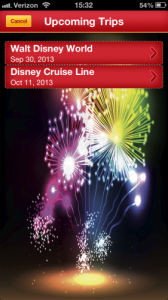 You can even have more than one vacation planned in the MouseTrips app, if you want.
When I was done planning my play trip, this is how all the details showed up.  You can click on each photo to see all of it.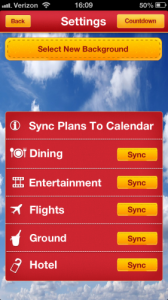 But it doesn't end there.  You can also sync each part of your trip to your iPhone calendar.  I thought this was a really nice feature, so I wouldn't have to input the information into my calendar, too.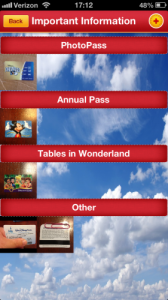 Another really handy feature is the "Important Info" section.  The developer added in a section where you can take pictures of your important cards in case the cards are lost.  We've all been told to take a picture of our PhotoPass cards (the back with the numbers), so if it gets lost, you can still access the photos.  It's the same thing with tickets and annual passes (although this need may change with the advent of the Magic Band).
I want to take a moment to mention backgrounds.  As you can tell from my photos, the background can be changed from the original yellow; however, at this point, it appears that you are limited to a predetermined set of backgrounds.
So, in case you couldn't tell, I really like this app for all the features it has, and it has replaced my old standby app that hasn't been updated in a while.  MouseTrips sells for $2.99 and is compatible with iPhone, iPod Touch, and iPad.  Now, I don't consider it fully compatible with iPad because it shows up as a small screen, and you have to push the "2x" to get it larger.  Just my honest opinion.  Also, my daughter found a bug while she was playing with it.  She input the departure date incorrectly, and when she went back to change it, the app kept crashing.  No matter what we did, it crashed, and we ended up deleting the entire trip and starting from scratch.  This app is very new, and it appears that the developer is still making fixes, so maybe this will be cleared up soon.  Most of the testing that I did on this app was from the Walt Disney World side of things, but I did look at a few things under Disneyland and Disney Cruise Line.  Another little thing that I found was that Disney Cruise Line doesn't come up under dining, so if you make Palo or Remy dining reservations, I don't think they can be added to the dining section.  Those reservations could be free-texted into the entertainment section, though.  Overall, I think this is a really good planning app!
Disclosure:  I received this app free of charge for the purpose of this review.  I received no other compensation from the app developer, nor was I required to give a positive review.  All opinions are mine.
Similar Posts: