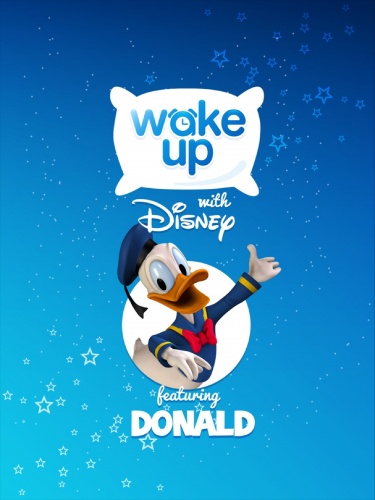 So, I HAVE to tell you about this app, Wake Up with Disney!  This app was an impulse purchase.  Rather, it was an impulse on my son's part as he stuck the iPad in my line of vision, begging for this app.  It was only 99 cents, and it worked on both iPad and iPhone, so I figured I wasn't going to lose much if it wasn't good.  I don't know why I thought that because there really aren't that many Disney apps that aren't good…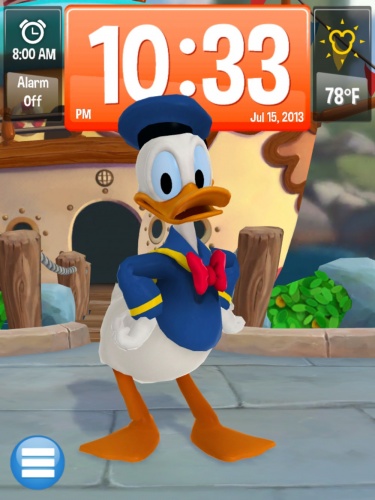 Anyway, as the app opened, Donald stood waiting.  As I moved the iPad, I could see the background change as if I were looking at Donald from a different direction.  This app can be used as a flashlight, nightlight, and an alarm clock.  Although, I would encourage anyone who wanted to use this as an alarm clock or nightlight to leave it plugged in because the app has to stay open to work.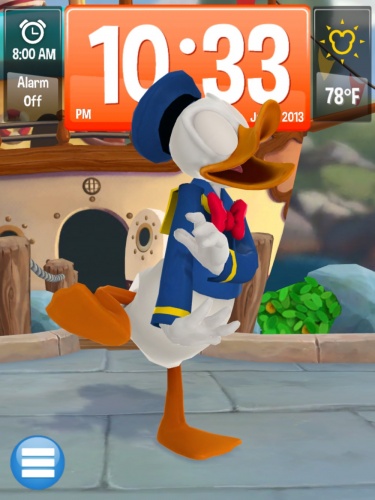 My son could play with this app all day long!  It is such a simple app but so full of fun.  My son loves to "tickle" Donald!  He could sit there and tickle Donald for hours.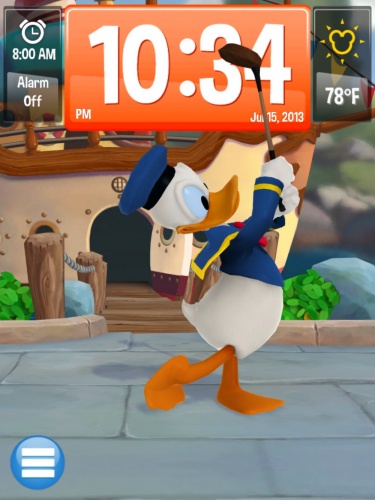 Donald can also play golf or do flips; although, he doesn't seem to enjoy the flips very much.  Nor does he like to be hit.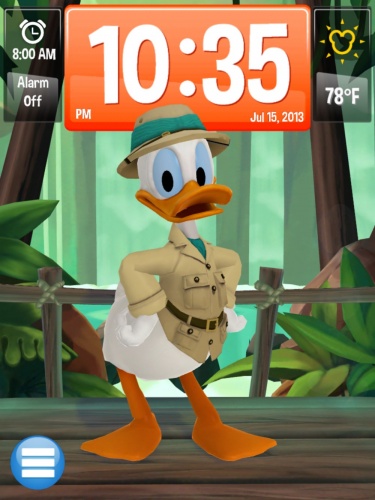 Donald comes with three outfits:  his sailor outfit, a fireman outfit, and what I call the Jungle Cruise Skipper outfit.  Doesn't that look like the backside of water?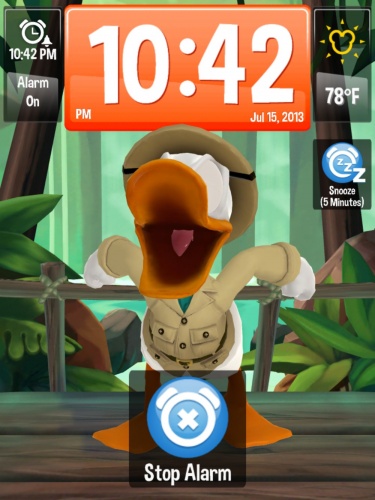 Let's talk about the alarm…  First of all, I'm going to repeat that the phone should be plugged in if used as an alarm.  I haven't tried it unplugged, but I like to have a fairly full battery for the day when I get up.  The app actually recommends keeping the phone plugged in and setting the phone, so the screen doesn't lock.  Another warning is that this alarm is rather jarring in the morning.  We all know how vocal Donald can be, and this alarm almost reminds me of the Stitch wake up call at Walt Disney World.  I don't normally use this app for its alarm capabilities.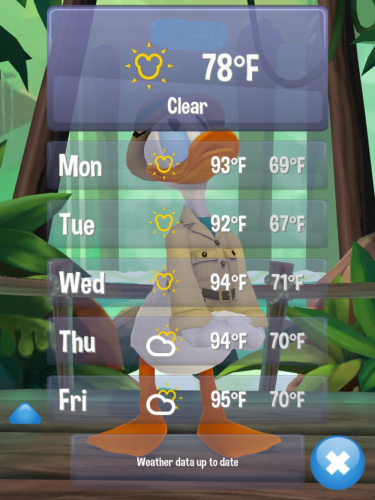 I like the weather on this app.  Well, I don't really like the current forecast…  Couldn't Donald have given me some cooler temperatures?  The animated weather is pretty neat, too.
According to iTunes, Wake Up with Disney plans on adding more characters to the line up.  There is no indication if they will just show up or be in-app purchases, but I can't wait to see what characters they add!  In my opinion, this is a great app for the 99 cent price tag!
Sponsored Ad:  Would you like to help support The Mouse For Less website in continuing their mission of being THE Disney vacation planning resource?  You can do so by purchasing Wake Up with Disney from our affiliate link.
Similar Posts: